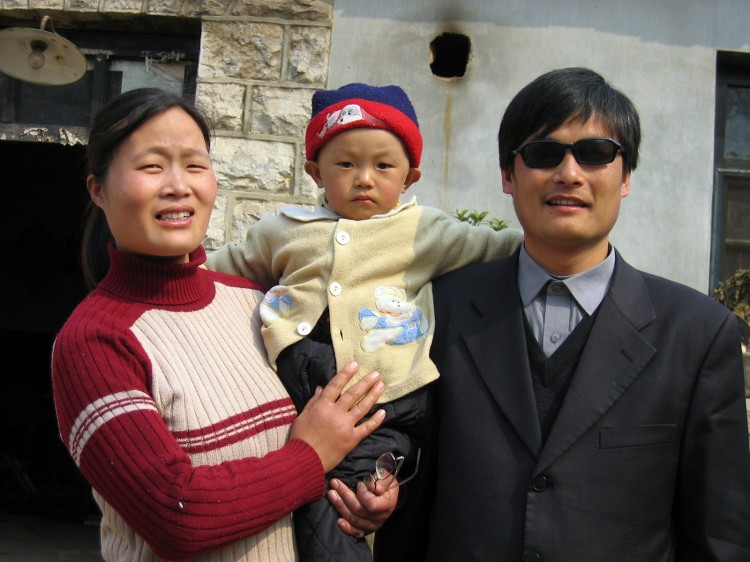 A prominent Chinese human rights lawyer who has been under extralegal house arrest since 2010 has fled his captors and is now in Beijing. He later uploaded to the Internet a plea to Wen Jiabao, the Chinese premier, to take action to secure justice.
Chen Guangcheng escaped by scaling a wall near his house before being met by another activist, who drove him for several hours.
The escape took place on Sunday night, but was not reported until Friday, by which time Chen had reached a "100 percent… safe location," according to Bob Fu, the head of the China Aid Association based in Texas, in an interview with Associated Press.
Rumors circulated online that Chen had entered the U.S. embassy in Beijing. The embassy does not comment on asylum cases, but the New York Times cited second and third hand sources in the state security apparatus who believed him to be in the embassy.
Chen's video to Wen Jiabao asks the premier to investigate the actions taken by local enforcers against Chen and his family, and see those responsible punished according to law, secure that Chen and his family are given safety, and investigate the cost and scale of the illegal abuses that were perpetrated. 
"Including party leaders, police and other civilians, around 90 to 100 people have been involved in the persecution of my family," Chen said, according to AP's translation. "I hereby request to you, Premier Wen, to start an investigation into this case."
Chen was put under house arrest at his home in Dongshigu village, Linyi Prefecture, Shandong Province, soon after he served a four year sentence. At a trial that is widely seen to have been a kangaroo court, he was jailed in August 2006 for "damaging property and organizing a mob to disturb traffic." 
Chen had in 2005 exposed the violence of local family planning officials in Shandong, who had forced thousands of women to undergo sterilization procedures, or forcibly aborted their infants. The sentence was seen as revenge for these efforts.
After Chen's escape, local officials immediately sought reprisal against his family members, some of whom lived nearby. Individuals thought to be acting under the direction of local authorities broke into the house of Chen Guangcheng's nephew, Chen Kegui. 
He responded by grabbing two kitchen knives and slashing at his attackers, according to a dramatic transcript of a phone call with Chen, produced by U.S.-based writer Cao Yaxue.
Amidst tears, he attempted to explain his actions in the phone call, according to the transcript. Soon after the episode he ran away from his home for fear of being captured and "beaten senseless to death." He said he was acting in self defense, and surrendered himself to the police. 
"In China, law is trampled over at will," Chen Kegui said, in the transcript of the call. "I love my motherland, but this is what she gives me! [sobbing]"