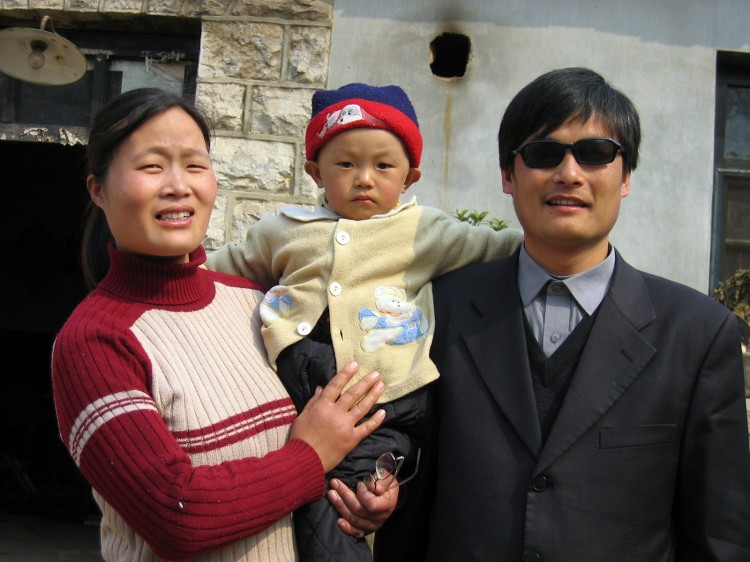 Human rights lawyer Chen Guangcheng has spoken of his wish to take his family out of China after cracks began to appear in a U.S. deal to guarantee his safety.
Chen, who is blind, escaped from house arrest last week and sought safety in the U.S. embassy, where he remained for six days.
He emerged on Wednesday and U.S. officials said that they had brokered an arrangement that would guarantee his safety.
However, later in the day, a reportedly shaken Chen called foreign media outlets from a hospital bed in Beijing. He said that U.S. Embassy staff had passed on to him threats from Chinese authorities concerning the safety of his family.
At one point, he said, a diplomatic official had warned him that his wife might be beaten to death by Chinese security forces, should Chen remain at the embassy.
In an interview with Associated Press, he said: "I think we'd like to rest in a place outside of China.
"Help my family and me leave safely," he said, appealing to U.S. authorities.
A spokesperson for the State Department denied that any U.S. official had spoken to Chen about physical threats to himself or his family.
However, the spokesperson did say that his wife and two children, who had traveled to Beijing, were going to be sent back to Shandong Province, where Chen had himself been recently detained. Sending them back would destroy the lawyer's hopes of reuniting with the family.
"At every opportunity, he expressed his desire to stay in China, reunify with his family, continue his education and work for reform in his country," the spokesperson said, in comments to AP.
"All our diplomacy was directed at putting him in the best possible position to achieve his objectives."
In comments to CNN, Zeng Jinyan, a close friend of Chen's, said that the lawyer was forced to leave the embassy under duress.
The political impasse had threatened to derail strategic talks between Secretary of State Hilary Clinton and her Chinese counterparts, which were due to start on Thursday. 
Clinton called Chen as he was leaving the embassy and U.S. officials later said that Chen had told her "I want to kiss you."
In fact, Chen had told her "I want to see you," AP reported. He also said that the embassy had guaranteed he would be accompanied in the hospital, but there were no diplomatic staff in the entire ward. 
The debacle has provoked stinging criticism from another Chinese activist, documentary film-maker Ai Xiaoming. 
"In the first place, Chen Guangcheng should not have to ask a foreign country to protect his rights," she told AP. 
"His rights should be protected by his own country, through the constitution. But it is obvious that this cannot be done.
"I feel that the U.S. has always accepted political refugees, it has always provided asylum, so I hope to see Chen Guangcheng safely leave," Ai said.
chinareports@epochtimes.com
---
Click www.ept.ms/ccp-crisis to read about the most recent developments in the ongoing power struggle within the Chinese communist regime. In this special topic, we provide readers with the necessary context to understand the situation. Get the RSS feed. Get the Timeline of Events. Who are the Major Players?

---