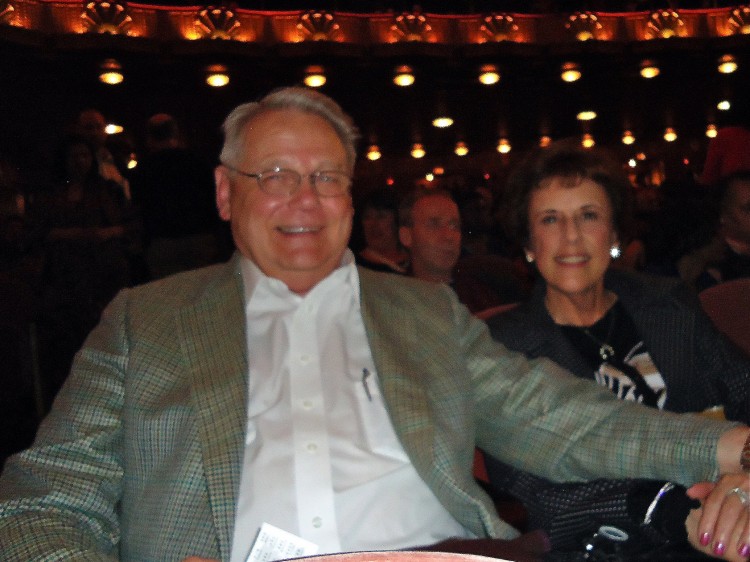 CHICAGO—"It's so unique and so different that I'm very, very impressed," said Bob Klein after seeing Shen Yun Performing Arts International Company at the Civic Opera House in Chicago.
Mr. Klein, who owns a company that manufactures jewelry, saw the performance on Friday April 20 with Sharon Cattaneo.
"I know that [Shen Yun is] only going to be here for four days, but I think we're blessed just to come down here and see it for one of the four days. I'm really happy to be here," he said.
Many attending Shen Yun have felt the gratitude that Mr. Klein expressed. New York-based Shen Yun brings to the stage a true expression of traditional Chinese culture, embracing the beauty and wisdom of 5,000 years, according to the company's website.
"I thought the expression was fantastic. The uniqueness of this show is a combination between film and dancing," he said.
Mr. Klein was referring to the animated backdrops that allow figures of flying deities and fairies to come to life on stage as dancers.
What impressed Mr. Klein the most, however, was the choreography and the coordination between the dancers. "It's just beautifully executed, nicely done and each one is different. The costumes … are fantastic they're absolutely beautiful and I noticed all the girls … they're all of the same height, I thought, and of the same color hair and the same build, and I was thinking, in the United States I don't think we could do that."
Audiences often comment on the beauty and color of the handmade costumes and Ms. Cattaneo enjoyed them as well: "The array of costumes and the intricacy of it is really fantastic—beautifully done, beautifully done."
Traveling with the Shen Yun dancers are award-winning solo vocalists.
Mr. Klein also commented on the lyrics projected behind the singers. "They referred to the divine, the divinity … and I think that was important the way that was done, the song, the words, that helped that a lot. The words were very soft, gentle very basic, very down to earth, and very sincere," he said.
Reporting by Ying Wan and Sharon Kilarski.
Shen Yun Performing Arts, based in New York, has three touring companies that perform simultaneously around the world, with a mission to revive traditional Chinese culture. Shen Yun Performing Arts International Company will perform in Chicago through April 22.
For more information visit ShenYunPerformingArts.org