'Blended': Sweet but Sloppy
May 25, 2014 11:15 pm Last Updated: May 26, 2014 10:08 am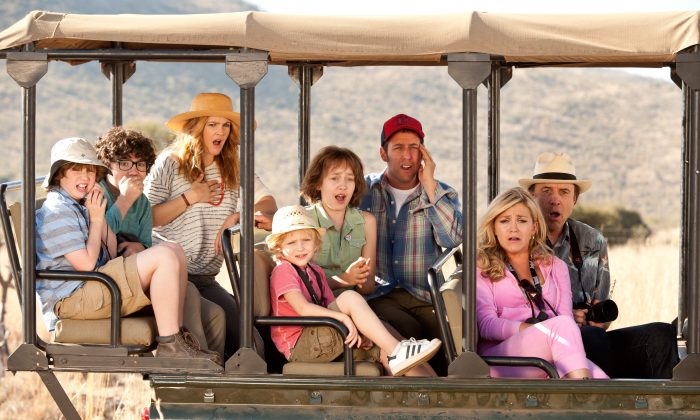 After almost a decade, Barrymore and Sandler reunite in their third project together, this time in Blended, which revolves around two families who struggle to get along on an accidental shared vacation to South Africa.
Single parents Lauren (Drew Barrymore) and Jim (Adam Sandler) meet on a blind date at Hooters, ending the date early after a disastrous series of events and revelations.
Lauren runs a closet organizing partnership with her best friend, Jen (Wendi McLendon-Covey). When she's not working, Lauren is busy micromanaging her two tireless boys' activities and overcompensating to make up for their inattentive father, Mark (Joel McHale), from whom she separated after he had an affair.
Widower Jim is a sporting goods store manager with three girls whom he raises like boys, outfitting them with track suits and barbershop haircuts.
After Jen cancels on a "family-moon" to South Africa planned by her boyfriend, Lauren and Jim find themselves face-to-face in the lobby of the same resort after both jump on the opportunity to surprise their kids with a special trip.
The two families stay under the names of Jen, Dick, and his five children, translating into a shared suite for Lauren, Jim, and their kids. Cue the conflicts for our "blended" family.
Blended is everything you expect, silly and awkward in all its rom-com glory. We see familiar faces like Terry Crews, playing the overly enthusiastic lead singer of the resort's roaming chorus group Thathoo; basketball legend Shaquille O'Neal as Jim's colleague; and fresh faces such as Abdoulaye N'gom, who plays the South African resort's friendly host Mfana. They all share credit in setting the film's unapologetically goofy tone and provide comic relief with the most inconvenient timing.
If Blended proves a point, it's that there should be a limit to Terry Crews's pelvis-thrusting and pec-popping gaffes, which usually cut in and squash any sweet but brief moments between Lauren and Jim as they start to see each other in a different light.
In the film, the talented Thathoo chorus group, played by the real-life a cappella group called Junior Mambazo, always amplifies all arguments, spats, or awkward moment with a musical narrative.
The film attempts to highlight how the girls cope with having lost a mother to cancer, but it is drowned and muddled in the comedy.
Barrymore and Sandler are undoubtedly comfortable in each other's presence and share a great rhythm after 50 First Dates and The Wedding Singer. Blended reflects Barrymore and Sandler as who they are now, parents raising kids of their own.
Some of the better moments of the film are the simple ones, when Jim and Lauren both start to win the kids' affections. Lauren sings Jim's girls to sleep like their mother used to do, and Jim teaches Lauren's boys baseball, something their father Mark never bothered with.
Blended tries to be the progressive and cool family film, yet it relentlessly dishes out jokes that aren't very kid-friendly. What it lacks in quality writing and class, it makes up for with on-location filming in South Africa. The luxurious Sun City Resort and the scenic views of Pilanesberg Game Reserve are stunning and steal the show from this Barrymore-Sandler reunion.
As expected, Blended doesn't pack a big punch or a wow factor, just light-hearted fun.
'Blended': Sweet but Sloppy
Director: Frank Coraci
Starring: Drew Barrymore, Adam Sandler, Wendi McLendon-Covey, Joel McHale
Run Time: 1 hour, 57 minutes
Rated PG-13
Release Date: May 23

3 stars out of 5