Consumers' Research, a nonprofit organization, released an ad campaign titled "Betting on China" that targets investment management titan BlackRock over its investments in China. 
The 30-second ad spot claims that the money manager is pouring billions into Beijing, "propping up Chinese communist leaders." The ad says BlackRock has invested in surveillance companies used by the nation's military. It also cited billionaire George Soros and his Wall Street Journal op-ed, titled "BlackRock's China Blunder," which calls the company's China ventures a "bad investment" and "tragic mistake." 
"[BlackRock] CEO Larry Fink loves to tell Americans how to live, but he negotiated against America, sucking up to China," the ad says.  
According to Consumers' Research, the ad is part of a broader initiative called the Consumers First Initiative. This movement targets allegedly "woke" companies and their policies while they participate in questionable dealings.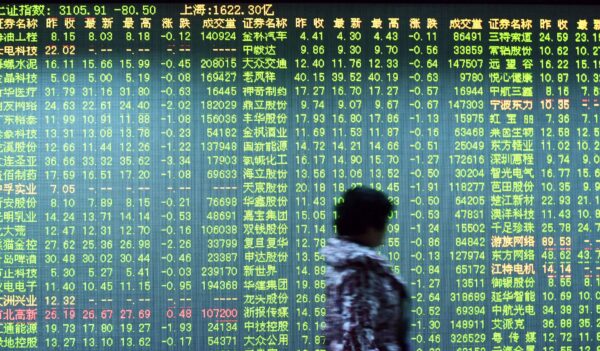 "No amount of woke posturing can hide what BlackRock is really up to. The idea that an American company is taking billions of dollars and using it to bet on China's success is extremely concerning. We cannot allow this to continue. Funneling Americans' hard earned retirement savings to China is unsafe from both a national security and financial perspective," said Will Hild, president of Consumers' Research, in a media statement. 
"We cannot let executives like Larry Fink try and tell Americans how to live while simultaneously cozying up to one of the world's leading human rights abusers.
"By putting BlackRock's shady dealings out in the open for all to see, we're sending a message that companies won't get away with taking advantage of hard-working Americans. Any company trying to use woke politics to mask their misdeeds should see this campaign and know they could be next." 
BlackRock didn't immediately respond to requests by The Epoch Times for comment. 
This isn't the first time BlackRock has been called out for its ties to China. During an interview with CNBC's "Squawk Box" last month, host Joe Kernen pressed Fink for promoting climate justice while putting money into the largest producer of greenhouse gas emissions. The CEO dismissed the concerns by saying BlackRock engages with the government on embracing the green economy and transitioning away from fossil fuels. 
BlackRock Goes Bullish on China
Speaking at the Lujiazui Forum in Shanghai via video conference in June 2020, Fink said China "will be one of the biggest opportunities for BlackRock." He reiterated this sentiment in a letter to shareholders earlier this year, writing that the firm's efforts overseas are a "significant opportunity to help meet the long-term goals of investors in China and internationally." 
In June, BlackRock became the first foreign asset manager to control a wholly owned business in the foreign market's $3.6 trillion mutual fund industry. In September, the firm established a China equity fund that raised $1.03 billion from more than 111,000 investors. 
Fink has become ultra-bullish on China. According to financial services firm Morningstar, BlackRock and HSBC became the largest buyers of Evergrande debt. BlackRock purchased 31.3 million notes of the troubled Chinese real estate developer between January and August, increasing its stake to 1 percent of the assets in its $1.7 billion Asian High Yield Bond Fund. 
Despite the downturn in Chinese equities, BlackRock analysts contended that global investors were underestimating the nation's stocks, and recommended that investors buy shares in undervalued companies while they're cheap. 
"We believe the significant repricing—Chinese equities underperforming U.S. peers by more than 30 percentage points so far this year—and a rise in equity risk premia in Chinese equities are overdone," BlackRock analysts wrote in September. "Investors are compensated for risk at current valuations in our view." 
This past summer, BlackRock stated that investors should triple their exposure to Chinese assets, even with regulatory risks hanging over many key sectors, particularly tech.  
"China is under-represented in global investors' portfolios but also, in our view, in global benchmarks," Wei Li, the chief investment strategist of BlackRock's Investment Institute, told the Financial Times in August. 
BlackRock isn't the only institution to plant roots in Beijing. Fidelity, HSBC, JPMorgan Chase, and UBS have launched investment funds and bought stakes in domestic companies. Foreign flows into China stocks topped $5 billion in October, the largest amount since May. 
Will the Economy Support Wall Street's Optimism?
China's National Bureau of Statistics manufacturing purchasing managers' index (PMI) declined to 49.2 in October, missing market forecasts of 49.7—anything below 50 indicates contraction. This was the second consecutive month of contraction, driven by falling output, new orders, and export sales. 
The Caixin manufacturing PMI, a private-sector measurement, remained in expansion territory for the second straight month, coming in at a four-month high of 50.6. The reading was buoyed by greater domestic demand for total new orders. But analysts pointed out accelerating costs of production. 
Early estimates for November aren't looking too rosy, economists note.
"Looking forward to November, the non-manufacturing PMI could drop significantly on the new wave of Covid-19 and China's increasingly harsh zero-Covid policy, while the manufacturing PMI could remain weak due to shocks from both the supply and demand sides," Ting Lu, the chief China economist at Nomura Holdings Inc., wrote in a note.
Is China on the Brink of Stagflation? 
Zhang Zhiwei, chief economist at Pinpoint Asset Management, warned in a research note that the economy may be "already going through stagflation." Stagflation arises when slow economic growth is coupled with accelerating inflation. 
"A worrying sign is the passthrough of inflation from input prices to output prices. The input price inflation has been high for many months by now, driven by the rising commodity prices," Zhang wrote. "But the jump of [the] output price index in Oct is alarming." 
Raymond Yeung, chief economist of Greater China at ANZ, told CNBC's "Squawk Box Asia" that "we could clearly see the industrial stagflation in China," adding that "the industrial sector is clearly in a very difficult situation." 
China is presently enduring a series of economic challenges in the post-pandemic recovery, including strict COVID-19 rules, higher inflation, power shortages throughout the country, and swelling debt levels.