BlackBerry Fires 250 People, but Still Believes in Turnaround
July 25, 2013 3:29 pm Last Updated: July 25, 2013 3:29 pm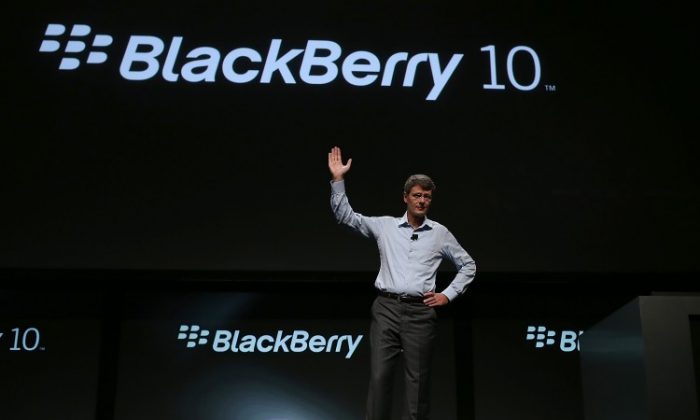 The BlackBerry spokesperson called laying off another 250 staff this week "part of the next stage of our turnaround plan." Five thousand have been let go in the last fiscal year alone and observers have long started to question the commercial viability of the former leader in smartphone technology.
"These employees were part of the New Product Testing Facility [in Ontario, Canada], a department that supports BlackBerry's manufacturing and research and development efforts," spokesman Alex Kinsella told All Things D. She also talked about a plan to "increase efficiencies," and "new opportunities in mobile computing." 
Alas, these opportunities are becoming ever fewer, as BlackBerry's latest full-year numbers that came out in June were a big disappointment.
Nomura analyst Stuart Jeffries, who has a good track record covering the company, says that "even the positives were negative," as phone shipments fell 13 percent to 6.8 million units and four million subscribers left the company from March to May 2013.
RIM once dominated the smartphone market, pioneering the use of mobile email with the introduction of the first BlackBerry in 1999—a two way paging device—and later moving to global leadership with the introduction of integrated push email and phone services as well as text messaging in 2003.
Some 10 years later, the company is struggling, suffering from the legacy of its once groundbreaking qwerty keyboard. Competitors such as Apple and Google have embraced the full touch technology from the beginning and analysts believe that RIM held on to its keyboard for too long. It only completed the transition early 2013 with the new BlackBerry 10 model, which supports full touch.   
 "RIM's unique selling point for hardware was its keyboard, a feature that is being displaced for all-touch devices in most markets and price segments," writes Jeffries.
Sales for the new unit were "solid," according to Jeffries, but did not improve margins significantly, contrary to what can be expected from a new product.  The company sold 2.7 million devices in the last quarter, much less than the 3.3 million that analyst expected.
"Muted BB10 sales trends [are] indicative of short product life cycles. Recent product launches (by BlackBerry and rivals) make it hard to forecast gains in [market] share or gross margins.
The good news is that the company still generates decent cash flows and doesn't have a lot of debt, which makes an immediate bankruptcy unlikely. On the flip side, Jeffries thinks that this comfortable position leads management to make bad investment decisions—such as the PlayBook tablet, which racked up losses of 500 million, according to the Wall Street Journal.
"Management's broader commentary was focused very much on longer-term dynamics, effectively writing off fiscal year 2014 as an investment year and focusing on growth from 2015–yet there is little evidence to date to suggest that the strategy will work," he writes in his latest note.
Given low chances of a complete turnaround a buy-out by another company might be the last option. But also here, Jeffries doesn't see a high probability of this happening. Potential buyers will be deterred by the needed security clearance from the U.S. government as well as the recent failed acquisitions of Siemens Mobile, Motorola Mobility and Palm. "As regards M&A, we don't anticipate any moves for BlackBerry," he writes.
VIDEO: BlackBerry Stubbornly Believes