Unemployment figures for May again shattered multiple records as hundreds of thousands of Americans found jobs in the growing market.
Unemployment dropped to 3.8 percent, the lowest level since 1969, while the economy added 223,000 jobs, beating expectations by more than 17 percent, according to Goldman Sachs research note.
Black unemployment fell to 5.9 percent from an already record-low 6.6 percent in April.
Female unemployment inched down to 3.6 percent, the lowest since 1953.
Asian unemployment fell to 2.1 percent—also a record, though the Bureau of Labor Statistics have only been tracking these figures since 2003.
Hispanic unemployment inched up to 4.9 percent, still hovering around historical lows.
Unemployment figures can be deceiving, as they do not include those who haven't sought a job over the previous four weeks.
But even when counting the unemployed who've looked for a job over the past 12 months and also those who'd like a full-time job but have to settle for part-time jobs, the numbers stand at 7.6 percent, the best numbers since 2001.
While economists have warned for decades that the aging American population leaves ever fewer people to carry the economy, that was not the case in May. More people over 55 joined the labor force last month, while it was mainly people under 45 who left.
As a result, some "two-thirds of the drop in the unemployment rate in May was because workers found jobs, while about one-third of the drop was from people leaving the labor force," the left-leaning Economic Policy Institute noted.
There are almost 95 million people considered not in the workforce—those over the age of 16 who don't work and are currently not looking for work, mostly because they study, are homemakers, ill, or retired. Among them, there were about 5.5 million who wanted a job in 2017.
That number has been declining in recent years—a hint that more people who had given up on finding a job are now trying again and succeeding.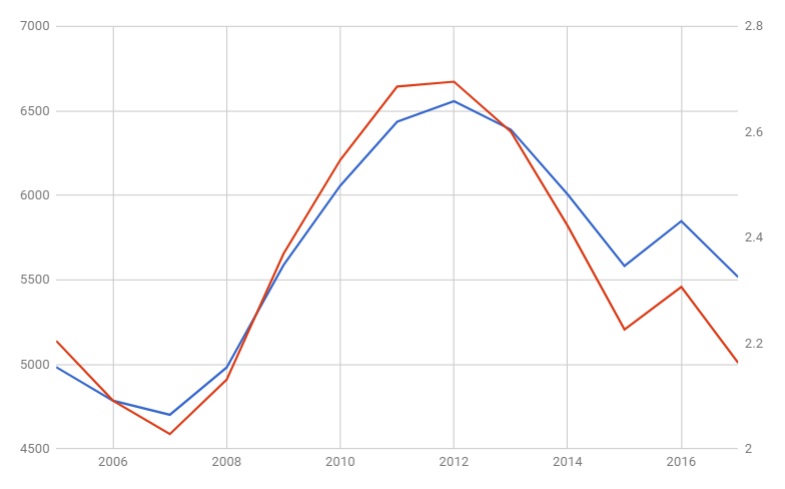 President Donald Trump ran for president with a promise of reviving the economy and the results look to boost his agenda in the Nov. 6 midterm elections.
The economy has been beating expectations for over a year.
In March, employers offered the most job openings in one month—6.55 million—one for almost all considered unemployed.
More than two in three Americans also believe it's now a good time "to find a quality job"—the most positive response since Gallup started to ask the question in its polls 17 years ago.
In fact, the Gallup poll has never received a more than 50 percent positive response before Trump assumed office.
Since Trump took office, the median household income increased almost 3.2 percent and reached a record $61,483 in April, according to estimates by Sentier Research based on monthly Census Bureau survey data.
According to a recent YouGov poll, almost two-thirds of Americans view the economy positively and more than two-thirds believe that President Donald Trump's policies, which including the cutting of regulations, taxes, and his planned investment in infrastructure, are at least partly responsible.
Watch Next:
5 Imported Foods From China You Should Avoid