When a family pet runs away or goes missing, imaginations can run wild. At best, all that can be hoped for is the pet to find its way home again somehow, looking a little worse for wear, or to get a call from the local animal shelter.
What most people don't expect is for their pets to take off on incredible adventures—or to bring new friends home with them!
Dog owner Laura Krier was one of those who anticipated the worst when she realized that the family dog, Bo, had gone missing.
"We had been searching for him nonstop," explained Krier.
After begging people to send them any information they had about their missing pup, the Kriers got word that a dog fitting Bo's description had been seen nearby. Hopeful, Laura sent her husband, Kyle, to investigate—and stumbled across the kind of situation you only expect to see in movies!
Sure enough, the dog spotted was indeed Bo, who had wandered off to a nearby field.
Bo wasn't alone, though. Instead, he'd managed to get out with a couple of friends, bringing along a neighbor's goat and dog named Ozzy and Libby!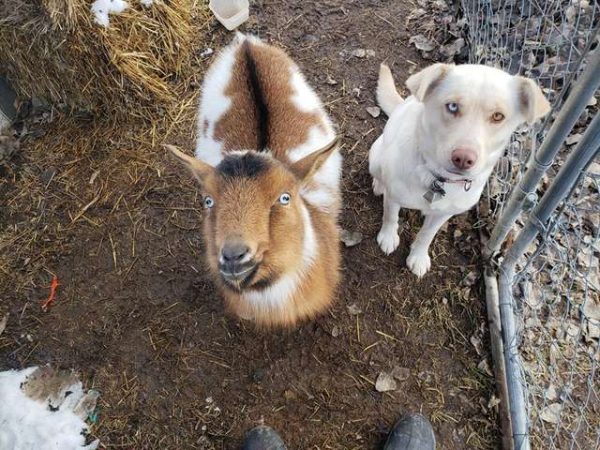 "Just a normal Thursday morning," Krier posted on Facebook.
The dog and goat belong to Chris and Shawna Huggans, who were just as relieved as the Kriers that their furry friends were safe and sound. Like their neighbors, though, the Hugganses were bewildered at how the trio had managed to make their great escape for a bit of fun.
"It's difficult to say if Bo the black Lab or Libby and Ozzy were the culprit in starting the adventure. But, nonetheless, they escaped," Shawna Huggans told The Dodo. "They're pals for sure."
The Kriers joked that it was "the kind of [story] that you tell your family and friends and they don't believe you," but the video makes it pretty clear: this trio of trouble found their way out to have an adventure!
Luckily, all three are now safe and sound with their families again. No word yet on how the respective neighbors plan to keep them from finding another path to adventure—but if any four-legged friends seem capable of taking another journey elsewhere, it seems like these are the ones that can do it.