Sikorsky and Bell will duke it out in a two-year competition to replace the military's iconic Black Hawk helicopter.
Neither contender looks much like a helicopter, let alone the 40-year-old Black Hawk frame they are aiming to replace. With military strategists demanding three times the range and double the speed, the army needed to start with a clean design sheet.
The Future Long-Range Reconnaissance Aircraft (FLRAA) program has entered its final two-year competition phase, the military announced on March 16, after which one of the two will be selected for a final program of record.
Bell's V-280 Valor, which builds on its Osprey tilt-rotor design, already exceeded the speed requirement back in 2018, reaching 300 knots.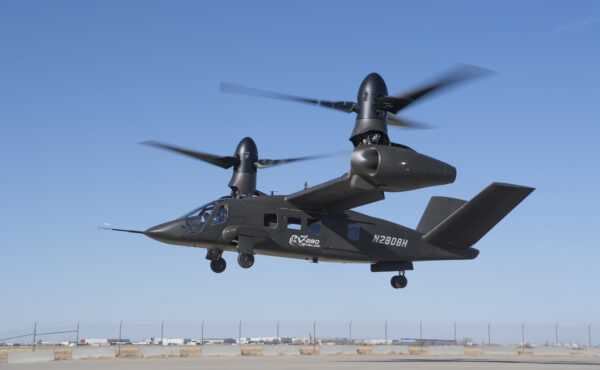 Sikorsky's double-bladed SB>1 Defiant, which took designers back to the drawing board, is catching up, recently reaching 140 knots in airspeed.
The Sikorsky UH-60 Black Hawk has been a staple of military missions for decades and undergone numerous upgrades.
But with the military revamping to meet renewed great power competition, as per the National Defense Strategy, another upgrade won't cut it.
In addition to being able to fly 1,725 nautical miles, the new aircraft is going to need to demonstrate both low-speed agility and a huge leap in speed.
"We've asked for 250 to 280 knots. That's more than double the current capability," James Thomson, Deputy Director of the Army's Future Vertical Lift team, previously told The Epoch Times. "That's a pretty significant increase."
The FLRAA program is one of two key helicopter-like programs which come under one of the Army's six modernization priorities: Future Vertical Lift.
The Defiant and Valor were both demonstration aircraft. They now both go through to the competition phase known as the Competitive Demonstration and Risk Reduction (CD&RR). A winner will then be selected in 2022, with the Army aiming to finally field the aircraft by 2030.
"These agreements are an important milestone for FLRAA," Patrick Mason, Program Executive Officer, Aviation, said in a statement. "The CD&RR continues to transition technologies from the JMR-TD [Joint Multi-Role Technology Demonstrator] effort to the FLRAA weapons system design. We will be conducting analysis to refine the requirements, conceptual designs, and acquisition approach."
Like everything in the military's modernization, the FLRAA program is part of a strategic shift to tackle China and Russia's growing military prowess.
The longer range and speed are needed because of the distance created by the long reach of China and Russia's air defense and missile systems.
"Once we penetrate and then disintegrate that air defense system, think about a fleet of vertical lift aircraft that can come through there at 280 knots or more, and deliver a battalion's-worth of soldiers on the objective to really exploit that window that we open up," said Thomson.
Conventional helicopter design bumps up against a natural speed barrier that limits them typically to around 150 knots—something called "retreating blade" stall.
This means that as the aircraft moves faster, the side of the rotor spinning forward gets more and more lift, and the other side (the retreating side) gets less and less lift.
The SB>1 Defiant solves this by having two rotors spinning in opposite directions, canceling out the lopsided lift.
The V-280 Valor essentially switches into a propeller plane mid-flight by tilting its rotors forward.
"The big benefits of a tilt-rotor configuration are that you have a wing," the Valor's chief engineer Paul Wilson previously told The Epoch Times. "Wing-born flight is highly efficient in terms of speed and range."