A black bear mauled to death a Minnesota woman when she left her cabin on a remote island to check why her dogs were barking.
Catherine Sweatt-Mueller, 62, was staying on the family-owned island in Rainy Lake that straddles the Canadian border in northern Minnesota for a family reunion, according to the Star Tribune.
On the evening of Sunday, Sept. 1. she went outside to investigate, when her two dogs started to bark, according to Ontario Provincial Police Constable Jim Davis.
"The dogs returned, but she did not," Davis told the New York Post. "The victim's mother, who is 84, called police at that point because she was concerned for her daughter's well-being."
Searching the area, Canadian officers found a yearling bear standing over her motionless body.
"She was obviously deceased and there was one bear standing over top of her acting aggressively, so it was shot and killed by the officers," Davis said, according to the Post.
Davis told The Associated Press he could not say what caused the attack.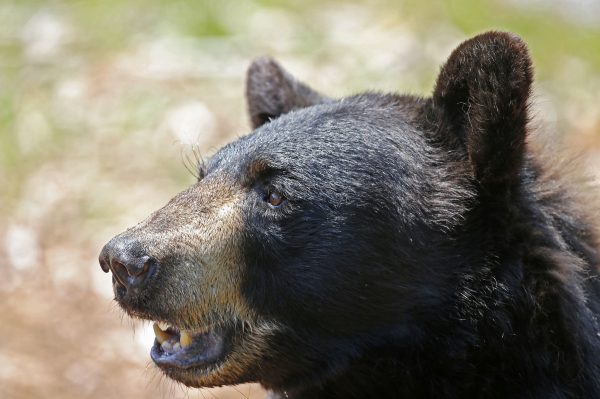 He said that there have been no reports of bears attacking people.
"The family is, of course, very devastated," Davis said. "The officers on the scene were fairly devastated to deliver the news. … We can't believe a bear attacked a person."
Red Pine Island, where she was staying, is about 10 miles (16 kilometers) northeast of International Falls, Minnesota, a few hundred yards into Canadian territory.

Maimoona Dinani, a media relations officer for the Ontario Ministry of Natural Resources and Forestry, said no one witnessed the attack, reported The Associated Press.
"Attacks of this nature are extremely rare and our hearts go out to the family and friends of the victim," Dinani said.
On average there are around three fatal bear attacks a year in North America, with the majority coming from the more aggressive grizzly bears, even though it has a much narrower range than the black bear.
Black bears tend to be timid around people according to Dave Garshelis, a bear research scientist with the Minnesota Department of Natural Resources. "They're very unaggressive bears," he told The Associated Press. "If you ever approach a black bear closely, typically they'll see you and run off."
However, things can be complicated by the presence of dogs. A bear can often become aggressive toward a dog which then goes running back to its owner with a charging bear in tow.
The U.S. Forest Service gives the following advice for those encountering a bear in the wild:
DO NOT RUN.
Remain calm
Group together and pick up small children.
Continue to face the bear and back away slowly, talking calmly to identify yourself as a human.
If the bear continues to approach, try to scare it away by making yourself as large and imposing as possible by stretching your arms overhead and making loud noises.
Carry and know how to use bear spray, which is available at many outdoor retailers and can be used to deter a charging bear.
The department of Fisheries and Wildlife in Oregon, where both black bears and grizzlies are found, adds (pdf) an extra piece of advice: "In the unlikely event you are attacked, fight back, shout, be aggressive, use rocks, sticks, and hands."
It is important to note that this last piece of advice only applies in the case of black bears. With grizzly or brown bear attacks, the advice is to play dead.