Bird Flu Virus Found in Dead Poultry in Inner Mongolia, China
October 3, 2006 12:00 am Last Updated: October 3, 2006 12:00 am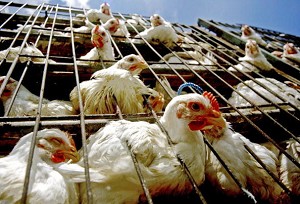 CHINA–China's Ministry of Agriculture confirmed on September 30 that there was a bird flu outbreak in Xincheng Village, Jiuyuan District, close to Baotou City, Inner Mongolia Autonomous Region. The deadly virus caused the death of nearly 1,000 poultry and about 9,000 poultry were killed as a precautionary measure.
According to the regime's official media, the local agricultural administration department has implemented measures such as isolation and sanitization. Currently the epidemic is under control.
China's last reported bird flu case occurred in August in Changsha City, Hunan Province. Over 1,800 ducks died from the H5N1 virus and 217,000 ducks were killed to prevent further outbreaks.
In recent years, China has reported nine bird flu outbreaks. All previous incidents have been brought under control.