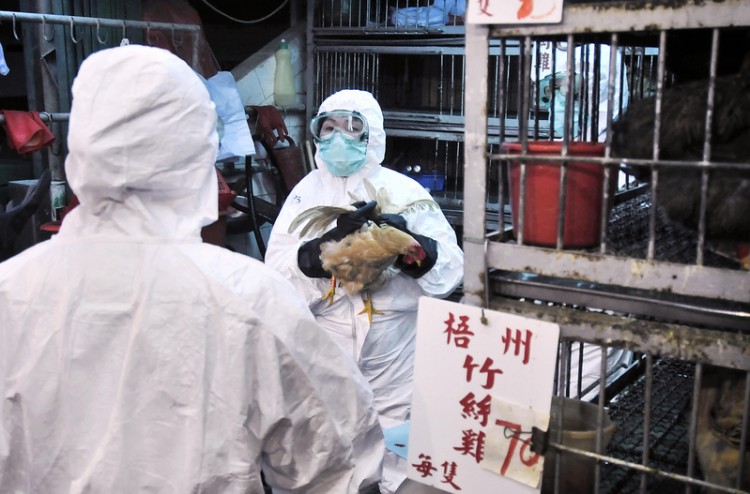 Outbreaks of H5N1 avian influenza, better known as bird flu, have occurred across China this year. 
Information on bird flu's spread in China was made public in January in a Hong Kong health report to the World Health Organization (WHO), saying that China was one of the 15 affected countries in the world with 18 provinces and cities experiencing H5N1 avian influenza outbreaks. Now, the Guangdong Province Department of Agriculture has also admitted that there is an outbreak.
A 2-year-old boy from Hong Kong contracted bird flu in early June as confirmed by the Department of Health in Hong Kong. A duck sample from Jiangnan Market in the Haizhu District of Guangzhou, Guangdong Province, where the boy had visited in mid-May, was tested positive for the H5N1 virus. Samples from another market in the same district also tested positive, according to the Center for Disease Control and Prevention in Guangdong Province. 
In a Sept. 18 announcement the Guangdong Province Department of Agriculture said that the southern region of China was hit by a H5N1 flu epidemic that has infected 14,050 ducks and killed 6,300 birds. In farms in Zhanjiang City, a large urban area in the southwestern part of Guangdong Province, authorities killed 67,500 ducks. 
H5N1, a highly pathogenic virus, is an infectious bird disease that can spread to humans who come in contact with infected birds. When people are infected, the mortality rate is about 60 percent, according to the WHO. 
Pandemic Timeline
In December 2011, over 2,000 chickens died in a few days in Zengcheng, Guangdong Province. Authorities killed 27,500 birds, but Chinese state media denied that the slaughter was to prevent the spread of bird flu. 
On Jan. 26, the Centre for Health Protection (CHP) in Hong Kong published The Avian Influenza Report, informing the WHO that China was one of 15 countries in the world affected by H5N1 avian influenza with 18 provinces and cities affected, namely Anhui, Beijing, Fujian, Guangdong, Guangxi, Guizhou, Hong Kong, Hubei, Hunan, Jiangsu, Jiangxi, Liaoning, Shandong, Shanghai, Shanxi, Sichuan, Xinjiang, and Zhejiang. 
Throughout this year, China's Ministry of Agriculture also reported some H5N1 outbreaks.
In April, H5N1 avian influenza was found in northwest China's Guyuan City, Ningxia Hui Autonomous Region. Authorities said 23,880 chickens were infected and 95,000 were destroyed. 
In June, 6,200 chickens were infected in northwest China's Baiyin City, Gansu Province; authorities killed 18,460 birds. 
In July, 5,500 chickens were confirmed with H5N1 in the northwestern Xinjiang Uyghur Autonomous Region, and 1,600 of them died. 
Human Cases
In the last two years, two people reportedly died in China from H5N1 infection, according to Chinese authorities, who generally do not disclose the true casualty figures from disasters or epidemics. 
A 39-year-old bus-driver named Chen was said to have died from multiple organ failure on Dec. 31, 2011, after being infected with the virus, according to the Guangdong Province Department of Health. Chen was said to have been the first confirmed human bird flu death in China since 2010.
Another man, also said to have been 39, was reported to have died at Guiyang Medical College Hospital in Guizhou Province on Jan. 19. He was said to have been the first 2012 case of human H5N1 infection in China, and the third in Guizhou Province. 
The first human H5N1 bird flu epidemic occurred in Hong Kong in 1997 with 12 people infected and six deaths. Since 2003, 31 people in China have been infected of whom 21 died, Chinese media Sing Tao Daily reported on Sept. 19. 
According to the WHO, 60 people worldwide were confirmed positive for H5N1 avian influenza in 2011, and 33 died–a mortality rate of 55 percent.
Read the original Chinese article.
The Epoch Times publishes in 35 countries and in 19 languages. Subscribe to our e-newsletter.
Click www.ept.ms/ccp-crisis to read about the most recent developments in the ongoing crisis within the Chinese communist regime. In this special topic, we provide readers with the necessary context to understand the situation. Get the RSS feed. Who are the Major Players?