A bipartisan group of lawmakers says that fixing the U.S.–Mexico border crisis is the responsibility of the Biden administration and various federal agencies, adding that Congress has little power to act on immigration matters.
Sen. Jon Tester (D-Mont.) said he's not sure what Congress can do in the immediate future.
"I don't know you need legislation. I think what we need is to make sure we get the people and the technology down there to stop it," he said in an interview with The Hill over the weekend. "We also need to work with the other countries to make sure that they're not sending folks up.
"That's how I would approach it."
Dealing with the crisis "down there" is the responsibility "of the executive branch," said Sen. Sheldon Whitehouse (D-R.I.), according to the news outlet. "If they feel they need additional resources, obviously, we're here to help."
"There's resources. There's the question of standing up the places in Central America where people can apply [for asylum] directly," Sen. Bob Menendez (D-N.J.) said of things Congress can do.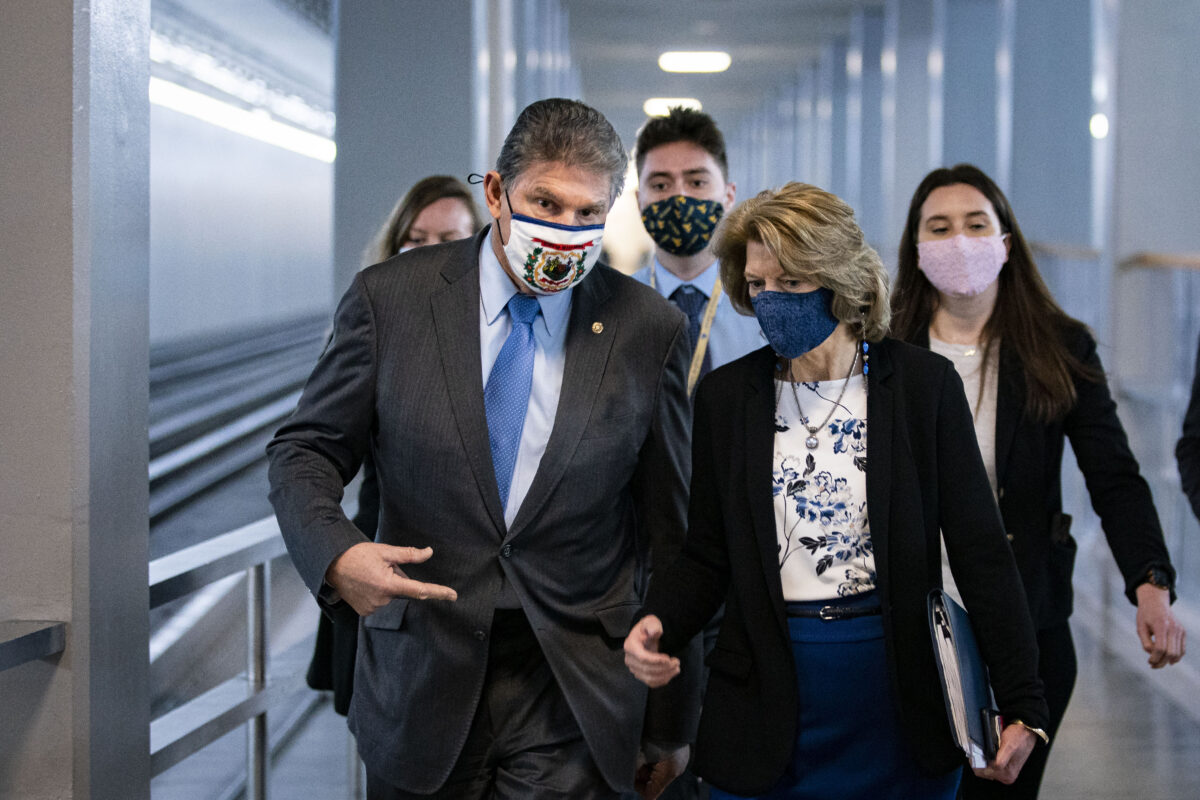 It comes after Sen. Joe Manchin (D-W.Va.) said after the border visit last week that it's time for Congress to take action and address the crisis.
Nearly 20 Republican senators traveled to the border late last month, with many blaming the massive surge in illegal immigration on President Joe Biden's slew of executive orders that rescinded a number of Trump-era policies, including the "Remain in Mexico" protocol and construction of the border wall, and instead allowing unaccompanied children and some families to stay in the United States for processing, and signaling support for granting increased avenues to citizenship for more than 11 million illegal immigrants already in the United States.
"They need to go back to the policies that were working," Sen. Lindsey Graham (R-S.C.) said in an interview with The Hill.
Democratic Senate leaders, including Majority Whip Dick Durbin (D-Ill.), told reporters last month that it's unlikely an immigration reform bill will be passed anytime soon, citing divisions in the House.
"I think Speaker [Nancy] Pelosi has discovered that she doesn't have support for the comprehensive bill in the House," Durbin told reporters. "And it indicates where it is in the Senate as well."
Underscoring the severity of the crisis, the Department of Homeland Security's Office of Inspector General (OIG) found numerous violations at an immigration detention facility in La Palma Correctional Center in Eloy, Arizona.
"One detainee, who is a cancer patient, ran out of leukemia medication after the medical staff did not order a refill on time," the OIG report (pdf) said. "Since the detainee did not hold the medication, he was not aware of when the medication was running out or how long it would take medical staff to obtain a refill."