Reform to NY Restaurant Health Inspections on the Way
September 22, 2013 9:54 pm Last Updated: September 22, 2013 10:35 pm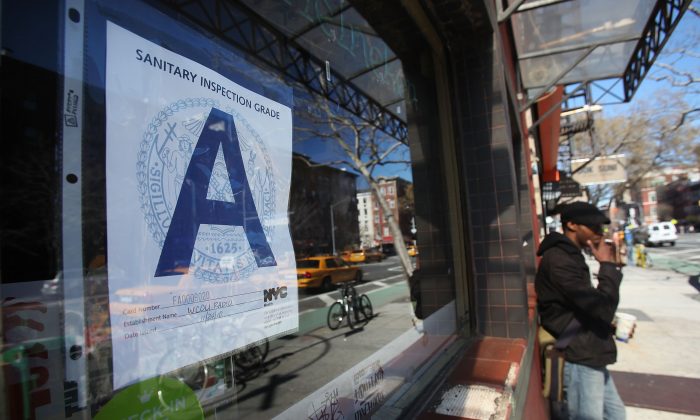 NEW YORK—Restaurant grading, whereby restaurants receive A's, B's, or C's from Department of Health inspectors, often comes with hefty fines and can cause considerable stress for restaurant owners.
At present, if restaurant owners receive fines or unfair treatment from inspectors, there is little they can do, except pay the fine.
Many restaurant owners in lower-income communities have found the fines, which can amount to thousands of dollars, hit their profit margins hard.
Five bills are being introduced to the City Council Committee on Health Monday morning that could help restaurant owners.
One of the bills, sponsored by Committee on Health Chair Maria del Carmen Arroyo would set up a food service establishment inspection ombudsman office within the NYC Department of Health and Mental Hygiene. Restaurant owners could take complaints to the ombudsman's office, and in some cases have violations withdrawn.
Back in August, when she met with some restaurant owners near her district office in the Bronx, Arroyo said her legislation, and the three other bills she is co-sponsoring, would "make letter grading more friendly for the restaurants."
Council member Vincent Gentile said health inspectors should work with businesses owners, "rather than attempt to catch them off guard and penalize them."
His bill proposes an inspection code of conduct pamphlet, which inspectors would distribute to restaurant owners before an initial inspection. The pamphlet would be used to make sure all parties know how inspections should work.
The pamphlets proposed under Gentile's bill would be published in Chinese, English, Haitian Creole, Korean, Bengali, Russian, and Spanish.
Marcos Entenza is a former health inspector who trains restaurant owners so they can avoid fines during inspections. He said restaurant owners were frustrated by the inconsistencies between health inspectors, as each seemed to interpret the health code differently. Some inspectors were even "very confrontational" toward restaurant owners.
To get an A, restaurants must have 13 or fewer violation points. If a restaurant does not get an A during the initial inspection, the health department will be back typically within a month to inspect the restaurant again. This can result in another set of fines.
Each violation has its own point value. A public health hazard, such as not keeping food at the right temperature, triggers a minimum of seven points. Each violation can incur a fine.
If a restaurant gets an A on the first inspection, it will have about one year respite before another visit from the heath department. If a restaurant has more than 28 violation points it has failed inspection. An A grade issued on the second inspection is good for only four to six months, after that time the inspector will return for possibly another round of fines.
Another bill sponsored by Council member Peter Koo would create a food service establishment advisory board, to oversea the grading system and advise the health commissioner of the effects of the inspection program on the restaurant industry.
A bill sponsored by Council member Diana Reyna would require food service establishment sanitary inspection data for each violation cited and the total score upon inspection. The bill would also require data on whether any fines were disputed through adjudication, and the amounts related to any fines that were charged.
Council member James Van Bramer's bill would require the Department of Health and Mental Hygiene to develop an optional consultative inspection program for restaurants, for educational purposes only to help owners avoid fines for violations during official inspections. The department could charge a fee for the service.
Council Speaker Christine Quinn announced in August that the city had reached an agreement with the Department of Health to standardize fines for restaurant owners. Any restaurant with less than 14 points for violations after the initial inspection would not have to pay any fines. Quinn said the changes would probably come into effect by the end of the year, after the health department holds public hearings.
Currently the city health department inspects around 24,000 restaurants a year, and according to Quinn, garners around $40 million a year in fines.