LOS ANGELES—Billionaire real estate mogul Rick Caruso officially entered the LA mayoral race on Friday, hours before the city clerk's declaration of intent deadline on Feb. 12.
Caruso, 63, was joined by longtime political advisor Peter Ragone on Friday afternoon at the election office. Ragone has a long history of advising influential Democratic candidates nationwide—including Gov. Gavin Newsom in 2004 and presidential candidate Al Gore in 2001.
Ragone confirmed to The Epoch Times the campaign is made up of a handful of close advisors to Caruso, but he expects it to grow as the campaign is officiated and gets off the ground.
Caruso told reporters Friday he's excited to join the race and that it's "very meaningful" to him and his family.
"I'm excited to be here," he said. "We're gonna have more to talk about next week. I look forward to spending more time with you and have a longer conversation."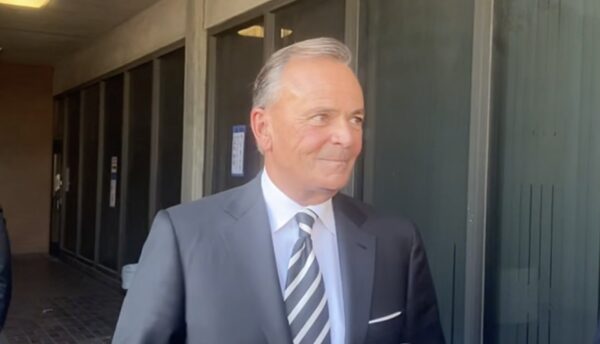 Caruso is widely recognized in LA as a real estate powerhouse, developing several large malls in Southern California including The Grove, the Americana at Brand, the Commons at Calabassas, Palisades Village, and the Waterside Marina Del Rey among others.
Caruso—who recently registered under the Democratic ticket—has flirted with the idea of a bid for mayor in previous years. He also served as president of the LA Police Commission and served on the Department of Water and Power in the 1980s.
Councilman and mayoral candidate Joe Buscaino, a Democrat, of District 15, released a statement welcoming Caruso to the race, but jabbed at Caruso's "elite, star-studded fundraiser for District Attorney George Gascón."
"I think everybody in Los Angeles should be deeply concerned about Mr. Caruso's commitment to public safety," Buscaino said.
Buscaino, a Democrat, jumped in the race before most of the other candidates last summer.
Councilman Kevin de León, a Democrat, of District 14, also made an appearance at the city clerk's office early Friday to file his declaration of intent.
"Signed, sealed, and delivered the official paperwork declaring my candidacy for L.A. Mayor," De Leon wrote on Twitter. "Los Angeles – we're just getting started. Let's do this!"
So far, prominent LA business leader Jessica Lall was the first to drop out of the race last week.
U.S. Rep Karen Bass (D-Calif.) is currently leading the pack with the most funds raised—just under $2 million—according to filings through Dec. 31, 2021. But that could soon change with Caruso jumping in the race.
The LA City Ethics Commission reported last month mayoral candidates have raised a total of $7.9 million so far in their bid to replace soon-to-be termed-out Mayor Eric Garcetti.
Angelenos will have a chance to vote during the June 7 primaries, with the top two contenders facing off on Nov. 8, 2022.