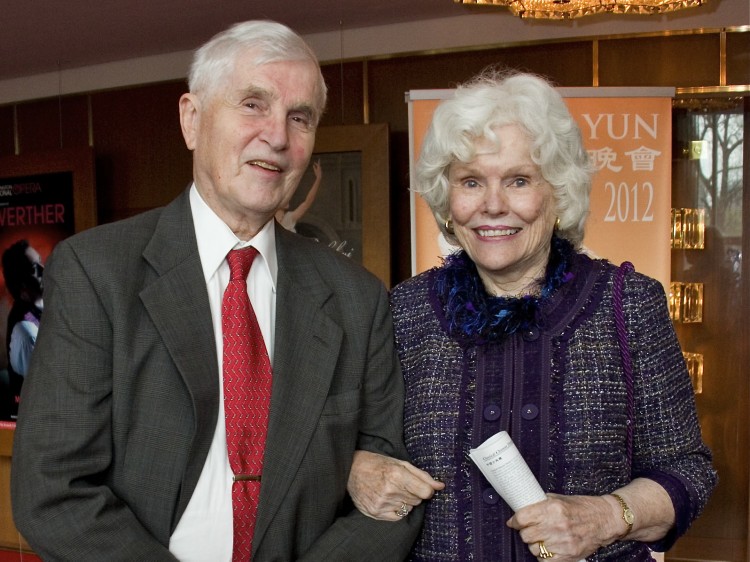 WASHINGTON—Doris Buffett, a philanthropist, author, and founder of The Sunshine Lady Foundation, and Josiah Rowe, a former newspaper publisher, were at the Kennedy Center Opera House on March 25 for the matinee performance by Shen Yun Performing Arts, the world's premier classical Chinese dance and music company.
"I loved it," said Ms. Buffett when asked how she enjoyed the performance by the New York-based Shen Yun.
There were many aspects of the performance that she appreciated.
"It was colorful, the amount of prowess that they showed, and the delicacy of the ladies in all the beautiful costumes were outstanding," she said.
Lotus Leaves, where the maidens are delicate and playful, touched her heart. "That was magnificent, it really was. I don't know how they do it, they're amazing."
Shen Yun tours with an orchestra of classical Western and traditional Chinese instruments, playing original pieces. Ms. Buffett felt the music added to the performance, saying that the music was "another thing."
Ms. Buffett said she had heard about Shen Yun a couple of years ago and was very pleased that she and Mr. Rowe had found the time to come this year.
"I think anybody could see that show [Shen Yun] and be happy," she said.
Shen Yun draws upon China's 5,000 years of culture, including stories depicting the Chinese communist party's contemporary persecution of the ancient mind-body practice Falun Gong.
The stories contained statements that were "well done," Mr. Rowe said. He said he was aware of lack of freedom of speech in today's China.
Philanthropist Ms. Buffett founded and funds The Sunshine Lady Foundation. According to its website, the mission of The Sunshine Lady Foundation is to invest in organizations and programs dedicated to providing opportunities for the advancement of education, well being and new life choices for disadvantaged people with special empathy for the working poor and families in crisis.
Ms. Buffett said, "I've been doing that for a long time, and I love it. They're empowering me."
Reporting by Yang Chen and Leigh Smith.

Shen Yun Performing Arts, based in New York, tours the world on a mission to revive traditional Chinese culture. Shen Yun Performing Arts Touring Company will perform at The Kennedy Center Opera House, Washington, D.C., through April 1.
For more information visit ShenYunPerformingArts.org