Billing Scandal Exposes China Hospital Corruption
December 5, 2005 12:00 am Last Updated: December 5, 2005 12:00 am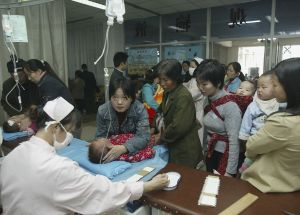 BEIJING – China's rocketing medical charges are being fuelled by chronic corruption and a lack of official accountability, the family and doctor at the centre of a widening billing scandal said in reports on Monday.
Weng Wenhui was treated for 67 days at a hospital in the northeastern city of Harbin before dying on Aug. 6, leaving his family with a 5.5 million yuan ($680,000) bill, including 4 million yuan for imported medicine that doctors urged the family to buy.
Weng's enormous bill, exposed on national television two weeks ago, has ignited official investigations and public uproar about China's increasingly expensive health care.
On Sunday, China's Health Ministry promised to "sternly punish" hospital officials amid claims they had altered medical records and charged for hundreds of unnecessary tests and treatments, including some billed after Weng died.
But even as government officials were blaming errant hospital staff, Weng's family and doctor sought to highlight what they described as entrenched failings of an underfunded, unaccountable medical system.
"The expense of medical care is people's biggest social complaint at present," Weng's son told news agencies.
Businessman Weng Qiang paid for the hospital costs of his father, a 74-year-old retired teacher. Diagnosed with lymphatic cancer last year, the elder Weng was admitted on June 1 to the intensive care unit at the Harbin Medical University No. 2 Hospital.
94 Transfusions
The hospital charged the late Weng's family for 1,180 diagnoses and blood transfusions costing 258,000 yuan, including 94 transfusions on one day, his son said.
When the family complained, the hospital said it had actually undercharged them, a hospital official saying Weng was in hospital for 15 days longer than the family claimed.
Hospitals and equipment in China were becoming increasingly luxurious and advanced despite falling government health care spending, the son said.
"But where does this money come from? It's not water off a duck's back. Nearly all of it is paid by patients," he said.
Burden on Patients Increasing
Chinese spending on health care grew from 11 yuan to 442 yuan per head annually, according to Health Ministry statistics.
Over the same period, the government's share of spending fell from 32 percent to 15 percent and individual spending grew from 36 percent to 68 percent, with insurance making up the remainder.
Weng Wenhui's family and doctor also said widespread corruption lay behind cases of flagrant overcharging.
"Judging from the grass roots, there are people exploiting loopholes in the system to make a profit," the doctor in charge of Weng's treatment, Wang Xueyuan, told agencies.
Wang said senior hospital officials had pressured him to falsify medical records and to charge the family for hundreds of unnecessary or fictional items.
"There's a popular saying in medical circles that leading officials are turning into emperors while ordinary health workers are becoming slaves," he said.
Hiding
Wang went into hiding after exposing the overcharging on Chinese television. The case joins a string of recent hospital billing charges that have prompted official inquiries and promises of fairer charging.
A migrant worker family from western China left a sick woman at the undertaker while she was still alive because they could not afford 10,000 yuan ($1,200) for treatment, state media said.
A U.N. report on China's next five-year development plan said such problems reflected systematic imbalances in medical funding and administration. The market "has failed to meet health needs and government attention to basic health has proven insufficient", it added.