Bill de Blasio's Daughter Excited to Vote in First Election
September 10, 2013 3:51 pm Last Updated: September 11, 2013 11:29 pm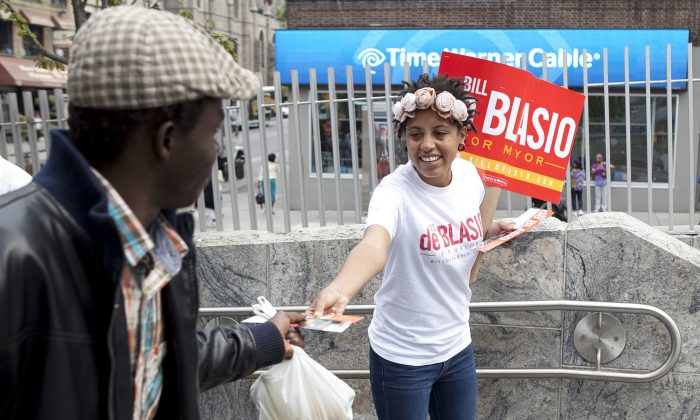 NEW YORK—Primary Day, like every other day on the campaign trail, has seen the de Blasio family out in full force to support dad in his race to succeed Mayor Michael Bloomberg this fall.
The family was supposed to vote as a group early in Park Slope on September 10, but daughter Chiara did not make it. At a campaign stop at 96th Street and Broadway this afternoon, Chiara explained she had not been feeling well the night before and decided to rest instead.
This will be the 18 year-olds first election, a monumental occasion in itself. But this election is extra special because she finds her father's name on the ballot.
"It is pretty cool," Chiara said while taking a break from handing out flyers on the Upper West Side. "I have always had a political family, so I guessed a while back my first vote could be for my dad."
A beaming Bill de Blasio was eager to speak about his daughter's first time to vote, which is expected to take place in Park Slope at 5 pm.
"I think the fact this is the first day she actually gets to exercise her own vote is really a beautiful thing," Bill de Blasio said.
Chiara, as well as her brother Dante, have stumped for their father all summer. She said the experience for the "Get out the Vote" weekend was touching.
"The most touching experience, besides hearing people's story of why they want to vote for my dad, has been seeing how hard these volunteers have worked and given their time and energy," Chiara de Blasio said. "It really warms my heart to see that everyone shares the same common vision."
Dad Bill said his daughter made a video talking about the importance of voting for youth, something he was really proud of.
"She has been talking to a lot of other young people along the way who are having their first opportunity to vote," Bill de Blasio said. "I have seen a lot of bonding over that on the campaign trail. It is a very sweet thing."
Although not a secret, Chiara said she was definitely voting for her father for mayor, something her father was not only proud of but also expecting.
"All I can say is after 18 years, I think I have earned that vote," Bill de Blasio said with a laugh.