Poll: Bill de Blasio Surpasses Crucial 40 Percent in Dem. Primary
September 3, 2013 5:41 pm Last Updated: October 1, 2013 10:10 am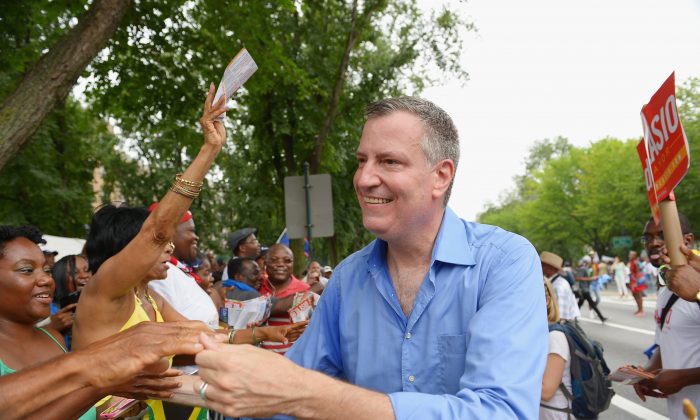 NEW YORK—At the end of February, City Council Speaker Christine Quinn nearly polled at the all-important 40 percent, the minimum level of support a candidate needs to win a primary without a runoff. Her path to victory seemed all but assured, and the campaign almost a formality. This is no longer the case.
To quote a famous sports analogy: "That's why they play the game."
This election cycle has shown us a myriad of twists and turns. The polls, released every week in the month leading up to the election, have played out like a network drama.
When released—which in recent weeks have been hours early due to leaks—pundits race to explain the numbers in 140 characters or less on Twitter. Newspapers splash the results across the front pages.
Three different front-runners have been declared in this year's election.
Bill de Blasio, whose candidacy was for months all but written off, has been enjoying the front-running spot since the Aug. 13 poll, with rivals Quinn and former Comptroller Bill Thompson grappling for a spot in the runoff.
Now, the Quinnipiac University Poll released on Sept. 3 has de Blasio surpassing the magic 40 percent needed to win the nomination outright.
Polling 750 likely Democratic primary voters, Quinnipiac found de Blasio at 42 percent, Thompson in second at 20 percent, and Quinn third at 18 percent.
Anthony Weiner, whose campaign has been marred by a Twitter scandal, which forced him to resign his congressional seat in 2011, polled at just 7 percent.
John Liu, whose campaign was denied matching funds due to straw donors and rules violations, has 4 percent of likely Democratic voters' support. Liu had been consistently polling at 6 or 7 percent before the matching funds were denied by the Campaign Finance Board.
"New Yorkers are responding to Bill de Blasio's bold progressive vision to break from the Bloomberg years and end the tale of two cities that we're living," Bill Hyers, campaign manager for de Blasio, said in a statement.
De Blasio saw his poll numbers decline with the early rise of Weiner in late June after Weiner shocked New Yorkers by entering the race for mayor. After a second round of Weiner's online flirting was exposed, de Blasio shot to the top.
With tough criticism for her role in extending term-limits for Mayor Michael Bloomberg in 2008, and for saying she would keep NYPD Commissioner Raymond Kelly on, Quinn has seen her numbers consistently drop.
While the polls have been eaten up by political reporters and pundits, the caveats in the polls are often overlooked. For instance, in the Sept. 3 Quinnipiac poll, 24 percent of those polled said there was a good chance they would change their minds.
The Thompson campaign has said its internal polls, which have not been released, suggest the race is much closer that what the Quinnipiac polls show.
Nonetheless, in six days, the only poll that matters will be taken, when voters finally cast their ballots for the primary election. On Sept. 10 everyone will see whose polls were right.