Bill de Blasio Stays Above 40% With Machine Counts Complete
September 18, 2013 5:23 pm Last Updated: September 18, 2013 8:52 pm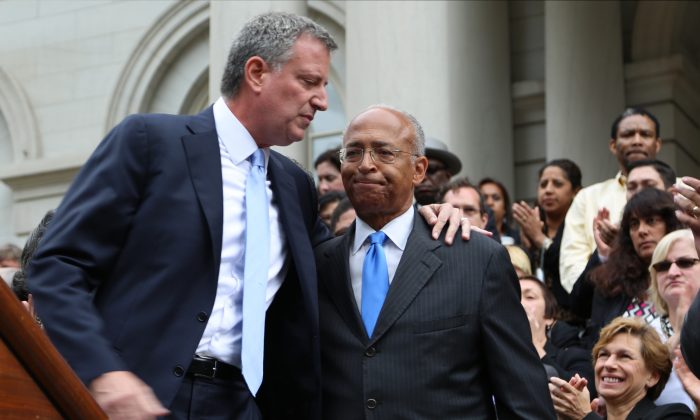 NEW YORK—The Board of Elections released their Primary Day vote tally in the Democrat mayoral race after completing the lever machine re-canvas and counting all emergency ballots on Wednesday.
Bill de Blasio received 270,688, taking 40.88 percent of the vote and staying above the 40 percent mark needed to avoid a runoff.
Bill Thompson, who bowed out of the race on Monday, had 171,725 votes, taking 26.25 percent. City Council Speaker Christine Quinn had 101,282 votes, taking 15.49 percent.
The vote totals do not include affidavit ballots, which have not been counted as of press time. A disclaimer "tentative, subject to change" was marked on a tally sheet emailed to reporters.
During a unity rally on Monday, Thompson, as well as Gov. Andrew Cuomo, formally endorsed de Blasio. On Tuesday Quinn added her name to the former rivals who endorse the Public Advocate in his bid to become the first Democratic mayor since David Dinkins.
On Wednesday former President Bill Clinton and former Secretary of State Hilary Clinton endorsed de Blasio as well. 
De Blasio had worked on Hilary Clinton's Senate campaign. 
"Bill de Blasio has been a friend to both President Clinton and Secretary Clinton for many years," Spokesmen for President Clinton and Secretary Clinton, Matt McKenna and Nick Merrill said in a statement. "They were proud to see him run a thoughtful, creative campaign about the issues, and they are behind him as he moves on to the general election as the Democratic nominee."
If the vote totals hold above 40 percent, de Blasio will avoid a runoff required by law, on Oct. 1 and head to the General Election on Nov. 5. De Blasio will face Republican challenger Joe Lhota and Independent Adolfo Carrion Jr.