De Blasio Details Sandy Recovery Plan (+Photos)
September 29, 2013 8:51 pm Last Updated: October 3, 2013 10:05 am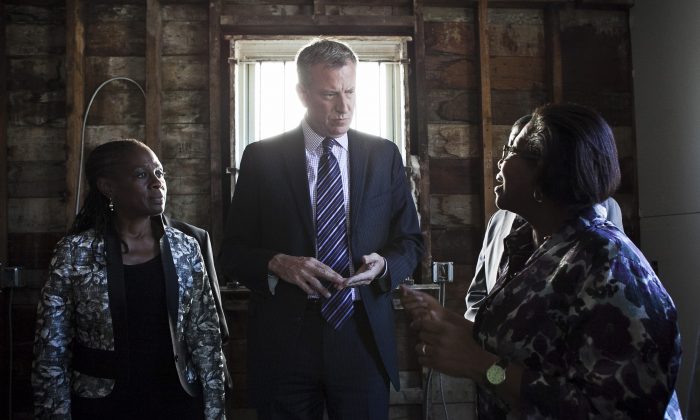 NEW YORK—When Mayor Michael Bloomberg released his administration's rebuilding and resilience plan in June, it was a comprehensive report over 400 pages long. But Bloomberg conceded that the next mayor, not him, who would be in charge of putting the plan into action.
As weeks grow shorter to selecting that next mayor, at least one candidate is beginning to consider what his rebuilding plans would look like.
On Sunday, Democratic mayoral candidate Bill de Blasio released a more detailed look at what Sandy rebuilding and recovery would look like under his administration. De Blasio has always said he would be in favor of using the mayor's plan as starting point, but he is sticking to what has propelled his campaign to implement it: serving those in need.
De Blasio toured the Far Rockaways with an aim of highlighting areas hit hard when Hurricane Sandy made landfall on October 29, 2012. On the drive there, many of the higher income areas had largely been fixed, but as one crossed into the poorer neighborhoods, the scene changed. Homes were still boarded up, businesses closed, and much was still as it was in the days following the hurricane.
For de Blasio, the scene played into his "tale of two cities" campaign motto and underlined who he plans to help if elected to take over the recovery efforts.
"To me, the perfect equation is to have people building the houses they and their neighbors will one day occupy," de Blasio told a group at St. Mary's Star of the Sea Church.
In his plan, de Blasio calls for the jobs created by the rebuilding, be it homes, or new protective infrastructure, to be paid a living wage. He told the crowd at the church that he was unsure of the legal implications, but promised to do everything he could within the letter of the law.
Article Continues after the discussion. Vote and comment
[tok id=9969e9a7acf64705d8f633a8554f5664 partner=1966]
"When handed such a moment, it is our obligation, in a very open and transparent way, to figure out how much good we can do with the resources we are receiving," de Blasio said.
The city is looking at $17 billion in grants from the federal government, which will come into the city over the course of years. De Blasio said while he wishes the disaster never came, he will use the opportunity to fix longer-term problems that have plagued areas like the Rockaways for far too long.
"With these new resources from the federal government, we have to use it as a moment to not just right the wrongs of Sandy, but to right some greater wrongs, because the Rockaways has been ignored for decades," de Blasio said to cheers from the crowd.
He said he will use the money to rebuild affordable housing that was lost and add new affordable housing to help those being left out.
"I am not looking at this as a Band-Aid, but I am looking at this as a new beginning," de Blasio said.
The Sandy recovery will take years to implement, but even if elected to two terms, de Blasio would not see all of the resiliency projects built.
At a visit to the Bennett household, a home severely damaged during the storm, de Blasio stood in the family's living room and listened to Marcia Bennett speak of staying in hotels, with friends, and more recently in the upstairs of their unfinished home.
Despite the hardships, Gabriele Bennett, 17, spoke with de Blasio about looking forward to getting into New York University to study law.
De Blasio gathered the family in a huddle, promised Gabriele a letter of recommendation, and offered to help in any way he could.
"That would be amazing," Gabriele said, taking a card with de Blasio's number on it.
If only all the recovery were that simple.