Bill de Blasio Affirms Support for Labor in New York
September 19, 2013 12:01 pm Last Updated: October 1, 2013 10:03 am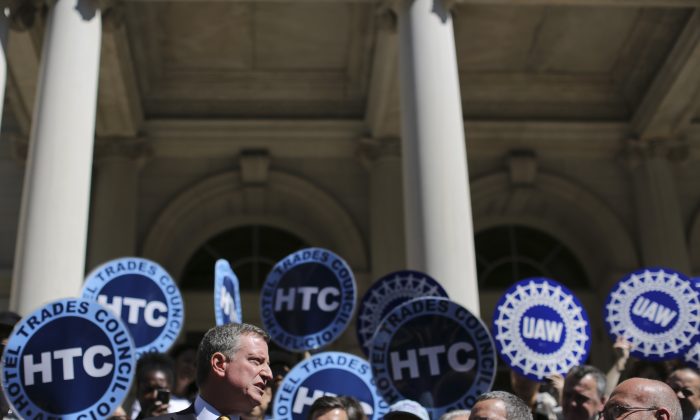 NEW YORK—For those who feared (or wished) mayoral hopeful Bill de Blasio would venture to the middle with the Democratic nomination secured, think again.
At a breakfast hosted by Amsterdam News and Bill Lynch Associates honoring the city's labor leaders, de Blasio gave a short speech touting his desire to build both private and public sector labor movements—his answer to restoring the middle class.
The current public advocate said the American labor movement created the middle class, which is in danger of disappearing all together without help from City Hall, as well as Washington.
"The attack on labor has reduced the economic stability of American families greatly," de Blasio said. "We need to put that in reverse. We need to build labor back up for everyone."
De Blasio joked that labor was not special interest, as some have claimed, saying instead it was in everyone's interest.
"I will say it is in the public's interest for people to be unionized so their families, so the breadwinner gets good wages and benefits, so the family is stable …" de Blasio said. "That is in the tax payer's interest, society's interest."
The Democrat said he would support new labor movements, including carwash workers, security workers, and fast-food workers. De Blasio was a frequent visitor to the fast-food worker rallies for higher wages that happened during his campaign this summer.
The mayoral hopeful said he will use every tool at his disposal, including support for paid sick days, a living wage (the minimum necessary to meet basic needs), and education to help those struggling to get into the middle class.
The comments were not out of character for de Blasio, who has been a supporter of labor during his entire political career. It did, however, signal he is not watering down his progressive message for the general election, a message that has propelled him to the front-running position of the race.
Labor Contracts
Since the primary election on Sept. 10, de Blasio has picked up the support of a bevy of labor unions that had backed another candidate during the primary. It was believed de Blasio would run away with labor endorsements during the early part of the campaign. Instead, labor split among the Democratic candidates.
City labor unions, which have been without renewed contracts since as early as 2009, have been vocal about their desire for a new contract under a new administration. The pressure to fill those expired contracts, and grant retroactive pay to the unions, had been spread among the Democratic candidates, but now, that pressure lies squarely on their newly backed candidate—de Blasio.
Citizens Budget Commission has placed the figure at $7.3 billion for full retroactive pay and raises consistent with the precedents set forth by previous raises. City law requires the budget to be balanced every year, something de Blasio knows will hamper what he can do.
De Blasio said: "We have to balance out budget. Everyone in labor knows it. We will have to find cost savings. That $8 billion figure assumes full retroactive pay. I have said very publicly, that is not happening," de Blasio said. "We hope to do something if we can on retroactive pay but we will not be able to do the full amount, that is quite clear."