A bill to ban drag performances on publicly owned land or anywhere where children could view the performance is most likely dead for this session of the Kentucky Legislature.
The bill, introduced by Republican Sen. Lindsey Tichenor, is almost officially dead due to not having enough time left this session for the legislature to override a likely veto by Democratic Gov. Andy Beshear.
The deadline to override any veto from the Governor is Friday, March 17, and the bill still requires a third reading on the floor before even being sent to Beshear, which is now impossible.
"The bill will not make it through to a veto override, however the bill is still alive currently in the House," Tichenor said in an email to The Epoch Times. "I am hopeful we can at least get it on the governor's desk and let the chips fall where they may. If we are not able to get it through this session, I will indeed reintroduce the bill next session."
The bill is similar to bills introduced and signed into law around the country during this legislative session, including the first such bill signed into law in the nation by neighboring Tennessee.
Kentucky's Proposed Drag Restrictions
The legislation (pdf) would ban adult performances which are defined as "live sexually explicit performances" or "live performances involving male or female impersonators."
In addition to language about male or female impersonators, i.e. drag performers, the legislation defines adult performances from drag performers that "provide entertainment that appeals to a prurient interest in sexual conduct, regardless of whether or not performed for consideration, which taken as a whole lacks serious literary, artistic, political or scientific value."
A person under the legislation would be guilty of engaging in an adult performance if they did so on publicly owned property or "in locations where the person knows or should know that the adult performance could be viewed by a person under the age of 18."
Penalties range from a Class B misdemeanor for the first offense and a Class D felony for the third or subsequent offenses. The second offense would carry a Class A misdemeanor charge.
"Any business that knowingly allows or hosts an adult performance" as defined by the bill where someone under 18 is present would constitute sufficient grounds for a range of punishments for businesses.
Punishments include any of the following, including suspension or revocation of a liquor license, business license, or certificate of occupancy, denial or refusal for renewal of such licenses, and "any other action deemed appropriate for the redress of the violation by the issuing or governing authority."
Sponsor Reacts
While the bill will almost certainly not become law this session, Tichenor said she would work very hard to get it to the governor's desk in the last days of the chamber's session.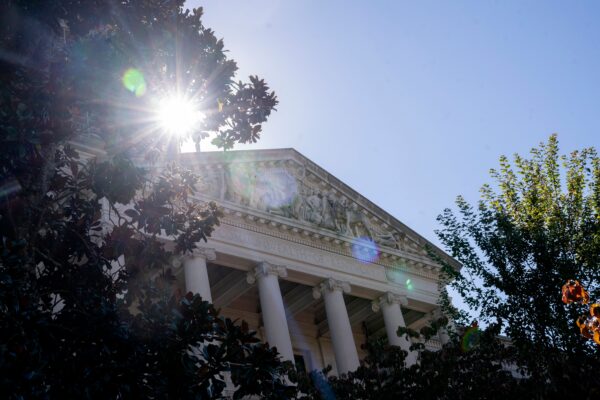 "This is an important piece of legislation, never before have we had people wanting to perform sexually in front of children–and in the public realm," Tichenor said in an email to The Epoch Times. "Drag has been around for a long time, but it has always been in its proper place. It is a shame that we have to consider this type of legislation, and an even larger shame that people are opposed to this bill."
She added the language in the bill is clear, that "sexually explicit adult performances should NOT (sic) be in front of children, it is grooming and it needs to stop."
ACLU Celebrates Bill's Demise
The American Civil Liberties Union of Kentucky on Twitter celebrated the bill being dead earlier this week, declaring "Long live drag."
"We have seen reporting that SB115 will not be heard on the House floor and therefore will not pass this year in Kentucky," Kentucky ACLU Communications Director Angela Cooper told The Epoch Times in an email. "However, we have witnessed a plethora of anti-LGBTQ bills filed this year, and it is reasonable to expect we will have to continue to see such legislation in the 2024 legislative session."
Cooper explained the bill is likely to reemerge next session, possibly with more success, as odd-numbered years in the state are "short sessions" of only 30 days, while even-numbered years have longer sessions of 60 days. The bill failed this term due to time constraints, but could see more success in a longer session.
"The ACLU of Kentucky will always work in the communities, the statehouse, and the courthouse to protect civil liberties and constitutional rights in the commonwealth," Cooper added.