NEW YORK—As spring and summer approach, a series of community planning workshops will be held in the coming months, to decide where bike share stations should be placed in different neighborhoods.
Bike share station locations have been a cause of concern for the public, because it is so far unclear whether sidewalk space, parking spots, or other areas will be replaced with stations.
A bike share exhibition ran at the Center for Architecture from Jan. 16 to Feb. 4 to familiarize New Yorkers with how bike shares work around the world. It also revealed previously vague aspects of the planned New York system, such as price structure.
However, the location of systems, said event attendees, could be problematic for several reasons.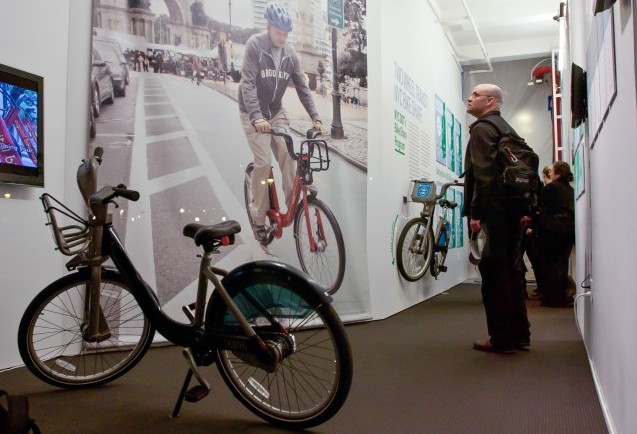 One problem is the locations themselves. Concerns have been expressed by pedestrians and drivers, who don't want to see precious sidewalk space or parking spaces given over to bike stations. Another is the question of how long it will take to work with community boards to decide on locations.
This series of workshops will allow the public to express their concerns and have a say in the locations of bike share stations. For phase one of the bike share, 600 stations will be placed around Manhattan and Northwest Brooklyn, using 10,000 bikes.
The next workshop, on Feb. 6 from 6–8 p.m., is with Manhattan's Community Board (CB) 2 at Our Lady of Pompeii, 25 Carmine St.
"Join Manhattan's Community Board 2, and local residents and business owners at a roundtable planning workshop to help decide how bike share should work and where stations should go in the West Village, Tribeca, and and SoHo," states the bike share timeline.
Manhattan's CB6 (Feb. 21), Brooklyn's CB2 (Feb. 23), and Manhattan's CB3 (Feb. 27) also have community planning workshops scheduled this month.