A man suspected of poaching who was killed and eaten by a pride of lions in South Africa has been named by his sister-in-law.
David Baloyi, 50, had crossed into South Africa from Mozambique along with two other men, armed with powerful hunting rifles, according to MailOnline.
They were there to hunt lions by night and were attacked by the pride in the bush.
After Baloyi was mauled, the other two poachers fled, leaving behind their rifles.
Lieutenant Colonel Moatshe Ngoepe of the South African Police Service said that only Baloyi's head was left after the lions had eaten his body.
Ngoepe said, according to MailOnline: "The other two managed to escape the attack and fled back to their home country Mozambique and they then reported their ordeal to the family and the sister-in-law was telephoned.
"She confirmed she also heard over the radio an unknown person was killed by lions and that anyone who could help with the identification should go to Hoedspruit Police Station.
"She went to the police station and was taken to the Maphutha Malatji Hospital Mortuary outside Phalaborwa where she identified the deceased as David Baloyi, aged 50.
"There was only the head to identify him by and it was not in good condition and there was a lot of blood but we have now got a positive identification and we are satisfied it is him.
"He was from the Masingiri area at Mavudza Village in Mozambique.
"The police are still investigating the possibility that the deceased might have been a poacher after hunting rifles and ammunition were found in the vicinity of the scene.
"Subsequent to the gruesome discovery the police have opened an inquest for further investigations and we are asking for anyone with further information to come forward."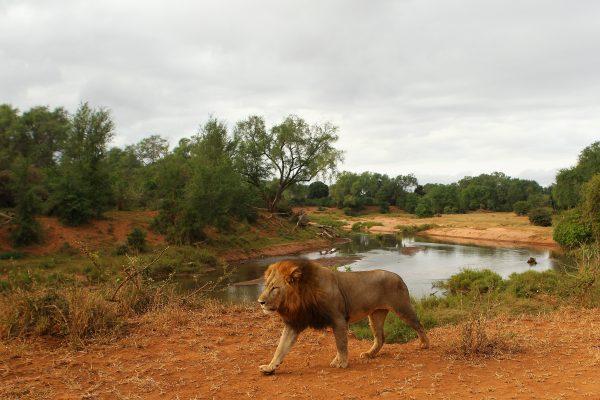 A local wildlife photographer, Charlie Lynham, said he arrived at the nature reserve shortly after the paramedics.
He told MailOnline, "There were no anti-poaching groups in the area at the time and nobody was working there so, although speculation, it would seem very possible that you have poetic justice here.
"Lions are not a particular danger in daylight but after dark then that is another matter."
He added, "If you go out walking in the bush in the dark then I am afraid you are fair game in the wild and there is no way that anyone can attribute any blame to those lions for this kill."
Poachers target lions because their body parts are used in traditional medicine. In the Far East, a skeleton can fetch up to $9,500, skin up to $4,000, and teeth up to $700 each.