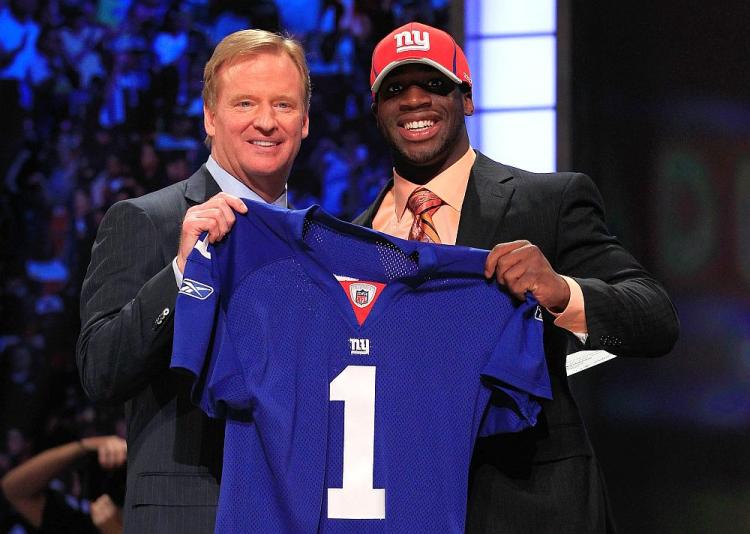 On October 10, 1976, the New York Giants made their Giants Stadium debut against the Dallas Cowboys and lost 24–14 in front of a sellout crowd. On Sunday, in front of a packed house, they came full circle and closed out their historic stadium with a 41–9 loss to the Carolina Panthers.
As great as the Giants were last week during their drubbing of the Washington Redskins, they were flat out horrible against the Panthers. And it couldn't have come at a worse time with playoff implications on the line.
Since Green Bay (10–5) crushed Seattle (5–10) 48–10, all the Giants could do after losing was watch Dallas take on the Redskins on Sunday night, hoping for a Redskins win.
That didn't happen and after a 5–0 start, the Giants aren't going to the playoffs.
Giants quarterback Eli Manning was frustrated after the game. Speaking with www.giants.com he said, "The last game in Giants Stadium, a game that everybody was excited about and we just had too many mistakes."
Carolina controlled the first half, hanging 24 unanswered points on a Giants defense that allowed the Panthers to convert on nearly every third down situation.
In the second quarter, running back Jonathan Stewart galloped for a 29-yard touchdown, while backup quarterback Matt Moore threw touchdown passes to wide receiver Muhsin Muhammad and tight end Jeff King.
Down 24–0, the Giants went into the locker room under a chorus of boos.
Giants coach Tom Coughlin was disappointed with his team's first half effort, "We didn't tackle well. We didn't play with great energy."
On the opening drive of the third quarter, things got worse as the Panthers went on a four play, 71-yard touchdown drive that culminated with a 27-yard TD pass down the middle of the field to All-Pro receiver Steve Smith.
The Giants finally managed to put points on the board halfway through the third quarter after kicker Lawrence Tynes connected on a 40-yard field goal. New York's first points of the game brought sarcastic cheers from the displeased home crowd.
Things were so bad for the Giants that on their lone touchdown score at the beginning of the fourth quarter, they botched the snap and had to settle for six points, making the score 34–9.
Adding insult to injury, Stewart contributed to his team's fifth touchdown drive of the game shortly after, sprinting 52 yards downfield and breaking several tackles in the process.