The very presence of nature, be it flowers or foliage or even a small potted plant, can bring a sort of brightness and charm to a space.
Just ask Louis Brunet, co-founder of Ode à la Rose, who made the leap from a career in banking to floral design in New York City when he realized the arrangements he saw in the city were lacking the careful composition and heart that he was familiar with in his native France. Opened in 2012, Ode à la Rose has since expanded from their classic rose bouquets to other blooms, and are best known for their French-style rounded, hand-tied bouquets.
His advice for floral arrangements when you are entertaining is similar: Key to a good arrangement is the sort of balance that makes you feel like this space has been thought of.
Keep It Simple
Flowers are seasonal and summer often means large, luscious blooms—think dahlias and marigolds.
"It's peony season at the moment; peonies are popular and everybody loves them," Brunet said.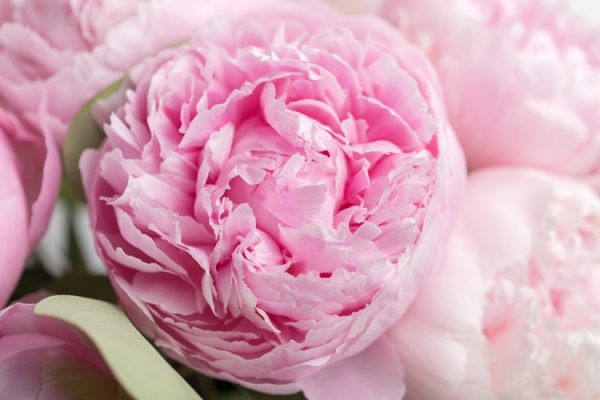 And with such eye-catching flowers, it's worth letting them shine.
"The simplicity of single-stem arrangements is sometimes very beautiful," Brunet said. "For example, you can do just a bunch of roses, or a bunch of peonies by itself with no added foliage, nothing added to it."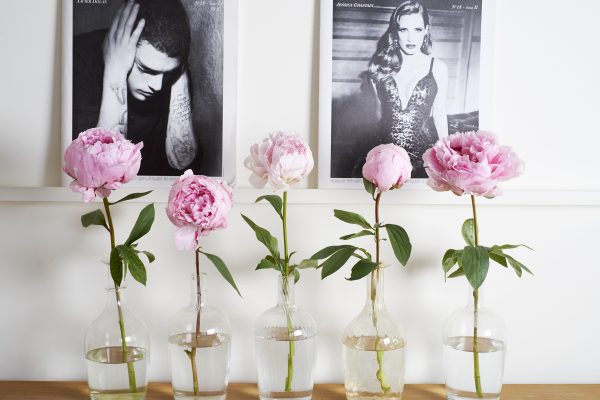 "It's a beautiful arrangement as long as there is enough of it," he said. "It's just one type of flower, and it can be very elegant and simple."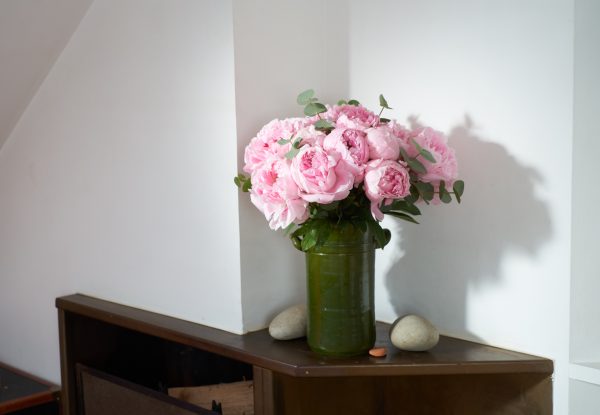 Reminder: Don't choose centerpieces that are so big and tall they obstruct your guests' views of each other.
"There is nothing more annoying than having a big showy arrangement in front of your eyes, and you can't even talk to the person across the table," Brunet said.
Instead, greet your guests at the venue entrance with a large arrangement. "That's the place where you can have other pieces to give a statement right away, that it's going to be a beautiful party."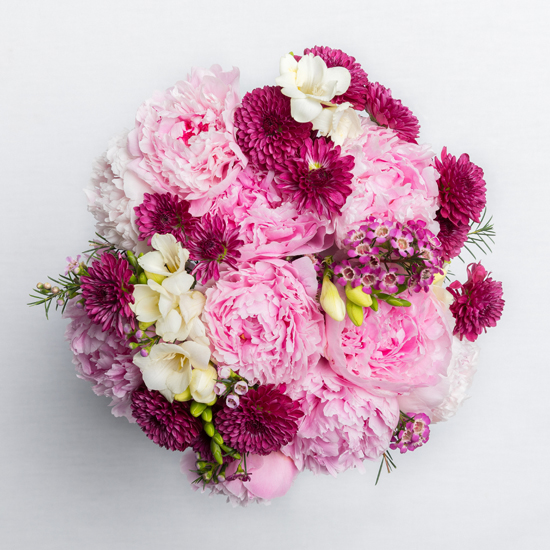 Mix, Match, and DIY
If you have a garden, make use of it.
"For people who are happy to dig a little into it themselves, I would definitely recommend it," Brunet said. "They can choose flowers that they have in their own garden, that's the best thing to do."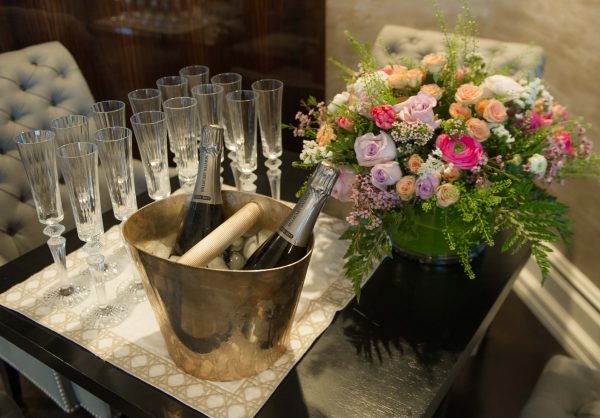 It's not as difficult as you think it might be, and it allows you as the host to show off something that really represents you, Brunet said. Just keep a simple color palette, and don't be afraid to use other plants.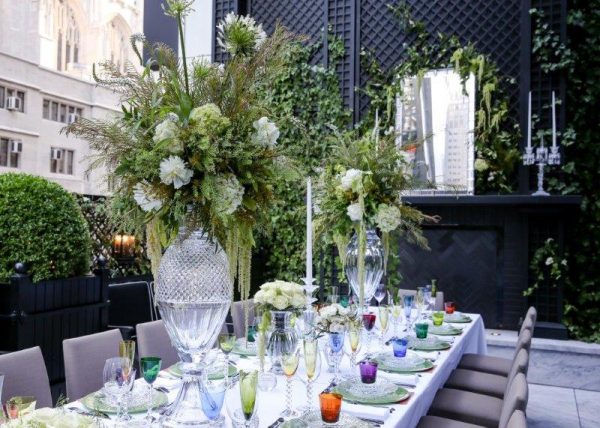 "You can do something beautiful, with a bit of a wild design, like from the countryside. Put a few stems  together in a vase with a bit of foliage that you pick up from your garden, and that's the best arrangement that you can do, because it also portrays yourself as a host," he said.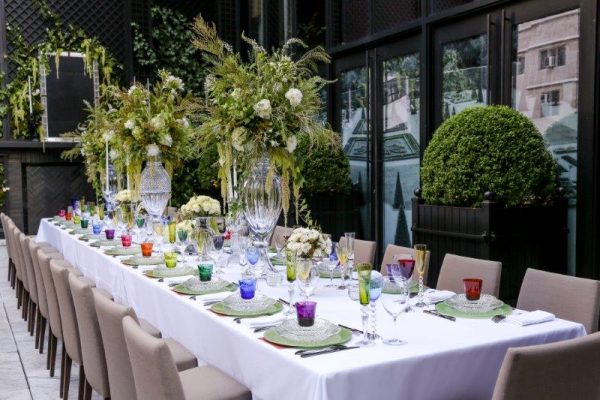 You can also use flowers from your own garden to complement the blooms you purchase.
"Any type of white flowers you have in your garden, mix them with other flowers that you would have to buy because you don't have them, such as peonies," he said.
Talk to Your Florist
Even if you're buying a bundle of flowers you plan to arrange yourself, it's worth picking them up from a florist, said Denise Porcaro, founder of Flower Girl.
"We're already curating a store, we've also a shop shelf that looks really great. And also, we've cleaned everything for you," Porcaro said. This way, you're not having to purchase more flowers than you'll need for the arrangement and having to clean each stem when you get home.
"The idea is to enjoy it and have fun while you're actually arranging," she said.
At Flower Girl, the style is natural, whimsical, and fresh.
"Because we're in New York, and we're blessed with four changing seasons, we work with the changing flowers and greens and foliage of the season. We like to always represent that," Porcaro said.
"The way we do arrangements, we're very organic and true to nature."
In her shop, you'll see a few colors at a time, a lot of texture, greenery, and no over-manipulating of blooms.
"You'll see sunflowers, you'll see dahlias at the end of the summer, you'll see astilbe, you'll see stella, a lot of wildflower kind of feel," Porcaro said. "And there's always garden roses, a lot of kinds of roses around, so a little bit of everything."
She's well aware not everyone memorizes the names of every flower they want to use—it's fine, even better sometimes, to communicate in pictures.
"It's easier to see what's in somebody's brain if they can send you and share with you some images," Porcaro said.
The right arrangement is something you feel comfortable with, fits your space ("is it a garden party? Do you want to do galvanized or mason jars, or fun, eclectic things?"), and conveys the feeling or mood you're after.
"It's about making sure that the florist or designer understands who you and what you're looking for. And it could just be who you are for that event, or who you are as a whole. Once there's the trust factor, they understand, and then they know their craft best so they can figure out what works best and there's more room to find the most beautiful blooms," Porcaro explained.
Local Variety
Tobie Whitman of Little Acre Flowers said the first question you should ask your florist is: Do you have locally grown flowers?
"First of all, they're going to be fresher, which means they're going to last longer. And if they're growing locally in the summer, it means they're going to do well in the heat," Whitman said. "That's going to make for a more durable and lasting floral arrangement, especially if you're hosting something outside."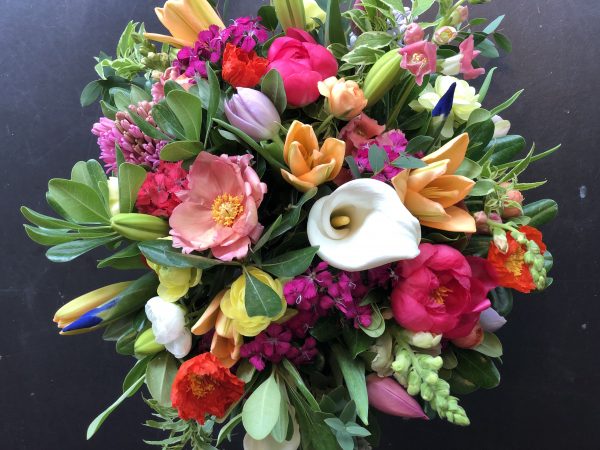 "And particularly in the summer, there are just so many great options, wherever you are," she said. "Something like sunflowers or Celosia, bachelor buttons, things that are growing outside naturally are going to do great when you have them outside for your party."
And secondly, "there is better stuff, that's what's so great about it," Whitman said.
Buying locally can mean more variety, and more interesting variety: you have the opportunity to showcase plants that are special, plants otherwise too delicate or difficult to grow to travel long distances.
Garden-Like
There is no need to abide by monochrome. There can be a vibrant sort of charm that comes with using a wide variety of plants, evocative of a fresh gathering from someone's garden—even if you're getting it done by a professional florist.
"What I like is something that looks fresh, like it came from a place, looking like it just came from a garden," Whitman said. "You're not going to have 25 of the same exact-sized flower from a garden, so you're expecting that variety."
The garden look can give guests a connection to a more natural experience.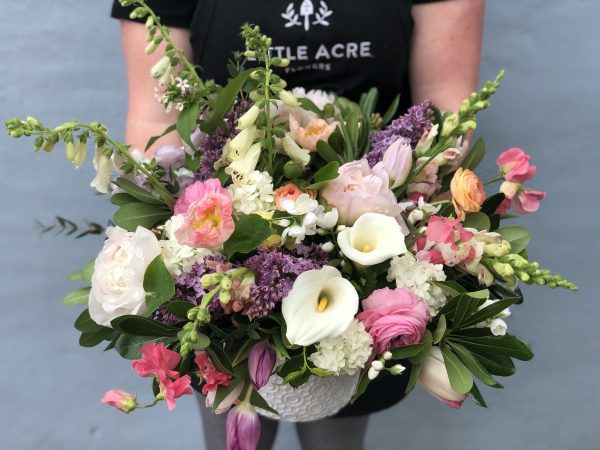 "Flowers are beautiful and uplift everybody's mood; nothing looks so celebratory and festive and that you've taken this extra effort to make this event unique," Whitman said.
Take advantage of the large flowers of the season, especially if it's for an outdoor arrangement. And if you want this more natural look, you can have the arrangement filled out with smaller flowers of different varieties.
"Big blooms I think are very eye-catching," Whitman said. She listed viburnum, hydrangea, sunflowers, which she said are appropriate for summer. "Things that are bigger mixed with some smaller things are fun for outdoors."