Several speeches from former Vice President Joe Biden garnered criticism over the weekend, including one in which he claimed to have met North Korean leader Kim Jong Un.
Biden, 76, has never met the communist leader, but told supporters at an Iowa event on Nov. 30 that he "spent a lot of time" with Kim, Russian President Vladimir Putin, and Chinese leader Xi Jinping.
At the same event, Biden said President Donald Trump was embracing dictators, "folks like Putin and Kim Jong Un and South Korea."
Francis Brennan, director of strategic response for Trump's 2020 campaign, shared one of the clips and wrote that Biden's apparent claim that he met with Kim wasn't true.
"That is FALSE Biden and Kim Jong Un have never met," Brennan wrote on Twitter.
Neither Biden nor former President Barack Obama ever met with Kim.
Biden was speaking during the front end of his eight-day bus tour across Iowa dubbed the "No Malarkey" tour by his campaign.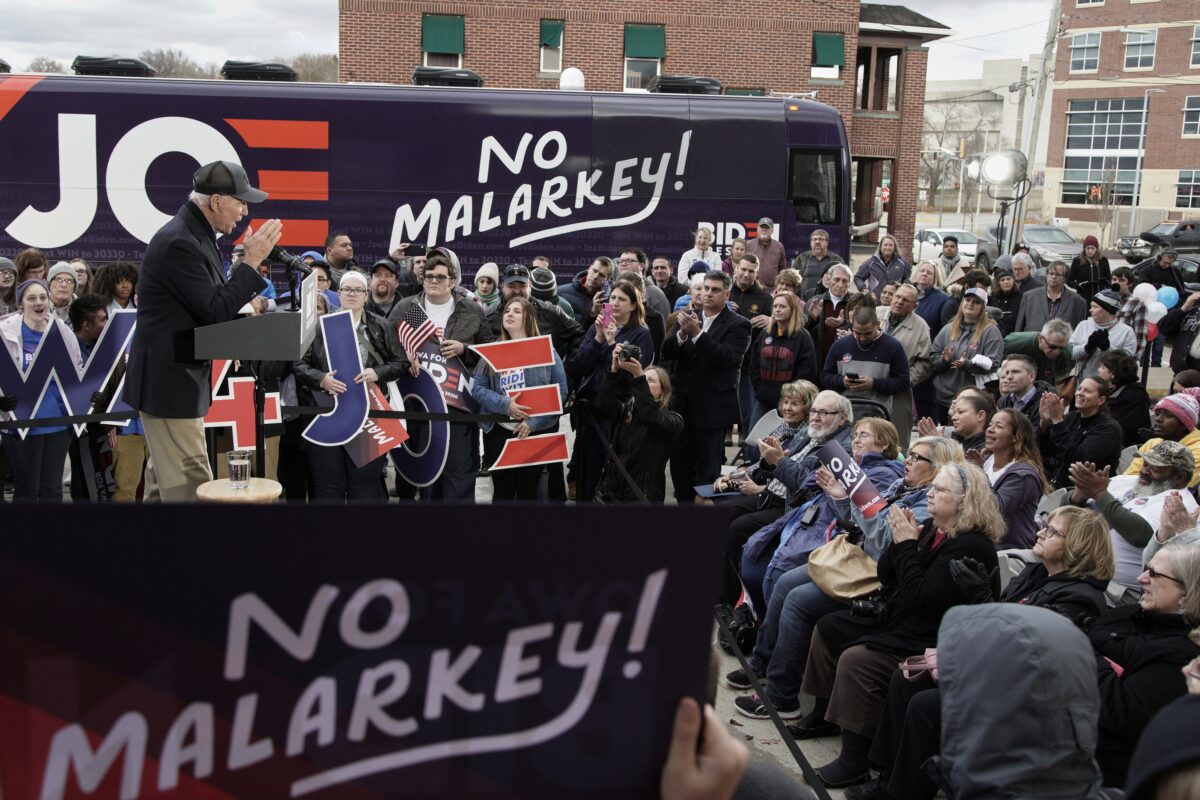 Another clip of Biden went viral over the weekend, drawing widespread criticism. It shows him describing events that took place when he worked as a lifeguard decades ago.
"By the way, you know, I'd sit on the stand and it'd get hot. I got a lot of—I got hairy legs that turn blond in the sun," Biden said. "And the kids used to come up and reach in the pool and rub my leg down so it was straight and then watch the hair come back up again. … I learned about kids jumping on my lap. And I've loved kids jumping on my lap."
Biden was speaking in September in Wilmington, Delaware. The speech initially got attention because of a story he told about someone called "Corn Pop," calling him a "bad dude" who "ran a bunch of bad boys."
"He was up on the board and wouldn't listen to me. I said, 'Hey, Esther, you, off the board, or I'll come up and drag you off,'" Biden told the crowd.
"Well he came off, and he said, 'I'll meet you outside.' He said, 'I'll be waiting for you.' He was with three guys with straight razors. Not a joke.
"There was a guy named Bill Wright, mouse, the only white guy, and he did all the pools, he was the mechanic. And I said, 'What am I going to do?' and he said, 'Come down here in the basement' where all the pool [parts] is. And there was a chain that went across the deep end, and he cut off a six-foot length of chain and folded it up and said, 'You walk out with that chain, and you walk to the car and say, you may cut me, man, but I'm gonna wrap this chain around your head.'
"So I walked out with the chain, and I walked up to my car … and I looked at him, but I was smart then. I said, 'First of all, when I tell you to get off the board, you get off the board, and I'll kick you out again. But I shouldn't have called you Esther Williams, I apologize for that,' but I didn't know if that apology would work.
"He said, 'You apologize to me?' I said, 'I apologize, but not for throwing you out. But I apologize for what I said.' And he said 'OK' and closed his straight razor, and my heart began to beat again."