President Joe Biden's border coordinator will leave the administration at the end of April after a surge of illegal immigrants along the U.S.-Mexico border.
The White House confirmed that Special Assistant to the President and Coordinator Roberta Jacobson, a former U.S. ambassador to Mexico, will step down.
"Biden knew there was no person better to usher in a more safe, secure, and just approach to our Southern Border. Consistent with her commitment at the outset to serve in the Administration's first 100 days, Ambassador Jacobson will retire from her role as Coordinator at the end of this month," according to the White House.
Last month, Biden said that Vice President Kamala Harris will lead the administration in dealing with Central American countries such as El Salvador, Guatemala, and Honduras. An increasing number of Central American nationals have attempted to illegally enter the United States in recent months.
"The Vice President is overseeing a whole-of-government approach supported by outstanding public servants across the interagency including Secretary of Homeland Security Alejandro Mayorkas and Secretary of Health and Human Services Xavier Becerra, who were tasked by the President at the beginning of the administration to rebuild our immigration system," according to the White House's statement.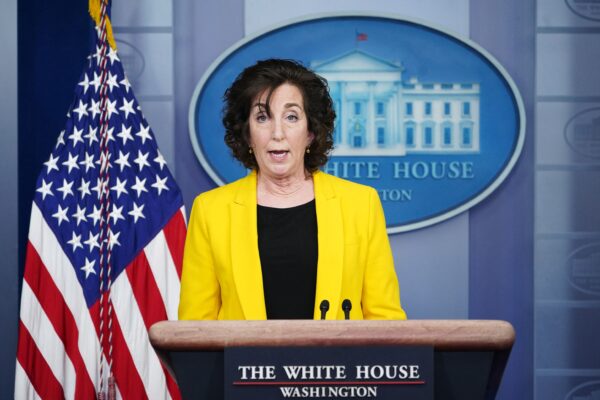 Jacobsen praised how Biden has handled the U.S. immigration system.
"They continue to drive toward the architecture that the president has laid out: an immigration system that is humane, orderly, and safe," Jacobsen told the New York Times. "I leave optimistically. The policy direction is so clearly right for our country."
During the month of March, Border Patrol agents apprehended 172,000 illegal immigrants, according to statistics released on April 8 by Customs and Border Protection (CBP). An additional 1,000 per day are evading capture. In February, border agents apprehended 101,000 people.
Acting CBP Commissioner Troy Miller said this week that the increase "is not new." "Encounters have continued to increase since April 2020, and our past experiences have helped us be better prepared for the challenges we face this year," he said.
But Brandon Judd, president of the National Border Patrol Council, disputed Miller's claim in saying, "This surge is unlike anything we've ever seen before."
Republicans have said that it was because of Biden's executive orders in January that rescinded Trump-era immigration rules that there is now a surge in people entering the United States. illegally, including unaccompanied minors. Democrats and Biden have said Trump dismantled the U.S. immigration system.
Charlotte Cuthbertson contributed to this report.