Democratic presidential nominee Joe Biden traveled to Kenosha, Wisconsin, on Sept. 3 to meet with community leaders, business owners, and law enforcement officials following days of protests and violence that rocked the city.
His trip occurred just days after President Donald Trump visited the city.
The former vice president also met with the family of Jacob Blake, a 29-year-old man who was shot by police in August, setting off protests, riots, and arson attacks in the city. Blake was a suspect in a felony sexual assault case who was shot by police while resisting arrest, according to police.
Blake remains hospitalized after being shot seven times as officers tried to arrest him. Biden met privately with the Blake family.
According to the family's lawyer, Ben Crump, Biden met with the family, who said they were "grateful for the meeting and was very impressed that the Bidens were so engaged and willing to really listen."
During the visit, Biden tried to emphasize an argument that he'll be a unifying figure following months of protests, riots, and looting incidents in major cities since the death of George Floyd in Minneapolis.
"We've got to heal, we got to put things together, bring people together," Biden said. "So my purpose in going, will be to do just that and be a positive influence."
Trump, meanwhile, has accused Democrats and officials who run their cities of capitulating to mob violence and far-left anarchists while touting himself as the law and order candidate.
Following the unrest in Kenosha and violence in Portland, Oregon, Biden has increasingly stated that he's against violent agitators and demonstrations.
"Any violence, any violence, protesting is a right, and free speech is a right," Biden said. "But to engage in violence, burning looting, unrest in the name of protesting is wrong. And the person should be held accountable for their actions."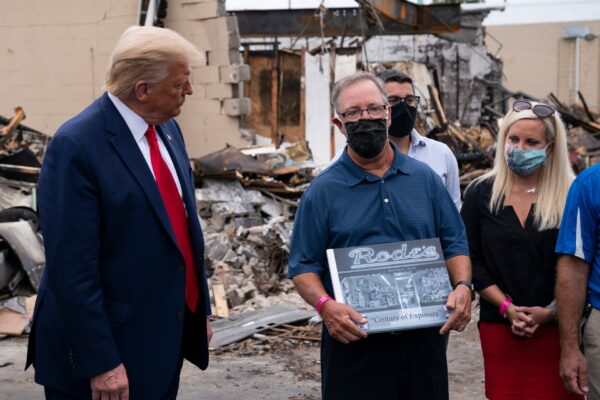 Wisconsin, a so-called battleground state in the 2020 election campaign, went to Trump in 2016 by a narrow margin.
"We should talk about the kind of violence we've seen in Portland and here and other places," Trump said earlier this week in Kenosha. "The fact is that we've seen tremendous violence and we will put it out very, very quickly if given the chance."
It comes as a Kenosha city official indicated that destruction to city-owned property caused by rioters amounted to almost $2 million.
Kenosha public works director, Shelly Billingsley, said that "right now, we're estimating between lost equipment, lost street lights, lost traffic signals, and miscellaneous sign damage–we're estimating a cost of approximately $1.9 million," according to Kenosha News.
Wisconsin Gov. Tony Evers, a Democrat, had said that he wanted neither Trump nor Biden to visit the city.
"I would prefer that no one be here," he told the Journal-Sentinel.