Democratic presidential nominee Joe Biden on Nov. 9 urged Americans of all political views to wear masks as he warned the county is facing a "very dark winter" because of COVID-19 if things don't change.
"There's a need for bold action to fight this pandemic. We're still facing a very dark winter. There are now nearly 10 million COVID cases in the United States. Last week, we topped 120,000 new cases on multiple successive days. Infection rates are going up. Hospitalizations are going up. Deaths are going up," Biden said from The Queen Theatre in Wilmington, Delaware.
"As we work toward a safe and effective vaccine, we know that the single most effective thing we can do to stop the spread of COVID is wear a mask," he said, citing Centers for Disease Control and Prevention Director Robert Redfield.
COVID-19 is the disease caused by the CCP (Chinese Communist Party) virus.
"My message today is to everyone, is this, it doesn't matter who you voted for, where you stood before election day, it doesn't matter your party, your point of view, we can save tens of thousands of lives if everyone would just wear a mask for the next few months. Not Democrat or Republican lives, American lives," Biden said later.
"So please, I implore you, wear a mask. Do it for yourself, do it for your neighbor."
Biden, 77, has positioned himself as the winner of the presidential election, even as legal battles play out in a number of battleground states—making the election outcome unclear—and is making a number of moves to that end.
On Nov. 9, he named a COVID-19 advisory board to help his transition team translate his and his running mate's plan to combat the disease.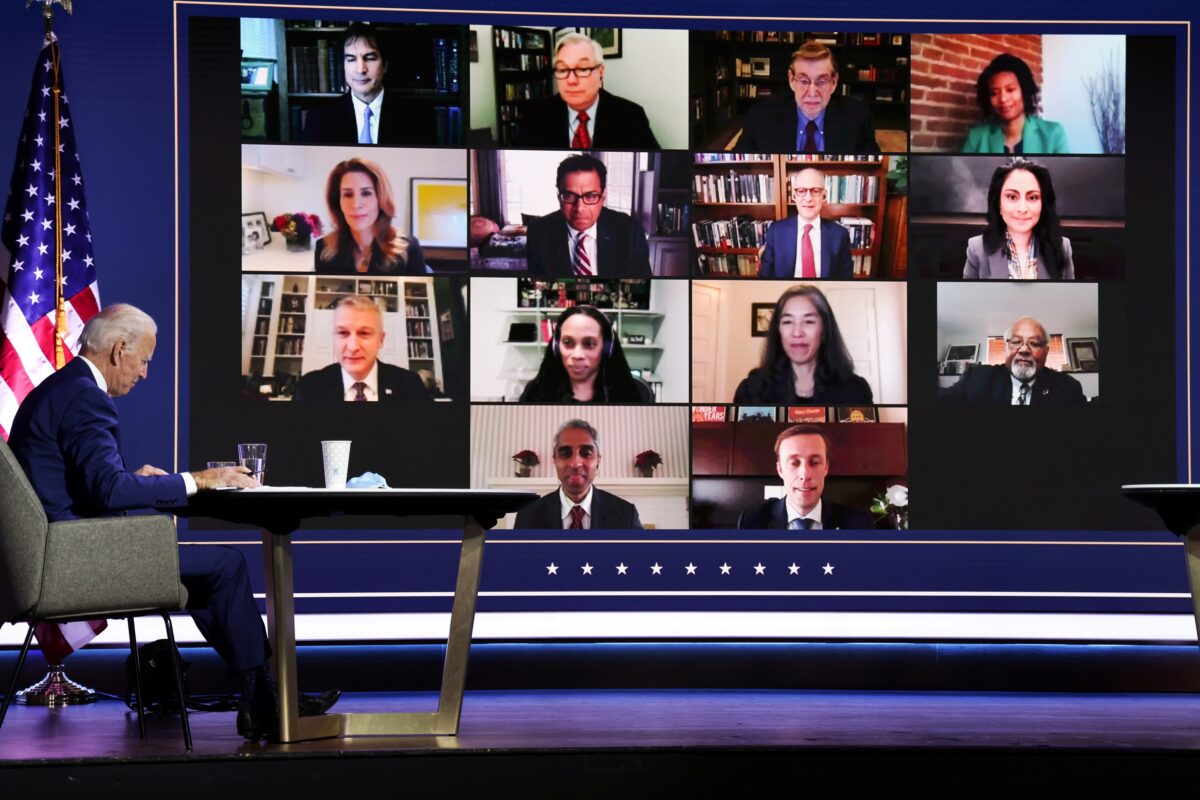 The board is co-chaired by Dr. David Kessler, who headed the Food and Drug Administration under Presidents George H.W. Bush and Bill Clinton; Dr. Vivek Murthy, former surgeon general under Presidents Barack Obama and Trump; and Dr. Marcella Nunez-Smith, associate dean for health equity research at the Yale School of Medicine.
Members of the board include Rick Bright, former head of the Biomedical Advanced Research and Development Authority, who resigned from the Trump administration after being ousted from the agency. Bright was highly critical of the administration's COVID-19 efforts.
According to the Biden-Harris transition website, their plan includes ensuring that all Americans have access to regular, reliable, and free testing; ramping up production of personal protective equipment; and providing clear guidance for how communities should navigate the pandemic.
Biden spoke hours after Pfizer announced interim results for a Phase 3 trial analyzing a COVID-19 vaccine candidate it's developed with BioNTech. The results suggest that the vaccine is effective, the companies said.
Biden said the trial results are positive news, but said he believes the vaccine won't be available widely "for many months yet to come" even if it receives approval from the Food and Drug Administration.
Dozens of other vaccine candidates are in various stages of development.