President Joe Biden announced on April 14 that he will withdraw all U.S. troops from Afghanistan by Sept. 11, after nearly 20 years and after his predecessor, former President Donald Trump, attempted several times to draw down troop levels.
"We cannot continue the cycle of extending or expanding our military presence in Afghanistan hoping to create the ideal conditions for our withdrawal, expecting a different result," Biden said. "I am now the fourth American president to preside over an American troop presence in Afghanistan. Two Republicans. Two Democrats. I will not pass this responsibility to a fifth."
Biden added that it is now "time to end America's longest war" and "time for American troops to come home," noting that the Sept. 11, 2001, attacks in New York City "cannot explain" why U.S. soldiers should remain in the Central Asian country.
Biden said he consulted with top military leaders and Vice President Kamala Harris to make the decision, saying troops will be fully withdrawn by Sept. 11. Biden said he also recently spoke with former President George W. Bush—who launched the war after the 9/11 attacks—about the decision. The president didn't say if Bush approved of the pullout.
Last year, Trump announced an agreement with the Taliban, saying troops would withdraw from Afghanistan by May 1.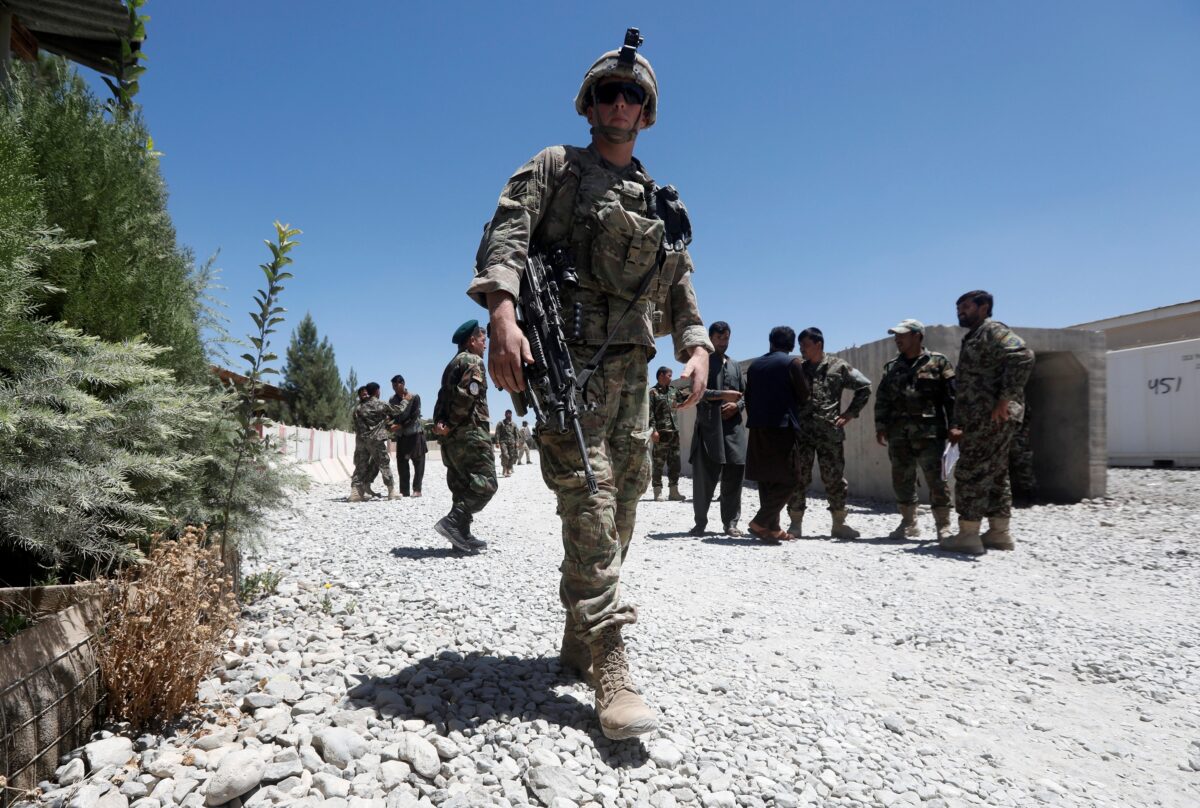 "We went to Afghanistan because of a horrific attack that happened 20 years ago. That cannot explain why we should remain there in 2021," the president said. "Rather than return to war with the Taliban, we have to focus on the challenges that will determine our standing and reach today and into the years to come."
The United States will provide security assistance to Afghanistan's army, Biden said, adding that if the Taliban attacks, the U.S., troops will defend themselves with "all the tools available."
The Taliban will also be "held accountable" to not allow other terrorist groups, including al-Qaeda, to flourish in Afghanistan, the president said.
"We will keep providing assistance to the Afghan National Defense and Security Forces. Along with our partners, we are training and equipping nearly 300,000 personnel. And they continue to fight valiantly on behalf of their country and defend the Afghan people, at great cost," Biden said. "We will support peace talks between the Government of Afghanistan and the Taliban, facilitated by the United Nations."
About 2,500 U.S. soldiers remain in Afghanistan.
Senate Minority Leader Mitch McConnell (R-Ky.) and other top Republicans said Biden's plan to remove troops is a "grave mistake."
"Foreign terrorists will not leave the U.S. alone because our politicians have grown tired of taking the fight to them," McConnell said on the Senate floor on April 13, adding that the administration "needs to explain to the American people why he thinks abandoning our partners and retreating in the face of the Taliban will make America safer."
Some Republican lawmakers praised Biden's decision.
Sen. Ted Cruz (R-Texas) said that he is "glad the troops are coming home," while Sen. Josh Hawley (R-Mo.) wrote that "it's time for this forever war to end."
According to the 2021 report from the Office of the Director of National Intelligence, "Prospects for a peace deal will remain low during the next year," and the Taliban "is likely to make gains on the battlefield, and the Afghan Government will struggle to hold the Taliban at bay if the coalition withdraws support."
The report noted that Iran will build "ties with both the government in Kabul and the Taliban so it can take advantage of any political outcome."