President Joe Biden on Thursday signed into law the COVID-19 Hate Crimes Act that passed with overwhelmingly support from Congress due to concerns that Asian Americans are allegedly facing increased discrimination and hate after the Chinese Communist Party negligently covered up its second SARS epidemic, this time in Wuhan, leading to the deadly COVID-19 global pandemic.
"Silence is complicity and we cannot be complicit. We have to speak out. We have to act," Biden told lawmakers. "That's what you've done. And I can't thank you enough. I'm proud today."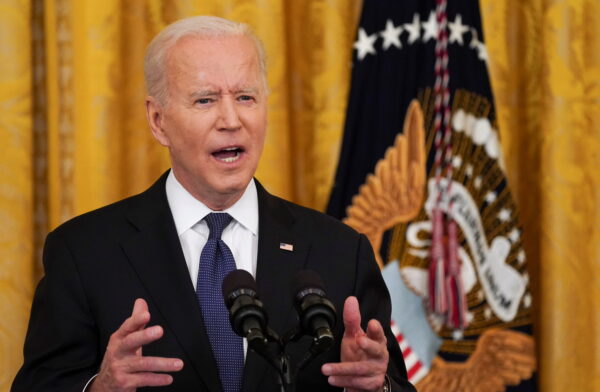 There appears to have been an increase in hate crimes against Asians over the last year. In 16 of the country's largest cities, there was an increase to 122 incidents in 2020 from 49 the previous year, according to an analysis by researchers from California State University (CSU) in San Bernardino.
Democrats have been quick to blame white supremacists for anti-Asian hate crimes during the pandemic, alleging that former President Donald Trump's rhetoric like "China virus" and "kung flu" spurred hate among white extremists whom they see as part of the Trump base, despite Trump's admonishment of them.
Political science researcher Assistant Professor Wilfred Reilly from Kentucky State University, who collected and analyzed a database of about 100 attacks on Asians reported in the media in the past 14 months or so, said that blacks, whites, and other races have been responsible for anti-Asian attacks since the start of the pandemic.
The FBI will release its 2020 hate crime data later this year.
The legislation passed the Senate by a vote of 94-1 in April and the House of Representatives by 364-62 earlier this month. Both chambers are narrowly controlled by Democrats.
The bill, sponsored by Democratic Senator Mazie Hirono and Democratic Representative Grace Meng, designates a Justice Department employee to expedite a review of hate crimes reported to police during the COVID-19 pandemic.
It would also provide guidance for state and local law enforcement agencies to report hate crimes, expand public education campaigns, and issue guidance to combat discriminatory language in describing the pandemic.
Reuters contributed to this article.