President Joe Biden on Thursday said that U.S. forces will not be ordered to fight in Ukraine following the Russian invasion of the country earlier in the day.
"Our forces are not and will not engage in the conflict in Ukraine," Biden said at an address from the White House, adding that more troops will be deployed to "defend our NATO allies" in eastern Europe. Ukraine is not a member of NATO, although the United States has provided hundreds of millions of dollars in military assistance to Kyiv in recent years.
While announcing more sanctions against Russian assets, Biden said that all 30 NATO members will hold a summit on Friday to "map out the next steps we will take to strengthen" the alliance.
In recent weeks, the United States has deployed thousands of additional forces to Poland and Germany. This week, the Department of Defense confirmed NATO personnel and military equipment were sent to the Baltic states of Latvia, Estonia, and Lithuania, which share a border with Russia.
Earlier Thursday, Bulgaria, the Czech Republic, Estonia, Latvia, Lithuania, Poland, Romania, and Slovakia triggered consultations under Article 4 of NATO's founding treaty. Estonia, Latvia, and Lithuania said in a joint statement that the alliance should provide Ukraine with military equipment, weapons, and ammunition.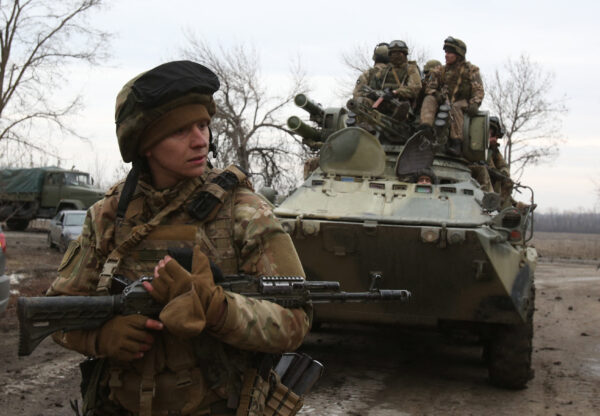 NATO Secretary-General Jens Stoltenberg on Thursday also asserted that the alliance would defend "every inch" of its members' territory, adding: "Peace on our continent has been shattered."
"We now have war in Europe on a scale and of a type we thought belonged to history," Stoltenberg continued to say.
It came as Ukrainian officials said their forces were battling Russians on a multiple fronts, and had lost control of the decommissioned Chernobyl nuclear power plant, the scene of the world's worst nuclear disaster.
"Russia has embarked on a path of evil, but Ukraine is defending itself and won't give up its freedom," Ukrainian President Volodymyr Zelensky wrote on Twitter. "It wasn't Ukraine that chose the path of war, but Ukraine is offering to go back to the path of peace," he said.
Russian and Ukrainian authorities made competing claims about the damage they had inflicted. Russia's Defense Ministry said it had destroyed scores of Ukrainian air bases, military facilities, and drones, and confirmed the loss of a Su-25 attack jet, blaming it on "pilot error." It said it was not targeting cities, but using precision weapons and claimed that "there is no threat to the civilian population."
Earlier this month, the Department of Defense said that some American troops would leave Ukraine.
The Associated Press contributed to this report.