Former Vice President Joe Biden claimed in a newly published interview clip that most Democrats haven't moved to the far-left, saying Rep. Alexandria Ocasio-Cortez (D-N.Y.) is out of touch with the rest of the Democratic party.
Biden said that media outlets tried portraying the Democratic Party as moving left after 2016 nominee Hillary Clinton lost to President Donald Trump.
"You guys got it all wrong about what happened. It's not fake. It's just bad judgment. You all thought that what happened was the party moved extremely to the left after Hillary [Clinton]. AOC was the new party," Biden told Axios, using a moniker for the 30-year-old Ocasio-Cortez, a Democratic socialist.
"She's a bright and wonderful person, but where's the party? Come on, man."
Biden has tried depicting himself as a moderate among Democratic presidential contenders as rivals like Sens. Bernie Sanders (I-Vt.) and Elizabeth Warren (D-Mass.) push Medicare for All, the Green New Deal, and other socialist proposals.
"The party's not there. The party's not there at all," Biden said when asked about Medicare for All.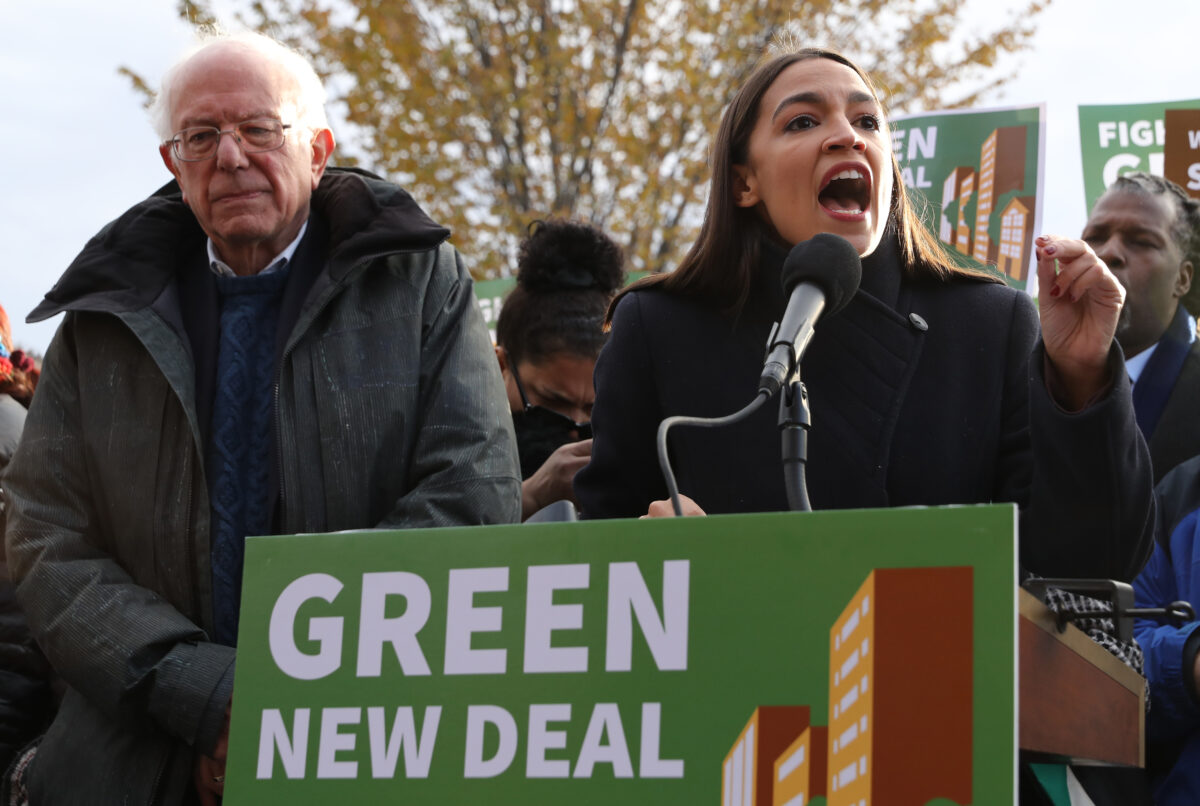 He and some other candidates, including Sen. Amy Klobuchar (D-Minn.), have issued warnings about the proposed government takeover of the healthcare sector.
After Warren unveiled her $52 trillion version of Medicare for All last month, Klobuchar said the policy "would kick 149 million Americans off of their health care in just four years—their current health care."
"That is a fact," she said.
Heated back-and-forths about healthcare have erupted during most of the 2020 debates.
Biden clashed with Warren and Buttigieg on the debate stage in September, telling them: "How we gonna pay for it? I wanna hear tonight."
"My healthcare plan does significantly cut the out-of-pocket cost by thousands of dollars," Biden said later, referring to his proposal to build on Obamacare by adding a public option. "Out of the 160 million people who like their healthcare now, they can keep it. If not, they can leave."
While Warren later released a plan that included proposals for how to fund the huge program, Sanders has said he doesn't have to.  He also said last month that he'd raise taxes on nearly all Americans to pay for his version of Medicare for All, telling a crowd on the campaign trail that he wants to levy a four percent income tax on those making more than $29,000 a year.
Biden has dismissed Ocasio-Cortez before, saying in July about her overwhelmingly blue district: "I think Ocasio-Cortez is a brilliant, bright woman, but she won a primary. In the general election fights, who won? Mainstream Democrats who are very progressive on social issues and very strong on education and health care."