President Joe Biden on Tuesday ignored a shouted question about the crisis at the southern border as he visited a small business in Washington.
Biden visited W.S. Jenks & Son, a hardware store that received a Paycheck Protection Program loan during a window that was open in February thanks to the president.
Biden entered the main floor of the store and visited with owner Mike Siegel, who offered that the hardest aspect of dealing with the COVID-19 pandemic was figuring out what to do with staff members. Taking several loans from the federal program has enabled them to send vulnerable people home, he added.
"Obviously, that was not cost effective, but we felt like we had to do that for our employees," he said.
Biden said the window, which was only open for businesses with 20 or fewer employees, was granted because many loans previously went to large companies.
"A lot of money went to people who shouldn't have gotten help," he said.
Reporters present then tried to ask questions, including one about the surge in migrants that have been seen at the U.S.-Mexico border.
Biden's team, though, ushered them out, and Biden answered no questions.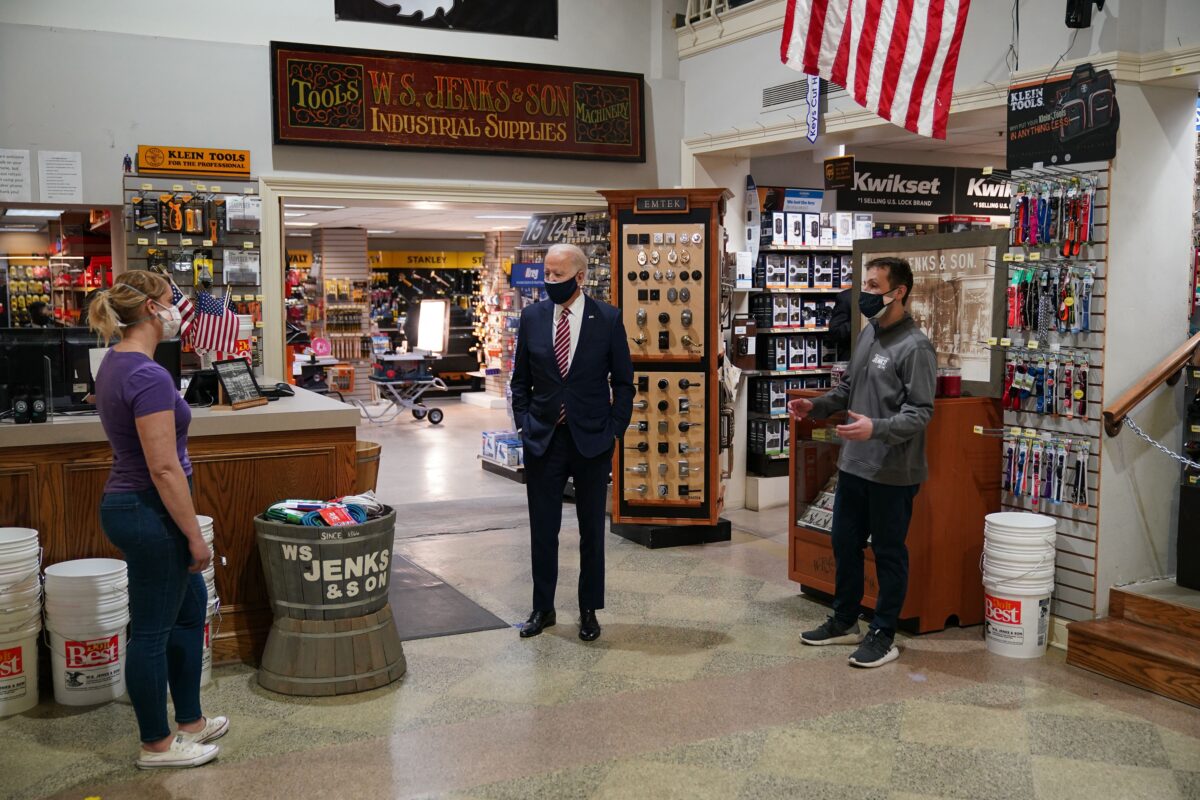 Biden has gone the longest period, 48 days now, for a new president in some 100 years without holding a press conference, triggering criticism from a growing swath of the public.
The situation at the border has attracted bipartisan calls for action.
"We are weeks, maybe even days, away from a crisis on the southern border. Inaction is simply not an option. Our country is currently unprepared to handle a surge in migrants in the middle of the pandemic," Rep. Henry Cuellar (D-Texas) said in a statement last week, announcing that more than 10,000 illegal immigrants have been apprehended in a single border sector in Texas in about a week.
Republican lawmakers urged Biden in a recent letter to reinstate a national emergency at the border. Former President Donald Trump had done so, but Biden withdrew the designation after taking office.
Biden also reversed the prior administration's use of health rules to expel minor illegal immigrants, and is now having to open new facilities to handle an increase in that group.
White House press secretary Jen Psaki told reporters in Washington shortly after Biden's trip that the administration is "continuing to work to convey to people" that "this is not the time to come, that the majority of people who come to the border will be turned away."
But the administration will keep treating minors with "the most humane approach" it can manage, she added.