President Joe Biden has not spoken to any other world leaders in recent days as the Taliban took over Afghanistan, said national security adviser Jake Sullivan in a news conference on Tuesday.
"He has not yet spoken with any other world leaders," Sullivan said, adding that both he and Secretary of State Antony Blinken have held regular calls "with foreign counterparts."
"Right now, the main issue is an operational issue," Sullivan continued. "It's about how we coordinate with them to help them get their people out. And we are operating through logistical channels and policy channels to try and make that happen."
On Monday, Biden issued his first—and only—public comments about the Taliban takeover and ongoing evacuation of Americans and foreigners from the Kabul airport. Thousands of U.S. troops have been deployed to the airport to secure the site.
The president has been at Camp David since late last week, other than a brief trip to the White House to deliver the speech. Biden left the White House soon after giving the speech and headed back to Camp David, drawing significant criticism from Republicans, some Democrats, and former White House officials who claimed his administration botched the U.S. pullout of the country.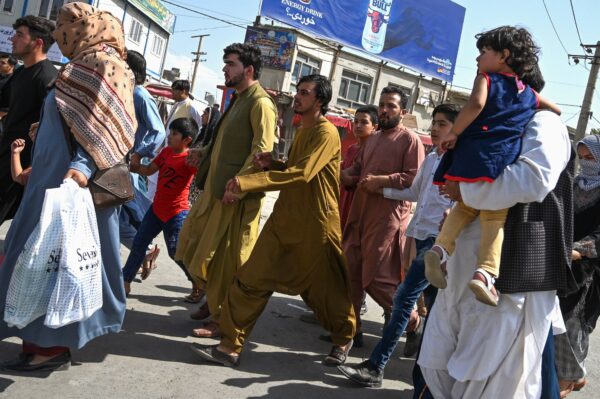 All the while, the withdrawal has been blemished by photos and videos of civilians trying to escape Kabul on U.S. military planes, with some going so far as to cling to the wheels of the plane as it was taking off. Photos also showed military helicopters departing Kabul with embassy staff inside, which were likened to U.S. defeats in the 20th century.
During the news conference, Sullivan was asked about criticisms against the United States for not drawing down embassy staff and evacuating allies earlier.
"The Afghan government and its supporters, including many of the people now seeking to leave, made a passionate case that we should not conduct a mass evacuation lest we trigger a loss of confidence in the government," he explained, echoing an argument from Biden during his Monday speech. Biden said that such a move would trigger a "crisis of confidence" in the Afghan government and army.
U.S. military flights evacuating diplomats and others from Afghanistan were restarted on Tuesday, the day after they were suspended due to chaos on the airfield. At one point on Monday, troops were fired on and returned fire, killing at least two armed assailants, according to a Pentagon spokesman.