Presumptive Democratic presidential nominee Joe Biden said he supports government protection of some statues, including those of George Washington, the first president of the United States.
Biden, in his first press conference in nearly three months, said institutions like Princeton University are free to decide whether to remove names from their school. Princeton removed the name of former President Woodrow Wilson last week.
Biden, a former vice president, paraphrased former New Orleans Mayor Mitch Landrieu, who told reporters in 2017, "There is a difference between remembrance of history and reverence of it."
"The idea of comparing whether or not George Washington owned slaves, or Thomas Jefferson owned slaves, and somebody who was in rebellion—committing treason, trying to take down a union to keep slavery—I think there's a distinction there," Biden told reporters.
"I think all those Confederate monuments to Confederate soldiers and generals, etc., who strongly supported succession and maintenance of slavery, and going to war to do it, I think those statues belong in museums, they don't belong in public places."
The government should protect non-Confederate statues, Biden suggested, saying people like Washington "had much broader views," even though some actions in their life were "distasteful."
"For example, taking down or toppling a Christopher Columbus statue or a George Washington statue, or, etc., I think that is something that the government has an opportunity and a responsibility to protect from happening," Biden, 77, said.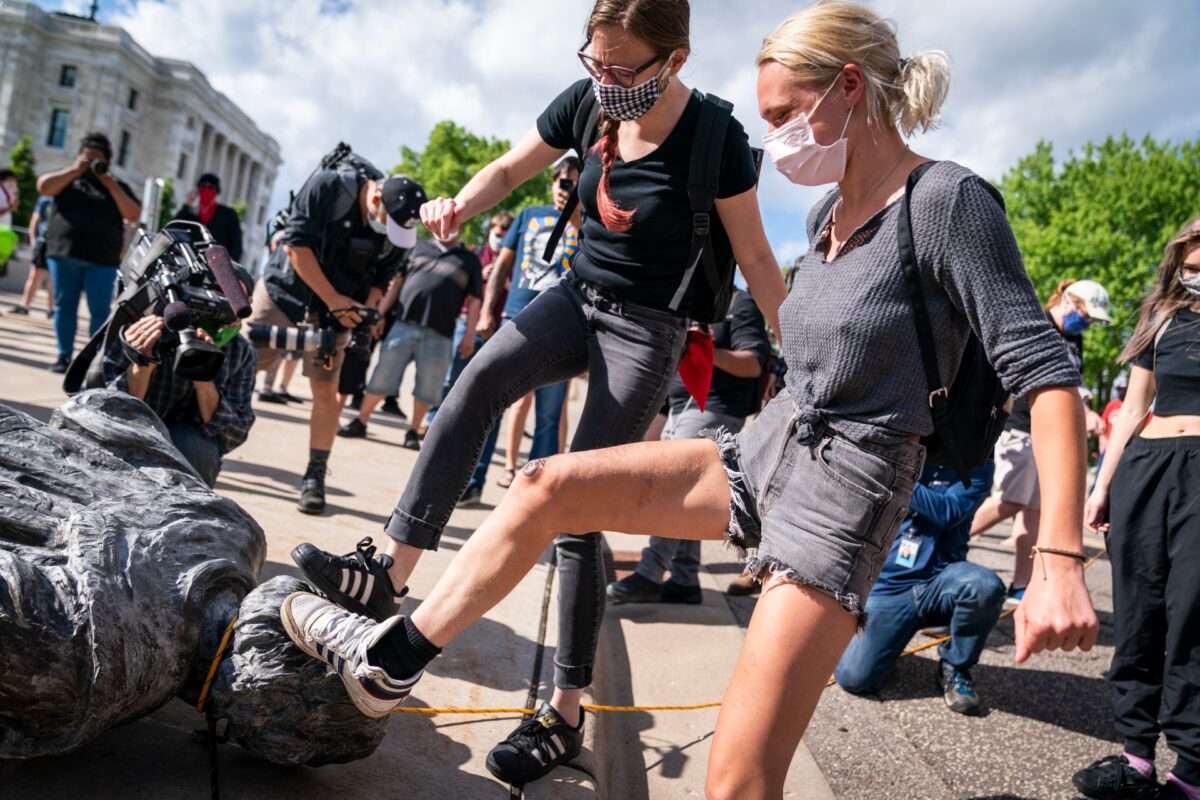 The former vice president and senator was speaking in Wilmington, Delaware, a short distance from the house he's spent most of his time in since early March.
While Biden expressed support for protecting monuments of Washington and those like him, he also said he understands why vandals are tearing down statues dedicated to Confederate figures.
"I think the elected officials where those statues are have a responsibility to move [them]. Put them in museums. Get them down. But … don't be surprised if someone pulls down the statue of Jefferson Davis," he said.
Pulling down Confederate statues is "fundamentally different" than going to the Lincoln Memorial or Jefferson Memorial and attempting to destroy those, he said.
Biden gave a speech attempting to portray President Donald Trump as inept when dealing with the COVID-19 pandemic. He then took about a dozen questions from reporters. None asked him why he allegedly brought up the Logan Act in discussions in early 2017 about Trump's incoming national security adviser.
Biden said he hasn't been tested for the virus, saying he hasn't shown any symptoms and hasn't wanted to take a test away from anybody else. He expects he will be tested soon.
Near the end of the event, a reporter asked if he had been tested for cognitive decline.
"I've been tested, and I'm constantly tested," he said.
"Look, all you got to do is watch me, and I can hardly wait to compare my cognitive capability to the cognitive capability of the man I'm running against."