U.S. President Joe Biden on July 15 defended meeting with Saudi Crown Prince Mohammed bin Salman despite promising not to do so while running for president.
The crown prince has been accused of orchestrating the murder of columnist Jamal Khashoggi in 2018 after Khashoggi went into a Saudi embassy in Turkey.
Biden told reporters after the meeting, which also involved other Saudi officials, that he raised the murder of Khashoggi, who was employed by the Washington Post, at the top of the meeting.
"I was straightforward and direct in discussing it. I made my view crystal clear. I said very straightforwardly: For an American President to be silent on an issue of human rights, is this consistent with—inconsistent with who we are and who I am? I'll always stand up for our values," he said in prepared remarks.
Asked how bin Salman responded, Biden said that "he basically said he was not personally responsible for it."
"I indicated I thought he was," Biden said.
The White House misquoted Biden, inserting a word he did not say—"probably"—before "was" in its official transcript of Biden's briefing.
"He said he was not personally responsible for it and he took action against those who were responsible," Biden added.
While campaigning for the presidency, Biden said that if he were elected, the United States would stop selling weapons to Saudi Arabia and "make them pay the price, and make them in fact the pariah that they are."
After taking office, Biden restricted arms sales to the Middle Eastern country.
Biden told reporters he did not regret his remark about making the nation a pariah.
"I just made it clear if anything occurs like that again, they'll get that response and much more," the president added later.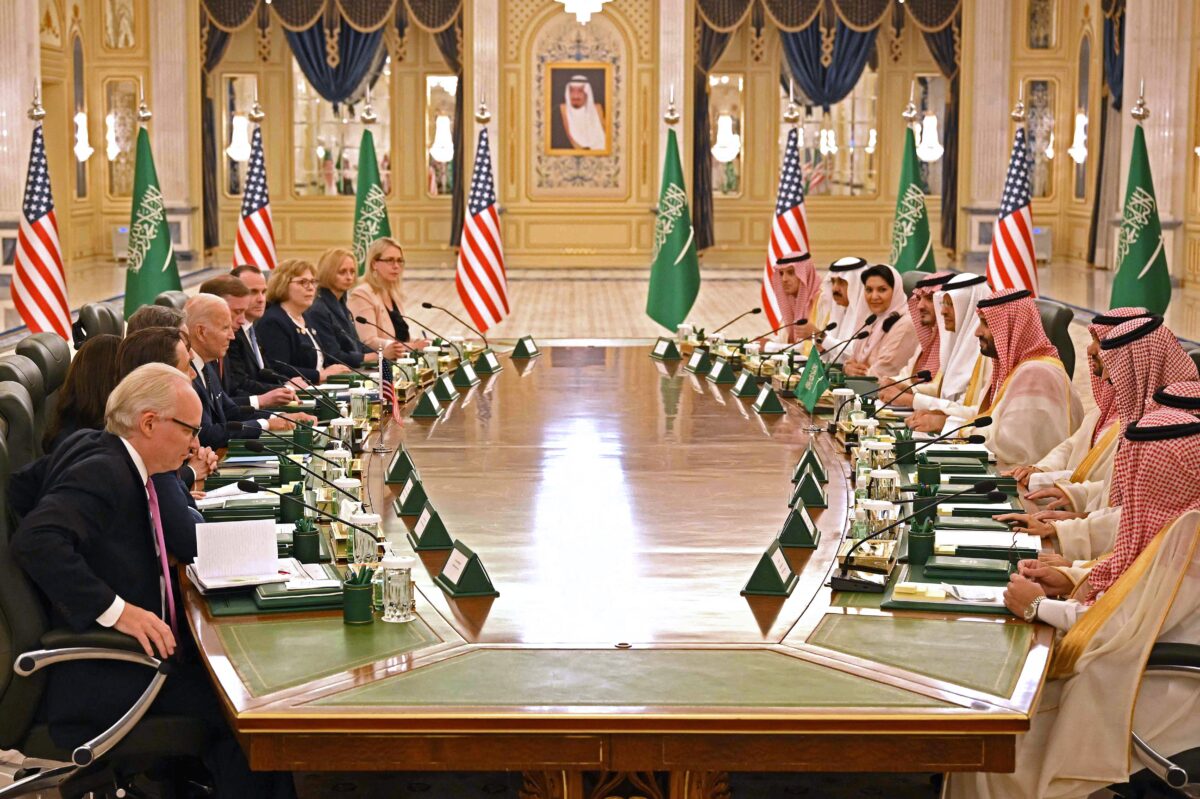 Saudi Official Weighs In
Saudi Minister of State for Foreign Affairs Adel al-Jubeir, who took part in the meeting involving bin Salman on Friday, said on CNN that Biden brought up the Khashoggi killing but "mentioned that he took Saudi Arabia's assurances at face value."
Bin Salman "explained to him that this was a tragedy for Saudi Arabia and that those who were responsible for it have been investigated and faced [the] law and are now paying the price for the crime that was committed and the conversation then moved on in terms of the official discussions," al-Jubeir said.
Biden faced criticism for meeting bin Salaman from Khashoggi's widow and from human rights groups and journalism organizations.
"President Biden once vowed to make Saudi Arabia a pariah and even released U.S. intelligence reports that pinned Saudi Crown Prince Mohammed bin Salman for ordering the killing of Washington Post Columnist Jamal Khashoggi," Jon Schleuss, president of the NewsGuild, said in a statement. "Yet today he met with Saudi leaders and avoided answering questions from reporters asking if he planned to condemn Khashoggi's killing."
"The Committee to Protect Journalists is appalled that President Joe Biden did not make any meaningful statement about the murder of Saudi journalist Jamal Khashoggi after his meeting with Crown Prince Mohammed bin Salman," added Sherif Mansour, a program coordinator for the Committee to Protect Journalists. "For Biden to say he has made his views 'crystal clear' is empty talk. U.S. intelligence says MBS approved Khashoggi's killing. Biden's failure to hold him to account suggests states can get away with sanctioning such killings and has profound implications for press freedom everywhere."