President Joe Biden is once again labelling Russian President Vladimir Putin a "war criminal" and vowing to ratchet up U.S. sanctions against Russia in response to new images of violence on the outskirts of Kyiv.
Images from the Ukrainian town of Bucha show bodies lying dead in the street with some thrown in hastily dug graves, following the Ukrainian government saying they have retaken the city.
Russian officials have denied killing civilians in Bucha, while Ukrainian President Volodymyr Zelensky has accused Russia of committing "genocide."
Addressing reporters as he arrived at the White House Monday, Biden referred to Putin as "brutal" and called for a war crimes trial against the Russian leader.
"You may remember I got criticized for calling Putin a war criminal," Biden said, referring to when he first gave Putin the label on March 16. "Well, the truth of the matter—we saw it happen in Bucha—this warrants him—he is a war criminal."
"But we have to gather the information," Biden added.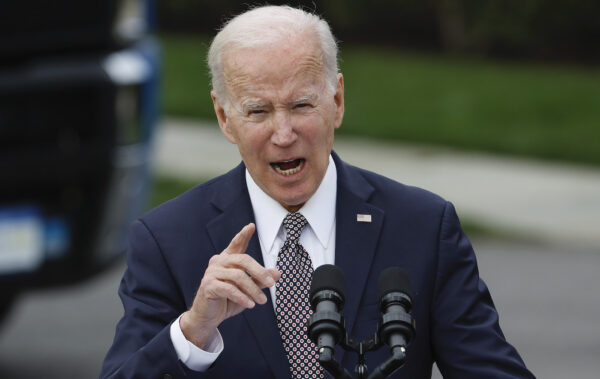 "We have to continue to provide Ukraine with the weapons they need to continue to fight and we have to get all the detail so this could be—actual have a war crimes trial. This guy is brutal and what's happening in Bucha is outrageous and everyone's seen it."
When asked whether he thought the images from Bucha were evidence of a genocide Biden responded, "no, I think it's a war crime."
When asked if he would move to impose more sanctions, Biden said "I'm seeking more sanctions, yes." Asked for details, the president said, "I'll let you know."
Zelensky left the capital, Kyiv, for his first reported trip since the war began nearly six weeks ago to see for himself what he called the "genocide" and "war crimes" in the town of Bucha.
"Dead people have been found in barrels, basements, strangled, tortured," said Zelensky, who again called on Russia to move quickly to negotiate an agreement to end the war.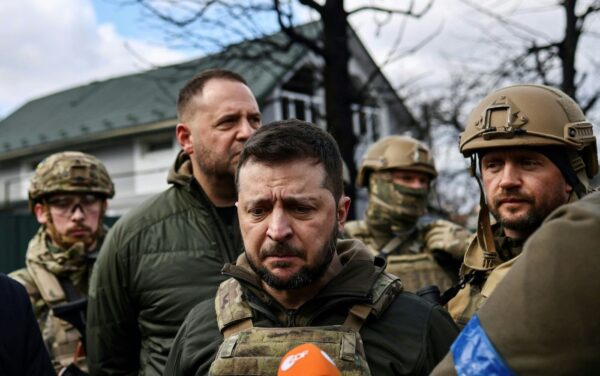 Moscow has denied the allegations, saying the recorded scenes of death in Bucha are staged.
"All the photos and videos published by the Kyiv regime, allegedly testifying to the 'crimes' of Russian servicemen in the city of Bucha, Kyiv region, are another provocation," Russia's defence ministry said in a statement calling the footage "another staged performance by the Kyiv regime for the Western media."
Top government officials in countries including France, Germany, Poland and the EU's top diplomat condemned the actions, and the U.N. High Commissioner for Human Rights called for an investigation into what happened.
Ukrainian officials said the bodies of 410 civilians were found in towns around Kyiv that were recaptured from Russian forces in recent days. Associated Press journalists say they saw 21 bodies in Bucha, including a group of nine in civilian clothes who appeared to have been shot at close range.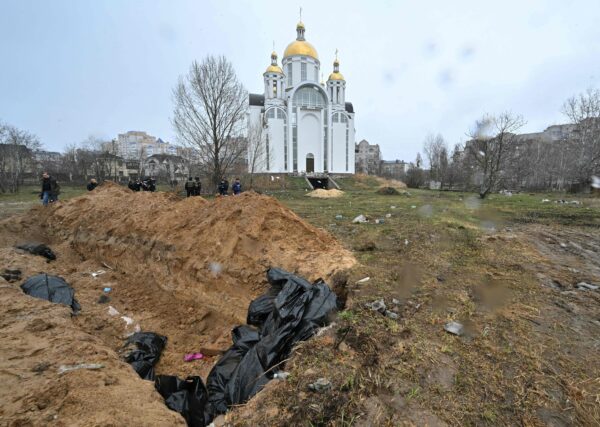 Biden has continually increased sanctions against Russia as the war has waged on. These have included blocking Russian financial institutions, as well as individuals in Putin's inner circle as well as a ban on all energy imports.
The United States has also pledged billions in military and humanitarian aid to Ukraine.
White House officials have repeatedly said the United States is also looking to contribute to an international war crimes investigation into Putin.
"There are a range of international bodies that have ongoing international investigations," said White House press secretary Jen Psaki on March 18. "We would not be the ones prosecuting, of course.  There'd be international bodies prosecuting any case on war crimes.  We're going to feed data and information into that, and they support their process."
The Associated Press contributed to this report.