President Joe Biden on Wednesday announced two critics of former President Donald Trump as his nominees to lead border law enforcement and the immigration services.
Biden has nominated Tucson, Arizona, Police Chief Chris Magnus to be Customs and Border Protection (CBP) Commissioner and Ur Mendoza Jaddou as Director of Citizenship and Immigration Services (USCIS). CBP is responsible for securing the border, countering terrorism, and combating transnational crime. USCIS handles legal immigration services.
The White House pointed out that Magnus has "extensive experience in addressing immigration issues" because of Tucson's proximity to the border.
Magnus publicly criticized the Trump administration's policy to punish "sanctuary cities" that refused to cooperate with federal authorities, arguing that the policy damaged relations between law enforcement and migrant communities, and that this was what would make cities more dangerous.
Magnus also received national attention when a photo of him in Richmond, California, went viral in December 2014. At the time, he was holding a Black Lives Matter sign while in uniform. He later argued that his action conveyed a message the police department wanted to build bridges and strengthen relationships with persons of color.
Ur Mendoza Jaddou, an immigration expert, was also a Trump critic. She served as chief counsel to USCIS during the Obama administration. Most recently, she was director of the non-profit Department of Homeland Security (DHS) Watch, which was critical of the Trump administration's immigration policies.
DHS Watch is a project of America's Voice, which advocates for "freedom and opportunity for" illegal immigrants, including undocumented minors, in America. America's Voice states that its priority goal is to "win reforms that put 11 million undocumented Americans on a path to full citizenship."
The number of illegal immigrants trying to cross the southern border has reached record highs under the Biden administration, which is facing growing pressure to fix the issue.
Last month, Border Patrol apprehended 172,000 illegal aliens, according to CBP data. Among those, 18,600 were unaccompanied minors—the largest monthly number ever recorded. An additional 1,000 per day is estimated to have evaded capture.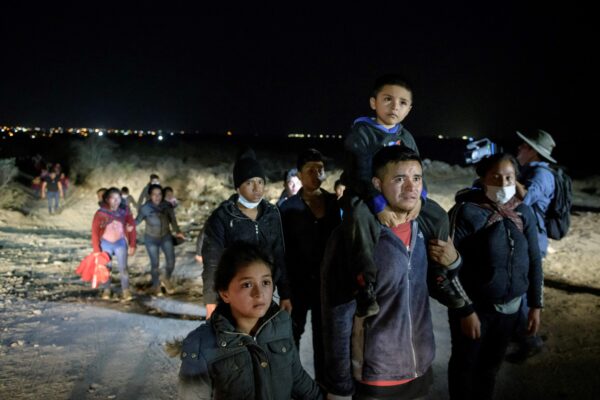 Biden tapped Vice President Kamala Harris to lead diplomatic efforts to address the "root causes" of the surge in illegal immigrants, and "work with those nations [El Salvador, Guatemala, and Honduras] to accept the returnees and enhance migration enforcement at their borders."
Meanwhile, Biden's "border czar" Roberta Jacobson announced her resignation last week.
Among Biden's Wednesday nominations, John Tien, an Asian American, was tapped as Deputy Secretary of DHS; Jen Easterly as head Cybersecurity & Infrastructure Security Agency; Jonathan Meyer as the DHS General Counsel; and Robert Silvers as DHS Under Secretary for Strategy, Policy, and Plans.
All nominees need to be confirmed by the Senate.
"I am excited that President Biden has nominated an extraordinary group of individuals for critical leadership positions in the Department of Homeland Security," DHS Secretary Alejandro N. Mayorkas said in a statement. "I look forward to working with the Senate in support of their swift confirmation."
The Associated Press, Charlotte Cuthbertson, and Zachary Stieber contributed to this report.