White House national security adviser Jake Sullivan said Tuesday that U.S. troops are currently not involved in training Ukrainians amid its conflict with Russia.
"We do not have U.S. troops on the territory of Ukraine. We do of course have U.S. troops defending NATO territory," he told reporters at the White House, adding that "we do not have U.S. troops currently training Ukrainians."
But the United States, he added, has a "key role" in facilitating the transfer of military equipment provided by other NATO member states to Ukraine's military. President Joe Biden will later announce joint action on enhancing European Union's energy security and reducing the bloc's dependence on Russian oil and natural gas, Sullivan continued.
Biden is traveling to Brussels and Poland this week, said Sullivan, in a bid to press for unity among Western allies against Russia. He is scheduled to meet with Polish President Andrzej Duda as the United States in recent weeks has deployed more of its troops and military hardware to Poland and other nearby NATO members.
"We feel that it is the right place for him to go to be able to see troops, to be able to see humanitarian experts, and to be able to meet with a frontline and very vulnerable ally," Sullivan said.
Meanwhile, U.S. intelligence officials have not seen the Chinese regime provide Russia with military equipment so far, Sullivan said.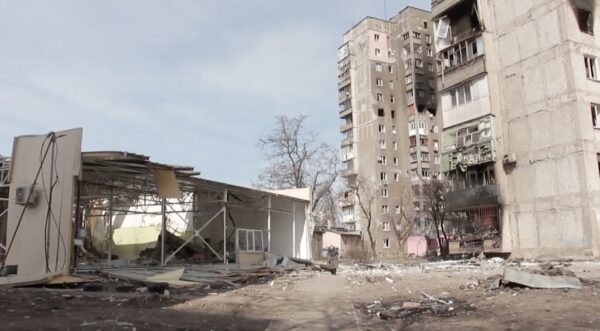 "But of course, this is something we are monitoring closely," he added.
Early Tuesday, Ukrainian troops drove Russian forces from the Kyiv suburb of Makariv after a fierce battle, Ukraine's Defense Ministry claimed to local media. The regained territory allowed Ukrainian forces to retake control of a key highway and block Russian troops from surrounding Kyiv from the northwest.
However, the Defense Ministry said Russian forces partially took other northwest suburbs, Bucha, Hostomel, and Irpin, some of which have been under attack almost since Russia invaded nearly a month ago.
Western officials have said that Russian forces, which are allegedly bogged down in Ukraine, are facing serious shortages of food, fuel, and cold weather gear, leaving some soldiers suffering from frostbite. Ukrainians have alleged that Russian soldiers have looted stores and homes for food.
"There will be hard days ahead in Ukraine, hardest for the Ukrainian troops on the frontlines, and the civilians under Russian bombardment," Sullivan also said. "This war will not end easily or rapidly."
The United Nations estimates that more than 3.5 million people have been forced to leave Ukraine since the start of the Feb. 24 conflict.
The Associated Press contributed to this report.