The United States wants to see the Russian military "weakened" amid the invasion of Ukraine, said Defense Secretary Lloyd Austin on Monday as he and Secretary of State Antony Blinken met with officials in Europe.
"We want to see Russia weakened to the degree that it can't do the kinds of things that it has done in invading Ukraine," Austin told reporters, according to a transcript.
His remarks on Monday are perhaps the most explicit yet from a White House official on the Biden administration's goals in the conflict, representing a sharpening of rhetoric toward the Russian government as the conflict enters its third month. Austin made the comments while speaking with Blinken at a press conference in Poland, a day after the pair visited Kyiv to meet with Ukrainian President Volodymyr Zelenskyy on providing more military assistance.
When asked about the United States' "goals for success" amid the conflict, Austin responded, "Ukraine remain a sovereign country, a democratic country, able to protect its sovereign territory." But then he told reporters that he wants to see Russia's military capacity diminished.
"It has already lost a lot of military capability and a lot of its troops, quite frankly, and we want to see them not have the capability to very quickly reproduce that capability," Austin added.
At the same time, Austin said he wants to see NATO and its allies become "more united," adding that Western economic sanctions against Russia's top leaders, its economy, and industry are a step in the right direction.
"We believe that [Ukraine] can win if they have the right equipment, the right support," Austin continued, adding of Zelenskyy: "While he's grateful for all the things we're doing, he's also focused on what he thinks he'll need next in order to be successful." Ukraine's leadership wants more tanks in the conflict, said Austin.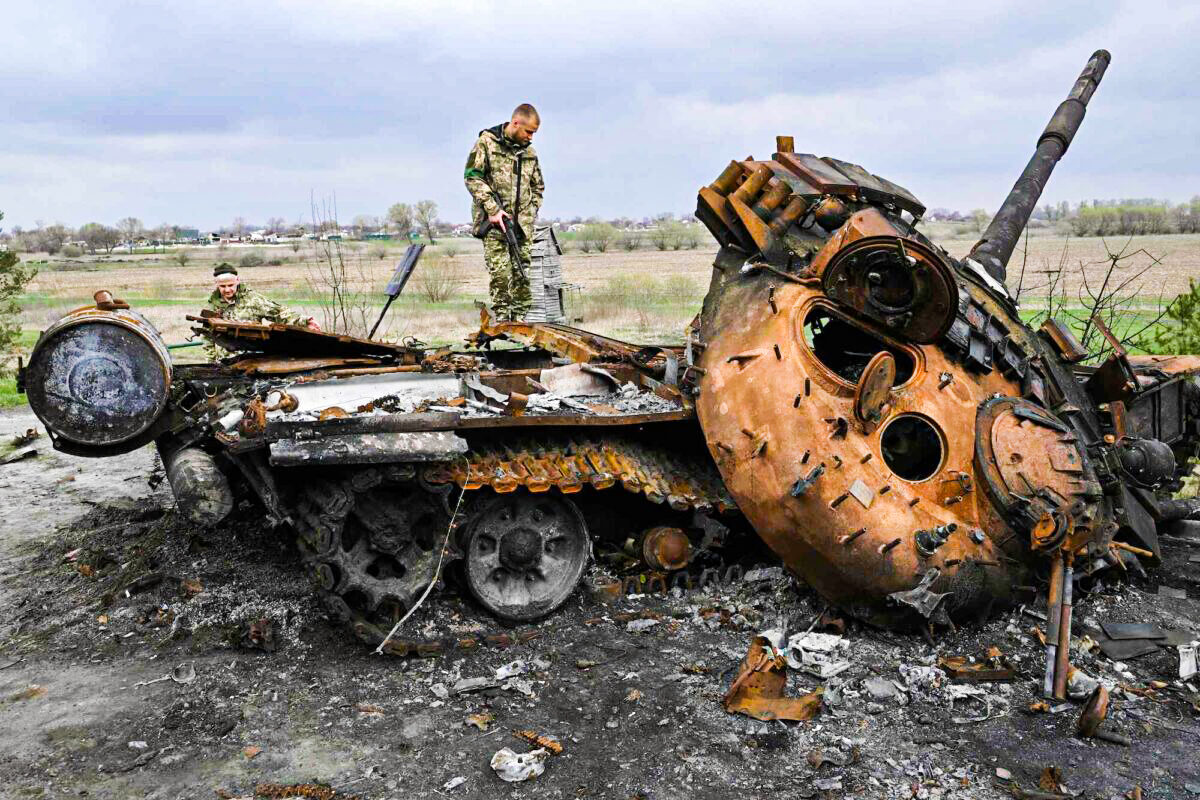 In a shift on Monday, the administration announced that it would nominate Bridget Brink to become the next U.S. ambassador to Ukraine. Brink is currently serving as the U.S. ambassador to Slovakia, which shares a small border with Ukraine.
Russia on Monday, meanwhile, warned the United States that it should not continue to send arms and equipment to Ukraine's military, arguing that such maneuvers risk escalating the conflict. The United States and NATO have ruled out sending troops to the embattled Eastern European nation because, as they've said, it could widen the conflict with Moscow.
Anatoly Antonov, the Russian ambassador to the United States, said that arms deliveries, including Javelin anti-tank missiles and anti-aircraft Stinger missiles, were designed to weaken Russia's military capacity but are instead undermining efforts to come to a peace agreement. The arms deliveries will also serve to further inflame the conflict, he said.
"What the Americans are doing is pouring oil on the flames," Antonov told state TV. "I see only an attempt to raise the stakes, to aggravate the situation, to see more losses."
Earlier in April, Biden said he would pledge more than $800 million in new arms shipments to Ukraine and would ask Congress for more funding in the near future.