President Joe Biden's administration announced Thursday a plan to share 25 million COVID-19 vaccine doses with other countries.
Approximately 19 million doses will be shared through an initiative directed by the World Health Organization known as COVID-19 Vaccines Global Access, or COVAX.
About 7 million doses will be sent to South and Southeast Asia, 6 million will go to Latin America and the Caribbean, and 5 million are tabbed for deployment to Africa.
The other 25 percent will be sent directly to countries experiencing surges in COVID-19 cases, such as India, and partners like Canada, Mexico, Gaza, Egypt, and South Korea.
"We are sharing these doses not to secure favors or extract concessions. We are sharing these vaccines to save lives and to lead the world in bringing an end to the pandemic, with the power of our example and with our values," Biden, a Democrat in his first term, said in a statement. "And we will continue to follow the science and to work in close cooperation with our democratic partners to coordinate a multilateral effort, including through the G7."
The United States has stockpiled vaccine doses in both the Trump and Biden administrations and has sent smaller tranches elsewhere, such as around 4 million doses with Mexico and Canada earlier this year.
The doses being exported will be from Johnson & Johnson, Pfizer, and Moderna—the only three jabs regulators in the U.S. have authorized. They will come from the federal government's pool, meaning taxpayers are footing the bill to vaccinate foreign nationals against the CCP (Chinese Communist Party) virus, which causes COVID-19.
"This is certainly a complex operational challenge but one that we will take on. Our goal is in service of ending the pandemic globally. Our overarching aim is to get as many safe and effective vaccines to as many people as possible as fast as possible. It is as simple as that," national security adviser Jake Sullivan told a virtual briefing on Thursday.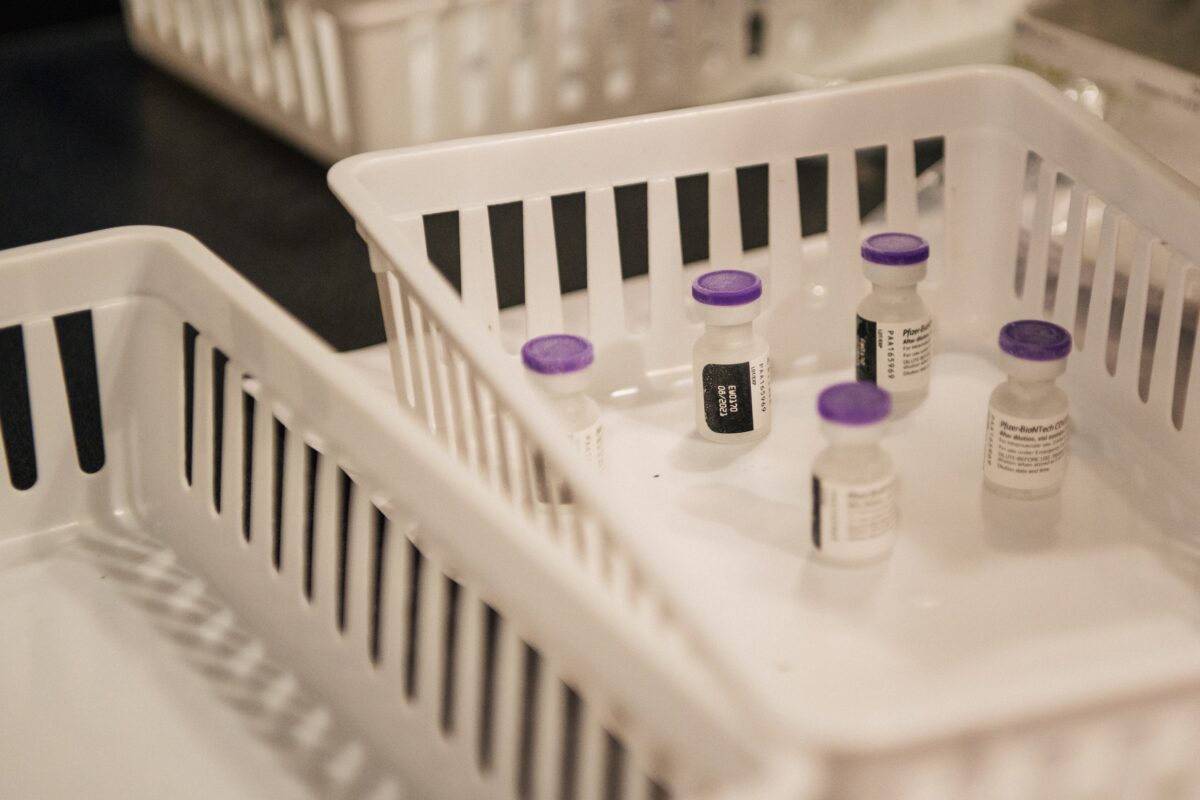 Biden in April announced plans to send 60 million doses from AstraZeneca to other countries but a manufacturing mixup at a Baltimore, Maryland plant may have affected the doses. Drug regulators are analyzing those jabs, officials said during the briefing.
The administration still hopes to export 80 million doses by the end of the month. That figure will represent 13 percent of the doses the United States has manufactured by the end of June.
As part of the donation effort, the Biden administration is encouraging other countries to donate extra supply. The administration is also working with American manufacturers "to vastly increase the vaccine supply for the rest of the world in a way that creates jobs here at home," Jeffrey Zients, the Biden administration's coronavirus coordinator, told reporters.
The effort drew bipartisan praise.
"The US can take the lead on public health through vaccine diplomacy. By donating unused vaccines, we will save lives while rebuilding our moral standing in the world post-Trump," Rep. Jake Auchincloss (D-Mass.) wrote in a tweet.
"Countries like Taiwan & India are in desperate need of #COVID19 vaccines, so I'm pleased that the Administration is moving into the implementation stage of its global vaccine distribution plan. US vaccines are far safer and more effective than those coming out of China or Russia," added Sen. Mitt Romney (R-Utah).
The plan was disclosed one day after Biden unveiled an expanded effort to get 70 percent of American adults vaccinated against the CCP virus by July 4, with incentives like free beer and free sports tickets.
As of June 2, the federal government has delivered over 366.9 million doses to states, out of which nearly 297 million have been administered. About 52 percent of Americans aged 18 years or older are fully vaccinated while another 11 percent have received at least one shot, according to federal data.
Correction: A previous version of this article misidentified the state Rep. Auchincloss represents. It is Massachusetts. The Epoch Times regrets the error.