President Joe Biden's administration has reopened a facility for holding minor migrants that was built during the Trump administration, despite Biden decrying the use of such facilities several years ago.
The facility in Carrizo Springs, Texas, was reopened "to add capacity, where these children can be provided the care they need while they are safely—before they are safely placed with families and sponsors," White House press secretary Jen Psaki told reporters at the White House on Tuesday.
She called it a "temporary reopening" during the COVID-19 pandemic and said the administration intends to close it.
The Department of Health and Human Services directed The Epoch Times to a Feb. 22 press release that announced the reopening of the facility.
In the update, the agency said updated safety measures amid the pandemic made it necessary to reactivate the temporary facility for the placement and care of unaccompanied children.
Minors began arriving at the facility on Monday, for the first time since 2019.
The facility will hold approximately 700 children between the ages of 13 and 17 who will have completed quarantine for COVID-19. As of Feb. 18, the agency was caring for 6,800 unaccompanied children. The length of care is on average 42 days.
Both Biden and Vice President Kamala Harris in 2019 decried the Trump administration's holding of minors in what they referred to as cages—the same types of holding areas used during the Obama administration—a reporter noted to Psaki.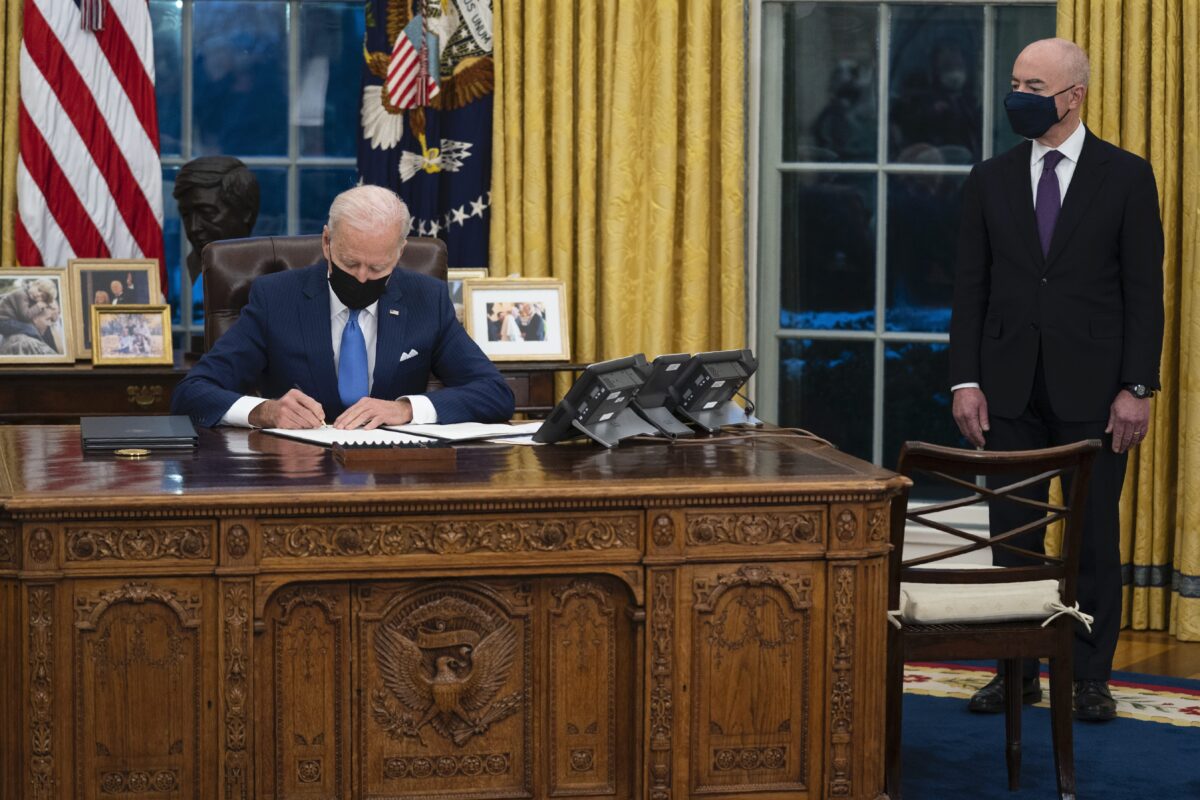 "Joe Biden said, 'Under Trump, there have been horrifying scenes at the border of kids being kept in cages.' And Kamala Harris said, basically, babies in cages is a human rights abuse being committed by the United States government. So how is this any different than that?" he asked.
"We very much feel that way," Psaki responded.
"Let me be clear here. One, there's a pandemic going on. I'm sure you're not suggesting that we have children right next to each other in ways that are not COVID safe, are you?" she added, claiming "this is not kids being kept in cages" despite the facility being opened and used under the previous president.
"This is a facility that was opened that's going to follow the same standards as other HHS facilities. It is not a replication. Certainly not. That is never our intention of replicating the immigration policies of the past administration," she continued. "But we are in a circumstance where we are not going to expel unaccompanied minors at the border. That would be inhumane. That is not what we are going to do here, as an administration. We need to find places that are safe under COVID protocols for kids to be, where they can have access to education, health and mental services consistent with their best interest. Our goal is for them to then be transferred to families or sponsors."
Lawmakers reacted swiftly, including Sen. Marco Rubio (R-Fla.).
"Anyone want to post odds on the media dedicating weeks of non-stop coverage about how Biden is locking up children in cages?" he said, referring to how outlets heavily covered criticism of the Trump administration's migrant policies.
"They're not 'kids in cages' anymore. They're kids in 'migrant facilities.' What changed?" added Rep. Jim Jordan (R-Ohio).
Sen. Ted Cruz (R-Texas) earlier this month blamed the Biden administration's orders and promises on the surge in people arriving at the southern border.
"Tragically, as a result of the promise of amnesty, more unaccompanied children are being put into the custody of human traffickers and facing horrific abuse," he wrote in a tweet.