Cuba's democratic protests made international headlines a few months ago, but then suddenly disappeared. Marcell Felipe, a Cuba expert and an active community leader among Cuban Americans, claims it's the Biden administration that killed the democratization process in Cuba.
Felipe is an attorney and the founder of the Inspire America Foundation, an organization dedicated to promoting democracy in Cuba and the Americas. In 2019 he was appointed by Florida Governor Ron DeSantis to serve on the Board of Trustees of Miami Dade College, one of the largest colleges in the nation.
"The Biden administration really killed it," Felipe told NTD's "Capitol Report" program during the National Conservatism Conference in Orlando.
"It's, quite frankly, was an unprecedented protest. You had thousands, tens of thousands of ordinary Cubans protesting against the regime that is known for killing anyone who opposes it—a Stalinist regime in the 21st century," Felipe said. "So it was really an extraordinary moment."
"A lot of Cuban Americans thought that the Biden administration would take this golden opportunity, not just to do something right by the Cuban people, but to switch the electoral tide in Florida," Felipe continued.
Felipe explained that Florida is considered a swing state for most elections decided by one percent of the vote. With less than 40 percent of Florida Cuban Americans being registered Republicans, any Democratic candidate that gets 40 percent plus of the Cuban American votes usually wins the state. He said Cuban Americans are 6 percent of the registered voters even they only represent 3 percent of the population. "We're committed voters," Felipe said.
"It would have been a no-brainer for President Biden to really take a hard-line approach on Cuba, stand with the Cuban people, it would have changed the electoral map," Felipe continued. "It made all political sense until you realize the influence that the Marxist within the Democratic Party have gained, and what the blowback would be to President Biden. That really tells you all."
"The Democratic Party has failed to strengthen its base and instead, strengthen the Marxist base within their party, at their own peril," Felipe said.
"We really believed that the Biden administration would step up and address directly the Cuban generals and tell them 'this is the time either to side with the new Cuban Republic or to be the last dictators of a fallen regime.' Unfortunately, the Biden administration chose to speak to the Cuban government rather than the Cuban people or the military," Felipe continued, saying the opportunity was wasted.
The Epoch Times has contacted the White House for comment.
The Biden administration has been criticized for its response to Cuba's protests that started on July 11.
At first, an acting assistant secretary at the State Department described Cuba's anti-government, anti-communism protest as an assembly against COVID-19 deaths and medicine shortages. Her words drew fierce criticism.
During a July 21 Fox News Townhall, Rep. Maria Salazar (R-Fla.) and Sen. Marco Rubio (R-Fla.) criticized Biden for not meeting them even after 10 days of the protests erupting.
"We're very frustrated," Salazar said.
Florida Gov. Ron DeSantis also joined the Town Hall and called on the Biden administration to take more actions, especially to help provide internet access to all Cubans.
But Biden is "basically just sitting there doing nothing" and "leaving these folks out to dry," DeSantis alleged.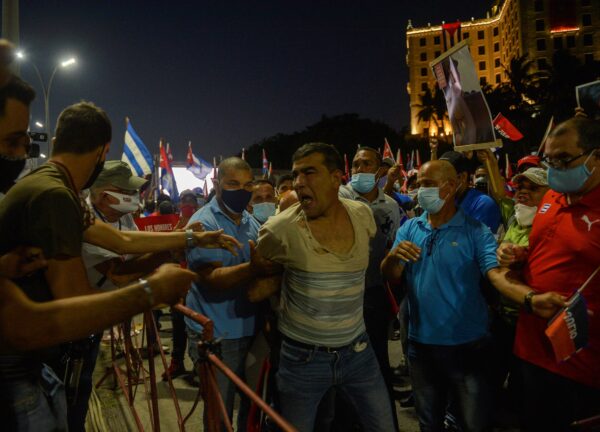 On July 30, the Biden administration announced sanctions against Cuba's national-revolutionary police and its top two officials.
"We hear the cries of freedom coming from the island. The United States is taking concerted action to bolster the cause of the Cuban people," President Joe Biden said at the time.
On Aug. 13, the White House announced a new round of sanctions against top Cuban officials and forces.
Cultural Marxism Has Been Eating America Away
Felipe described how cultural Marxism has been very active in the United States for a long time.
"Organized cultural Marxism has been very present and very active in the United States for over 60 years, and both parties have failed to denounce it," said Felipe, adding that was part of a plan conceived by Antonio Gramsci.
Gramsci was an Italian Marxist philosopher who was known for his theory of using cultural hegemony instead of force to control society.
"Antonio Gramsci is a communist who believed that Stalin and Marx had it all wrong, and Lenin had it all wrong. But in fact, if you really wanted to change a society, you had to begin by destroying its culture, by attacking every institution, by getting your key people in positions of power, in academia, in the media—and then slowly eating away at those institutions," Felipe said.
"Unfortunately, our political parties have been all too willing to avoid the fight," Felipe said. "And with each new concession, we get a little bit closer to their final goal."
Felipe gave an example of how cultural Marxism has been carried out incrementally.
"They will begin, for example, to say, let us take down the statutes of Robert E. Lee. And a lot of Democrats and Republicans alike—in order to bring some kind of measure of peace and stability—will say, well, after all, he was a Confederate; he was a rebel against the Union, if it means that much of the other side, let's just give in."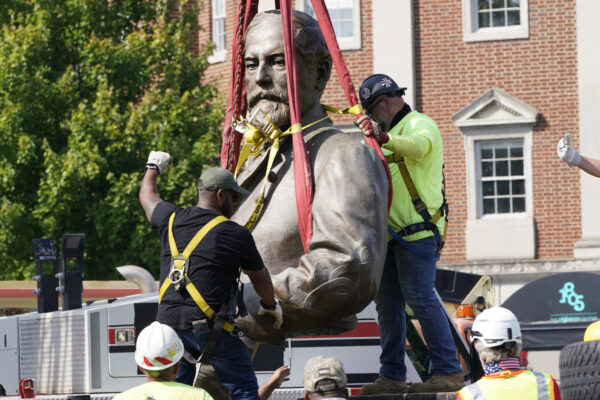 "Problem is that once you do, as many places did, then they'll next ask you to give up the statue of Ulysses S. Grant who fought against slavery," Felipe said. "And if you give into that, then pretty soon, you're going to end up having to renounce the Founding Fathers, the U.S. Constitution, until there is nothing else left for us to defend, or until they feel empowered enough to reveal their true identity."
Felipe said it's very dangerous "and until we demand that our elected officials start behaving less like politicians, and more like leaders, we're going to continue to see a lot more of it."
Steve Lance and Mini Nguyen Ly contributed to this report.