NEW DELHI—The foreign ministers of Bhutan and China signed a "three-step roadmap" agreement to expedite territorial talks between the two countries on Oct. 14, in a move that experts say could be an attempt by the Chinese regime at driving a wedge between Bhutan and its traditional ally India.
The memorandum of understanding for speeding border negotiations was signed between Bhutan foreign minister Lyonpo Tandi Dorji and Wu Jianghao, China's assistant minister of foreign affairs, during a virtual meeting. The meeting also was joined by China's ambassador to India, Sun Weidong, and Bhutan's envoy to India, Maj. Gen. Vetsop Namgyel. Both Bhutan and India have been in border negotiations with China for decades.
"It is expected that the implementation of this Roadmap in a spirit of goodwill, understanding, and accommodation will bring the boundary negotiations to a successful conclusion that is acceptable to both sides," Bhutan's Ministry of Foreign Affairs said in an Oct. 14 statement.
The negotiations between Bhutan and China, which share a nearly 300-mile border, began in 1984 and are led by the 1988 Guiding Principles and the 1998 Agreement on the Maintenance of Peace, Tranquility, and Status Quo in the Bhutan–China Border Areas.
Over the years, the two countries have held 24 rounds of boundary talks and 10 rounds of meetings at the expert group level. Even so, in 2017, China, Bhutan, and India were involved in a 73-day military stand-off at the strategic tri-junction in western Bhutan.
Wu claimed in an Oct. 15 statement that Bhutan and China are "traditional" friends and that this relationship goes back to ancient times.
"China will follow Xi Jinping Thought on Diplomacy," Wu said, "and be a good neighbor, friend, and partner of Bhutan on the principles of equality, peaceful coexistence, and win-win results."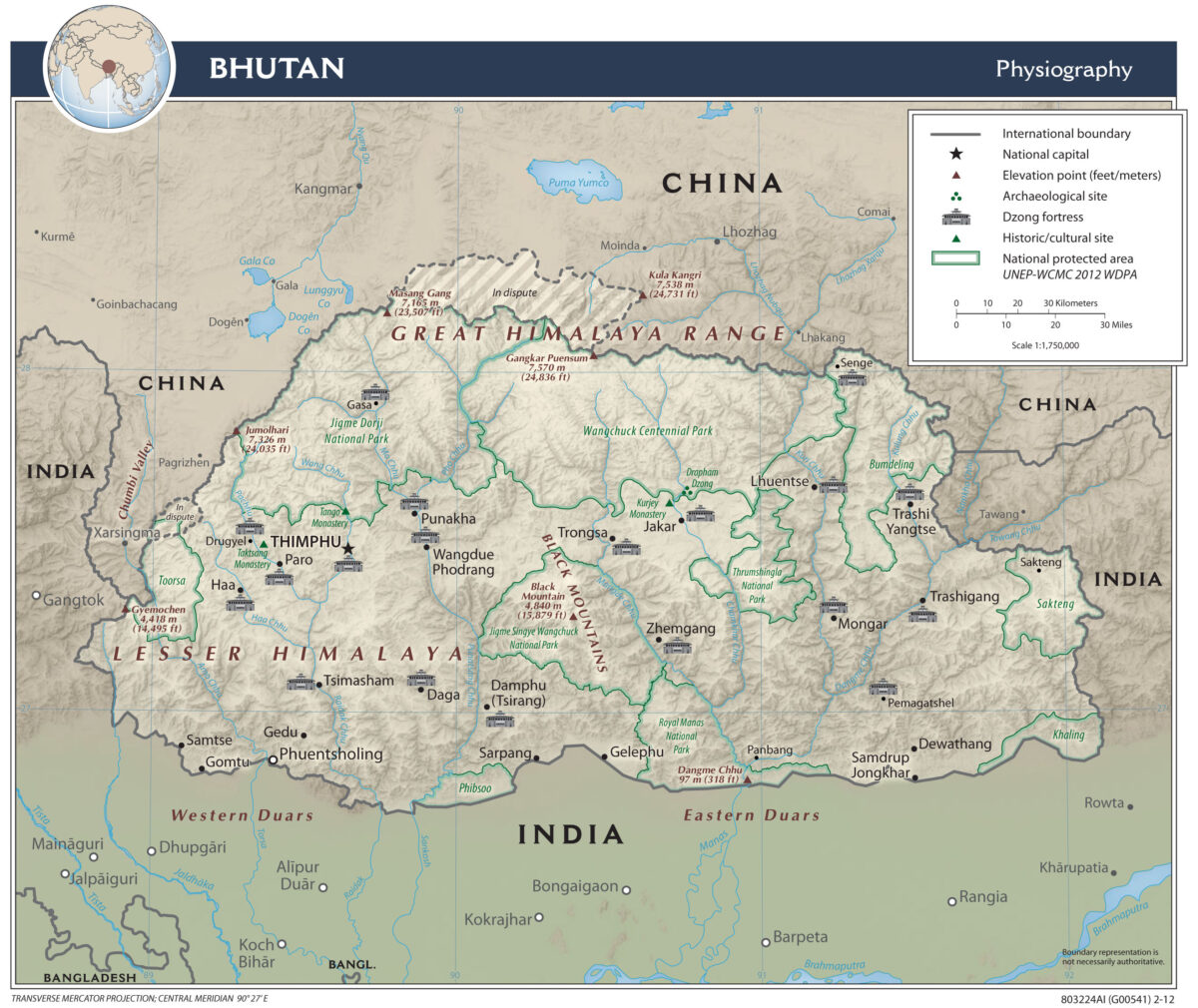 Should Bhutan Trust China?
Dr. Satoru Nagao, a fellow at the Washington-based Hudson Institute, told The Epoch Times that Bhutan must "realize that China is not trustworthy." He said if a conclusory agreement happens, it'll most likely be on paper only.
"China is expanding their territory even if there is no territorial dispute. The agreement will be just on paper as China wants," said Tokyo-based Nagao, who specializes in defense strategy, particularly military affairs in the Himalayas.
Frank Lehberger, a senior fellow with the India-based think tank Usanas Foundation, said in an email that the Chinese Communist Party (CCP) leadership uses such negotiations and agreements as tactics to buy more time and to confuse and weaken the neighbor.
"Regarding 'negotiations' with China in general, the CCP will always abuse the age-old Maoist trick of negotiating about anything, but not in order to get to 'yes' and reach a compromise, but to buy more time, to confuse, weaken, (psychologically) influence, and manipulate the negotiating partner Bhutan and also India," Lehberger told The Epoch Times.
These negotiations aren't in Bhutan's best interests, and the results will be contrary to what Bhutan expects, he said.
"By agreeing to those quickened negotiations, proposed by the Chinese, and hoping that things will get resolved 'once and for all,' Bhutan has unwittingly invited more Chinese interference in its internal affairs and has signaled to Beijing that it is weak-willed," Lehberger said.
"The result will be that the Chinese steal more border areas in the future and use again the same negotiation trick."

China–Bhutan Border Disputes
The boundary discussions between China and Bhutan since 1984 have focused on two areas: an approximately 100-square-mile area in Bhutan's west that includes Doklam, and a 190-square-mile area in the north, in the Jakarlung and Pasamlung valleys. China started claiming these areas in the 1950s.
Since the 2017 Doklam dispute, China has also asserted claims in Bhutan's Eastern Sakteng region, an area of about 1,274 square miles that borders India's Tawang region in Arunachal Pradesh, which China also claims. Tawang is home to the Tawang monastery, an important seat of Tibetan Buddhism. China attempted to prevent the U.N. Development Programme from funding a wildlife sanctuary in Sakteng last year, claiming that it's in disputed territory.
Lehberger says that the Chinese regime is using asymmetric military means against the Bhutanese and are "using salami-slicing tactics" to grab territory.  He mentioned that People's Liberation Army (PLA) Gen. Wang Haijiang, who was appointed to be in charge of China's Western Theatre Command at the beginning of August, has a background of serving in Doklam.
Wang, who is an expert in patrolling and reconnaissance missions in mountainous terrain, enabled the PLA to camp for the first time in the inhospitable terrain of Doklam during the winter.
"China has not only stolen chunks of Bhutan border territory that was until then largely uninhabited because of religious significance to Buddhists, but built entire modern villages there and populated them with Tibetans from areas nearby, who had to be forced to move into those remote villages," he said.
Late last year, the Chinese regime built the village of Pangda in territory east of the Doklam plateau that both China and Bhutan claim as their territory. China claims that this region is part of its designated Tibet Autonomous Region. Chinese state media outlet The Global Times reported that people had voluntarily moved to Pangda from Shangdui village in the same county in September last year.
Effect on India–Bhutan Relationship
The Indian Ministry of External Affairs (MEA) said that it was aware of the talks between Bhutan and China, but didn't offer any more specific reaction.
"We have noted the signing of the memorandum between Bhutan and China, we are aware of it. You would be aware that Bhutan and China have been holding boundary negotiations since 1984. India has similarly been holding boundary negotiations with China," MEA spokesperson Arindam Bagchi said during his weekly press conference.
Lehberger said, "Basically, there's nothing to celebrate for Bhutan and India because this is part of the long CCP's strategic game of driving a wedge between Bhutan and India, while continually weakening Bhutan [and] infiltrating the society (even when both have no diplomatic relations)."
Meanwhile, Chinese state media blamed India for delaying the resolution of border disputes between Bhutan and China. The Global Times quoted Chinese experts as saying that Bhutan is willing to manage its border issues "independently" and rebutted India's claims of a "China threat" on the eastern India–China border.
Another state-run media outlet, CGTN, blamed India for border aggression and called the Oct. 14 agreement "a victory over India's pursuit of South Asia hegemony."
Earlier this month, a round of talks between the military commanders of India and China failed, with each nation blaming the other for it.
Bhutan, meanwhile, is caught between its two powerful neighboring countries, Nagao pointed out. "That is why they are worried about the situation—when elephants fight, it is the grass that suffers," he said.
"Still, the Indian army is stationed in Bhutan. India's influence on Bhutan is huge. Thus, without India's permission, Bhutan cannot conclude the agreement [with the Chinese regime]."
India must ensure Bhutan's security, and if India needs support, it should ask the Quad—the strategic dialogue between Australia, India, Japan, and the United States—for help, he said.