Beverly Hills Police Department hired security officers and increased officer patrols Dec. 6 following a rash of retail burglaries and the murder of a well-known philanthropist.
Private armed and unarmed security guards were added to the department to patrol the business district and to guard infrastructure, according to Beverly Hills police Lt. Robert Maycott.
"It's just a force multiplier to provide for a safer community," Maycott told The Epoch Times.
Five new police officers were also added Monday.
Los Angeles and surrounding cities have seen an uptick in crime waves involving armed robberies, retail thefts, and "follow-home" robberies, in which celebrities and wealthy residents were followed home from upscale shops and restaurants.
In response, regional law enforcement agencies announced last week they had joined with the Federal Bureau of Investigation and the California Highway Patrol to make several arrests related to the robberies and break-ins at local retailers.
The move did not deter armed criminals from entering a Pacific Palisades home on the 1200 block of Rimmer Avenue at about 8 p.m. Dec. 3 during a holiday party.
Two armed suspects entered the house and stole jewelry, phones, and an Apple Watch, according to reports. They left in a gray sedan, possibly a Hyundai or Kia, according to a report filed with the Los Angeles Police Department (LAPD).
Officers responded to the call but detectives were not dispatched to take the report. Angelenos have reported so many robberies and thefts, detectives are unavailable to respond to every incident, LAPD Officer Drake Madison told The Epoch Times Monday.
Unless a robbery incident involves a shooting or a murder, the report is handled by detectives during regular business hours, Madison said.
"We don't specifically go just for robbery," Madison said. "The incidents have to have more to them than just a person being robbed. You have to triage once the weekend comes along."
LAPD also reported a home robbery that occurred at 10:30 p.m. Nov. 26 in the 100 block of North Fuller Avenue in the Wilshire District.
During this incident, the victims returned home after eating at a restaurant when two male suspects wearing police vests pointed a gun at them and punched them before entering the home. Three more male suspects then entered the home and stole property and money.
Detectives found a surveillance video on social media that recorded the crime.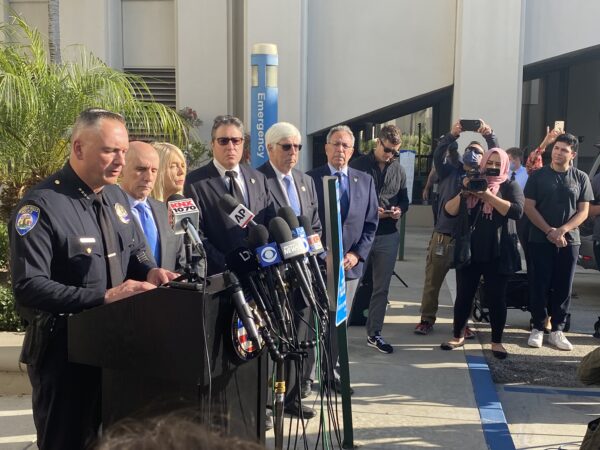 Beverly Hills police did not say Monday whether the shooting death of Jacqueline Avant, wife of music executive Clarence Avant, was a victim of a "follow-home" robbery. The incident is still under investigation, Maycott said.
Avant was killed during an apparent break-in at the couple's Trousdale Estates home Dec. 1.
Police arrested Aariel Maynor, 29, of Los Angeles, on suspicion of killing Avant following an unrelated burglary in the 6000 block of Graciosa Drive in the Hollywood Hills, committed roughly an hour after Avant's shooting, according to BHPD Chief Mark Stainbrook.
The chief said last week that the suspect is on parole and has an "extensive" criminal record, which bars him from possessing a weapon.
In November, a group of suspects tried to break into two luxury stores off Rodeo Drive in Beverly Hills by using sledgehammers. The thick glass at the Louis Vuitton and Sacks Fifth Avenue stores apparently prevented the break-ins.
Police were also investigating a "flash mob" burglary last month when a mob burglarized several stores in the 8500 block of Beverly Boulevard.
A Beverly Hills business representative said the city was taking retail crime seriously by hiring security officers.
"Our city is taking it serious, we're putting the money into it," Beverly Hills Chamber of Commerce CEO Todd Johnson told KCAL9.