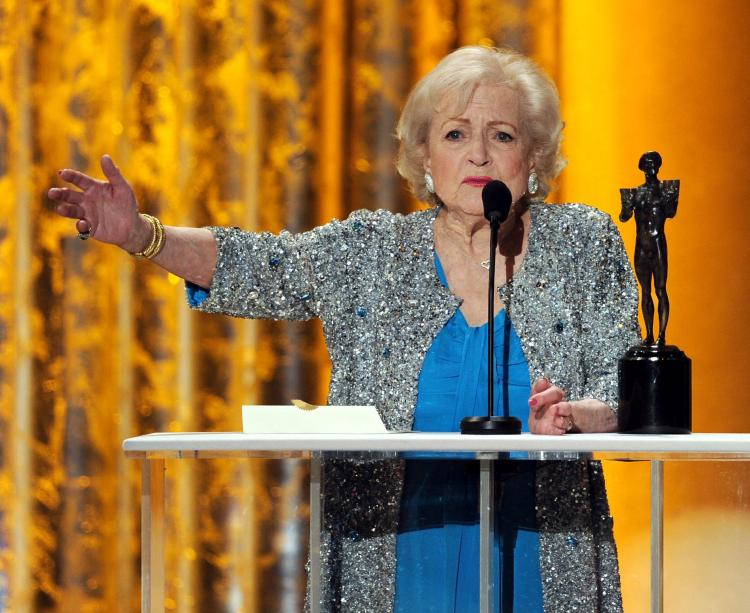 Betty White won the Outstanding Performance by a Female Actor in a Comedy Series award at the Screen Actors Guild Awards show on Sunday night.
The 89-year-old arrived at the Shrine Exposition Center in Los Angeles for her nomination for her role as Elka Ostrovsky in the TV Land sitcom Hot in Cleveland.
While making her way to the podium to receive the award, the audience gave White a standing ovation in recognition of her lifetime achievements on the silver and small screen.
"I cannot believe this," said White, after being helped to the stage by presenter Jon Hamm, according to online video footage of the event. She later joked that Hamm and others helped her "up those stairs and that's not easy."
The award came a year after White received SAG's Lifetime Achievement Award in January, marking an extraordinarily successful year for White.
After working in Hollywood for more than six decades, her 2010 work reminded the public of her talent to mix comedy with her warm, grandmotherly charm.
The former Golden Girl appeared in an award-winning Super Bowl advertisement, hosted Saturday Night Live on Mother's Day weekend in May, and appeared in many other shows including the Ellen Degeneres Show, the Oprah Winfrey Show, and the Tonight Show with Jay Leno.
The Associated Press named White as 2010's Entertainer of the Year on Dec. 20.
The octogenarian actress began 2011 with continued success, appearing alongside Jennifer Love Hewitt in the movie The Lost Valentine CBS on Sunday.