Democratic presidential contender Beto O'Rourke has criticized President Donald Trump's plan to expand barriers along the southern border.
"We do not need any walls, $30 billion dollars, 2,000 miles long, 30 feet high," he said during a campaign stop in Portsmouth, New Hampshire, on March 21.
He decried that the barrier would have to be built on U.S. land, at times forcibly bought out through the eminent domain and not directly on the borderline, which for a long stretch follows the middle of the Rio Grande river. All "to solve a problem that we do not have," he said.
But those working on the front line with U.S. Border Patrol don't share O'Rourke's view and has been calling for more barriers.
How Much Wall
Expanding existing barriers, many of which are obsolete and ineffective, to span nearly the entire stretch of the 2000-mile border would cost some $21.6 billion, based on a Department of Homeland Security internal report obtained by Reuters in February 2017.
Yet, Trump has, since his campaign days, advocated a border wall that "doesn't have to cover the entire border."
"Some areas are already secured with physical barriers. In other areas, the terrain is too difficult for people to cross," Trump stated in his 2015 book "Crippled America."
On Dec. 25, 2018, Trump indicated that he would consider the wall complete at the length of 500-550 miles, likely referring to the areas that would require new construction.
A 2017 plan by Customs and Border Protection officials called for 722 miles of a wall at an $18 billion price tag, which appears to be mirrored in a to-be-released Trump's budget for fiscal year 2020, according to officials familiar with the request.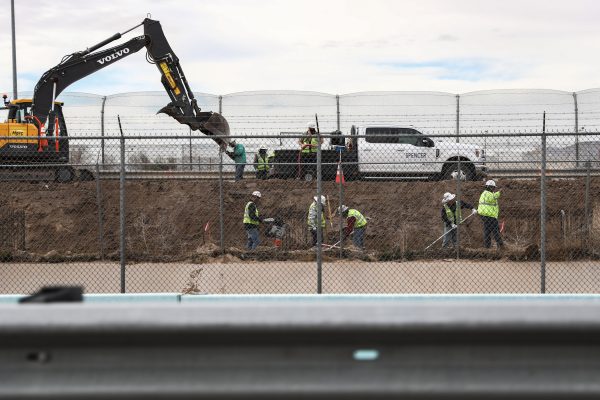 The Trump administration has so far replaced more than 22 miles of old fencing. About 100 miles of fences and levee walls are under construction or near the beginning of construction. Further, roughly 55 miles of new fencing is included in the 2019 budget.
There is already 654 miles of barriers along the border but 280 miles of it consists of a barrier for vehicles that is easily crossed by pedestrians. Other parts of the existing barrier are old landing mat fences only about 10-12 feet high and easy to climb.
'Breaking Point'
O'Rourke's assertion that "we do not have" a problem at the border clashes with reports from his border hometown of El Paso. There, a massive influx of illegal border crossers is pushing the Border Patrol "very close to a breaking point," Ramiro Cordero, Border Patrol Special Operations supervisor in the El Paso Sector, said on March 20.
The El Paso Sector covers some 270 border miles in westernmost Texas and New Mexico where illegal crosser apprehensions increased nearly six-fold in the first five months of fiscal 2019—starting in October—from the same period a year earlier.
Most of the crossers—90 percent—were caught in the El Paso Metropolitan Area centered in Texas's 16th congressional district, which O'Rourke represented for three terms starting 2013 before his failed challenge to the junior Texas Senator Ted Cruz in 2018.
Emergency Declaration
Trump declared a national emergency in relation to the crisis on the southwest border on Feb. 15, citing the influx of illegal aliens as well as drugs, guns, and human trafficking across the border.
The declaration had enabled the transfer of $3.6 billion from the military construction budget toward wall construction. The president also ordered the shifting of an additional $3.1 billion, which did not require declaring a national emergency.
Together with the 2019 budget allocation, Trump should have enough to build about 324 miles of new fencing.
The Defense Department has identified $12.8 billion in funds from projects that can be reallocated to the construction of the border barrier.
A Democrat-backed resolution to annul Trump's declaration passed Congress on March 14 due to votes of 12 Republican Senators but Trump vetoed it. Sixteen states then filed a lawsuit against Trump and his administration over the declaration.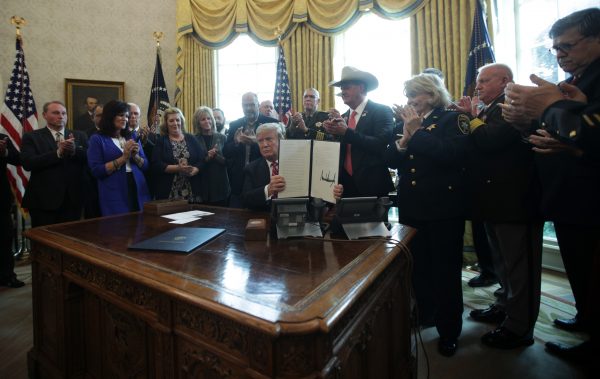 Democrats have been downplaying the seriousness of the border situation and criticized Trump for using emergency powers to circumvent Congress's power of the purse.
Yet, Trump appears to have border security professionals on his side.
Apart from a number of current border security officials, a former Border Patrol chief in the Obama administration, who was fired by the Trump administration in 2017, told national television on March 21 that there is "absolutely a national emergency" at the border.
O'Rourke didn't respond to a request for comment.
Reuters contributed to this report.